February 13, 2023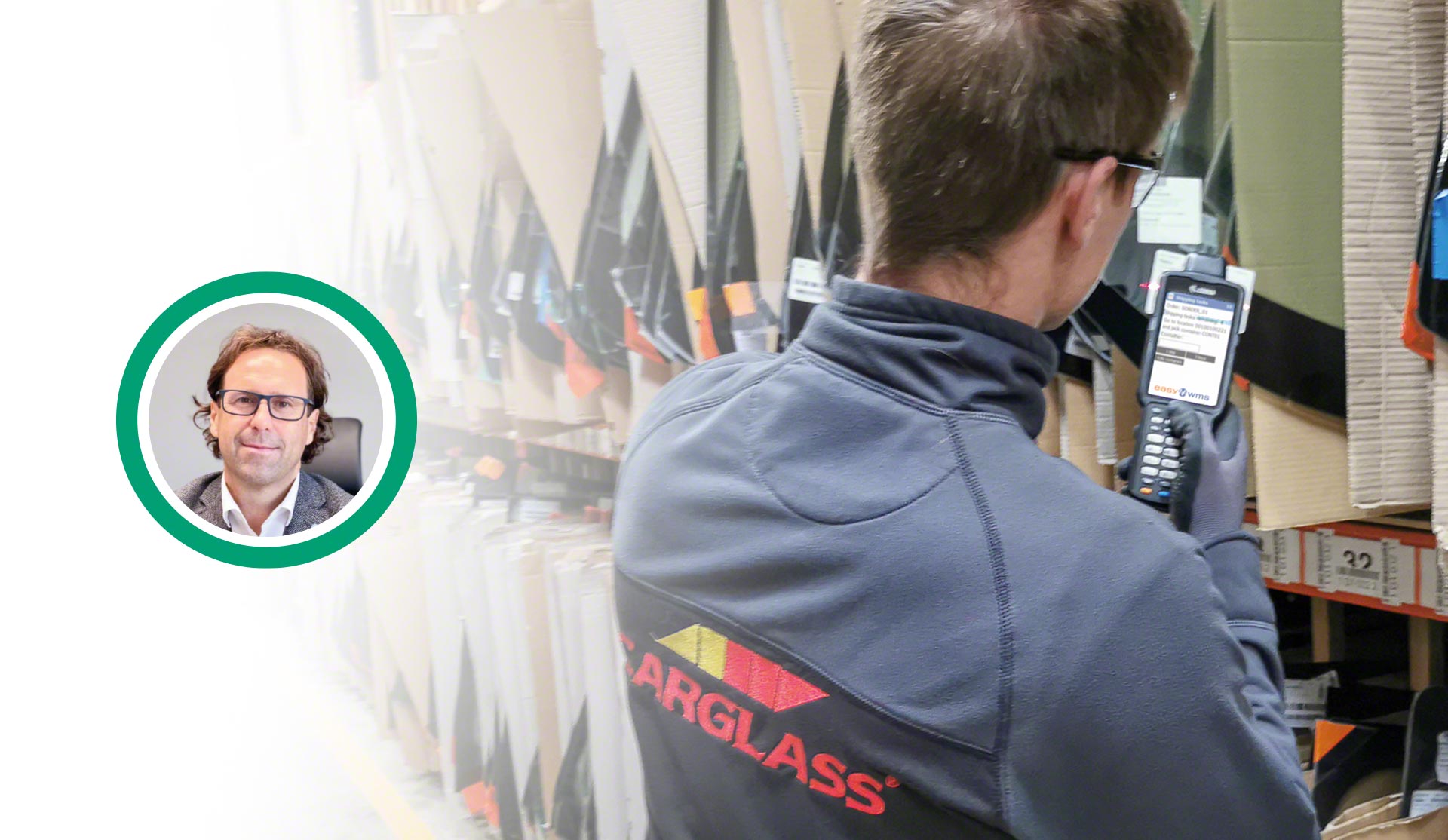 "Digitization gives us complete control over logistics processes in our warehouse"
Mecalux sits down with Dejan Šeruga, General Manager of Carglass in Slovenia, to talk about how digitization has helped the vehicle glass repair company optimize its supply chain.
What made Carglass decide to digitize its facility?

We needed a tool that would provide us with full control over our stock and inform us of the exact location of each piece of vehicle glass in the warehouse. Our main issue was that we weren't sure exactly where each part was deposited, making it difficult to locate and track them. Additionally, the number of SKUs kept growing, and we were finding it hard to keep track of them all. When we received an order, operators had to walk up and down the facility to look for the material. And this was quite a hassle, considering we have more than 10,000 items in stock. You can imagine how challenging it was to find the items they needed — even more so when the products are very similar and difficult to tell apart.

What were Carglass's logistics operations like prior to introducing digitization?

Before, a lot of mistakes were made due to manual handling of goods. Another disadvantage was that employee absences could lead to service delays. Generally, we had a very rudimentary way of working. For example, when a repair shop would send us orders via email, our warehouse staff would print the delivery notes specifying the items to be located on the racks. Once the orders were finished, the operators would enter into our ERP system the auto glass parts they'd picked to inform the repair shop of their impending arrival. The risk of error was very high, so we knew this working method would be unfeasible in the long term. As soon as the numbers of SKUs and orders rose, we realized we had to abandon manual management of our goods.

Error elimination is one of the major advantages we've obtained by digitizing our logistics operations

Could you describe Carglass's warehouse digitization process?

This has been one of the largest projects Carglass Slovenia has run in recent years. From the outset, we knew we had to rely on the support and advice of a partner with the necessary knowledge and proven experience in the industry. We chose Špica because it's one of our country's main suppliers of technology solutions for the supply chain. It has a highly qualified team of experts as well as excellent references. Špica was fully committed to solving our problem, and together, we found the most suitable warehouse management software for Carglass: Easy WMS from Mecalux.

What improvements have you seen with Easy WMS warehouse management software?

Now, the work is much easier. Easy WMS orchestrates all operations, from goods receipt and storage to order processing and dispatch. Operators complete their tasks very accurately because the system guides them, showing them exactly which glass part to pick. For instance, if our facility has 10 windshields with the same type of glass, the software calculates the shortest path for the operator to go to the nearest one. Another improvement we've seen is a reduction in operation execution times. Our pickers no longer waste time traveling unnecessarily in search of stock. As soon as a customer order for a glass part comes in, an operator quickly locates the product, and we dispatch it asap. Before digitizing our logistics processes, the risk of making mistakes was tremendously high. These no longer happen, which has improved our customer satisfaction.

"Without warehouse management software, our expansion wouldn't have been impossible"

How has Easy WMS helped minimize order fulfillment errors?

It sends operators precise instructions. Pickers are equipped with RF scanners, where they receive prompts from the software. Compared to our old way of working, these employees are now much faster and more diligent when carrying out their tasks. Take the case of an operator who picks the wrong windshield. When scanning it, Easy WMS tells them they've made a mistake. We also avoid errors thanks to the fact that our ERP system is integrated with Easy WMS, which automatically shows us the location of each glass part. Error elimination is one of the major advantages we've obtained by digitizing our logistics operations.

What other benefits has digitization brought your business?

We've leveraged the digitization of our central warehouse to make several decisions aimed at enhancing our other facilities. We've maximized the available space, prioritizing order and cleanliness. Moreover, we've decided to store only the stock that's essential for ensuring service, to provide continuous training for our operators, and to renew our fleet of forklifts. As a result, our operations are much smoother, and customer satisfaction has increased.

What will Carglass's logistics operations look like in the future?

They'll be even more optimized. In the end, we're a customer-oriented company, and our top priority is to efficiently meet the needs of our clientele. We're adopting measures we hope will further improve our customer service. For example, we want to minimize the time spent on our warehouse processes. We're trying to make operations increasingly shorter so that we can perform them more quickly.

And how do you think digitization will help drive business growth?

Digitization has always fostered our growth. In the past, we'd have cases where a customer would come to the store to pick up the sunroof they'd ordered, only for it not to be there. Operators would often realize — at the last minute — that the sunroof wasn't in stock, and naturally, the customer would be upset. This would force us to create a new order. Now, however, these mistakes no longer occur. Easy WMS collects data on all logistics processes, and we use that information to analyze different scenarios and make strategic improvements. The fact is, we started out with four repair shops, and today, we have 12. Plus, we plan to open more in the coming years. Without warehouse management software, our expansion would have been impossible.