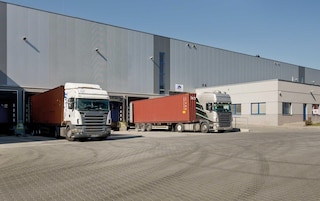 In-warehouse goods receipts: phases and best practices
July 5, 2019
The receipt of goods is one of the most important in-warehouse operations, as it kicks off the flow of materials. If poorly managed, it is the start point for errors that later emerge in your inventory and limit an installation's productivity.
Properly organizing goods reception is key to achieving an efficient warehouse and controlling operational costs. To do so, it is worth getting to know the tasks involved in this process, their scope and what strategies can be carried out to improve them.
Tasks associated with goods receipt
Goods receipt goes beyond just inputting orders from suppliers. The process is a series of interconnected tasks that can be grouped into four large clusters:
1. Planning and info
Planning for the arrival of goods is paramount to preventing bottlenecks at your warehouse docks. The process of receiving goods is partially driven by smooth supply chain coordination and, mainly, by purchasing or procurement management. For example, this is the bread and butter of cross-docking operations.
Top-notch information management is also essential to speeding up the reception of goods. Plus, all the involved parties must be aware of the anticipated inflowing orders and their arrival times.
2. Offloading and management of loading bays
This operation cluster refers to the unloading of goods from trucks and their transport to the reception or consolidation area, or directly to their storage location on the racks.
Workers assigned to receptions should have a procedure in place to deal with any given situation. That way, they will know how to proceed and what handling equipment to use.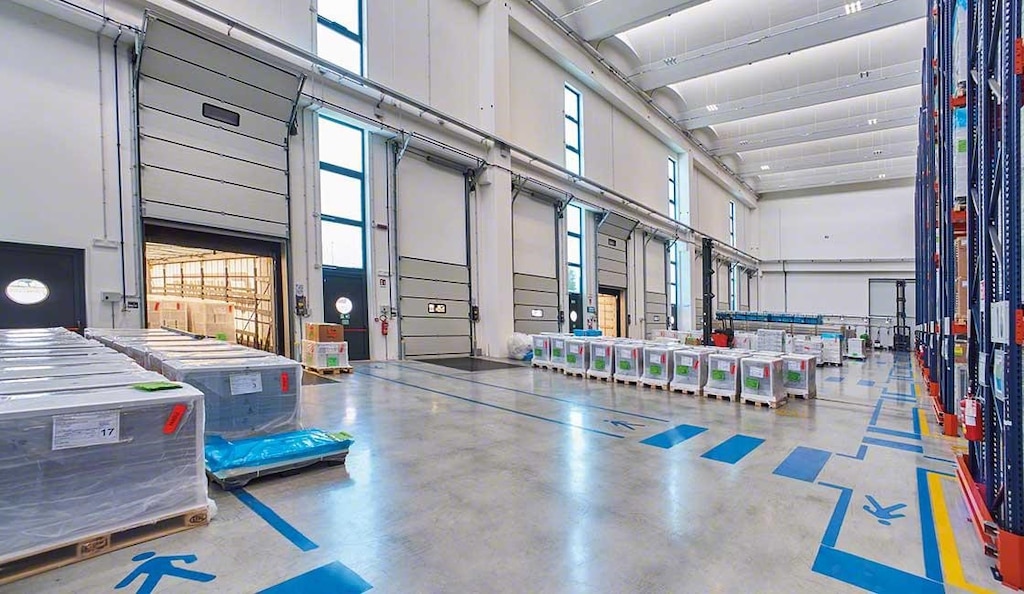 3. Merchandise quality control
When orders are received, a preliminary check of the delivery notes is done to see if they line up with what was arranged with the supplier in terms of quantity, model and characteristics. The package is also checked to ensure that it is in perfect condition.
After the initial check, depending on the type of packages delivered, a stricter quality control may be necessary in some instances. For example, this happens when:
Raw materials are delivered to your warehouse: many companies have their own quality control to evaluate incoming raw materials.
Products include foods or certain drugs that need special storage conditions in terms of temperature and humidity to preserve them properly. During this step, it is crucial to check that your cold chain stays intact, i.e., unbroken.
Dangerous goods: specific regulations govern their packaging, loading and unloading procedures as these are products that involve extra risks when handled.
The time needed to carry out these checks is known as quarantine and your warehouse will require an area designated for these procedures.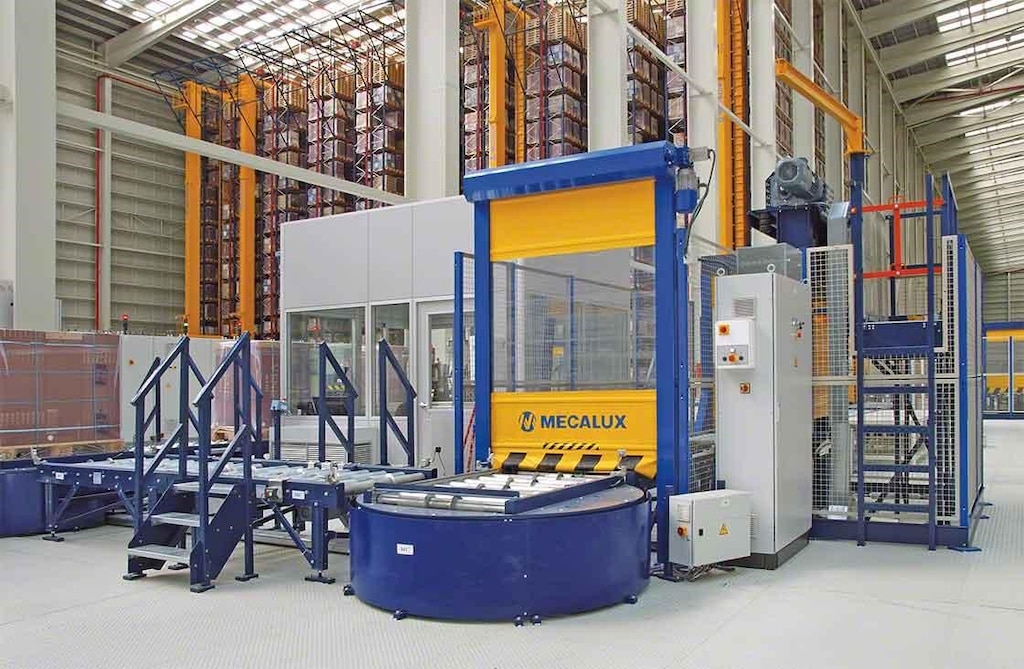 If the goods arrive on standard pallets, it is possible to automate the quality control thanks to pallet checkpoints built directly onto the conveyor structure, as shown in the picture.
4. Labeling, consolidation, and slotting
During the entire goods reception process, it is of vital importance to log all information and record the arrival of new material in to control traceability. For example, the run of the mill "receiving report" brings together your data, such as the order number or code, delivery note, quality control results, description and identification of the goods and quantities.
In warehouses with a management system, these data are computerized according to the logistics parameters used in your company (usually in tune with the ERP's database).
In general, situations such as these can happen during goods receipts:
Products are received without a pallet base and must go through a consolidation and registration phase to be placed in the warehouse.
Merchandise is organized on pallets and then a quick check is made of quantities and characteristics to be transported straight to the racks.
Returns arrive here and this is where your company's comes into play. Normally, each company has its own rules regarding checks on returned products and may request that stock be frozen for these checks.
Although not ideal, sometimes so-called blind receipts happen, i.e., an order reaches you without prior notification or at a time other than the scheduled time. In this case, it is best to have an action plan in place to manage it effectively. A warehouse management system is of great help in situations like this, as it directs workflows without interfering with other warehouse operations and without disturbing stock control.
As a part of this phase, the merchandise must be labeled with the company's ID system and a storage bin must be specified in the warehouse.
Ingredients of good in-warehouse merchandise reception
What strategies can I implement to improve the receipt of goods in a warehouse? With the following tips in mind, you can orchestrate an effective input process:
- Adjust input planning to your warehouse's layout potential
The relationship between a warehouse's layout and your operational planning (e.g., goods receipt) is bidirectional. In short, in the fledgling stage of a warehouse design project, it pays off to keep a close eye on how the loading docks are arranged. Which features they should include is based on the trucks and the type of goods they haul, and how many access points are needed (anticipating future expansions).
Similarly, the management of goods receipts (and dispatches) must be planned on the basis of your company's available infrastructure.
- Assess the potential of automating work in goods receptions
Sometimes, a saturation of warehouse access points can stem not from poor planning, but from structural alterations that are inadvertently shaping the way your company works. For example, you are experiencing sales growth that, bit by bit, is increasing the global activity level in your warehouse.
Before this reaches a boiling point, analyze processes, detect points to improve and find solutions that speed things up. In this sense, the automatization of any tasks involved in the reception of goods gives the best results when a warehouse is adjacent to a production center, since the incoming product movements are repetitive and highly predictable.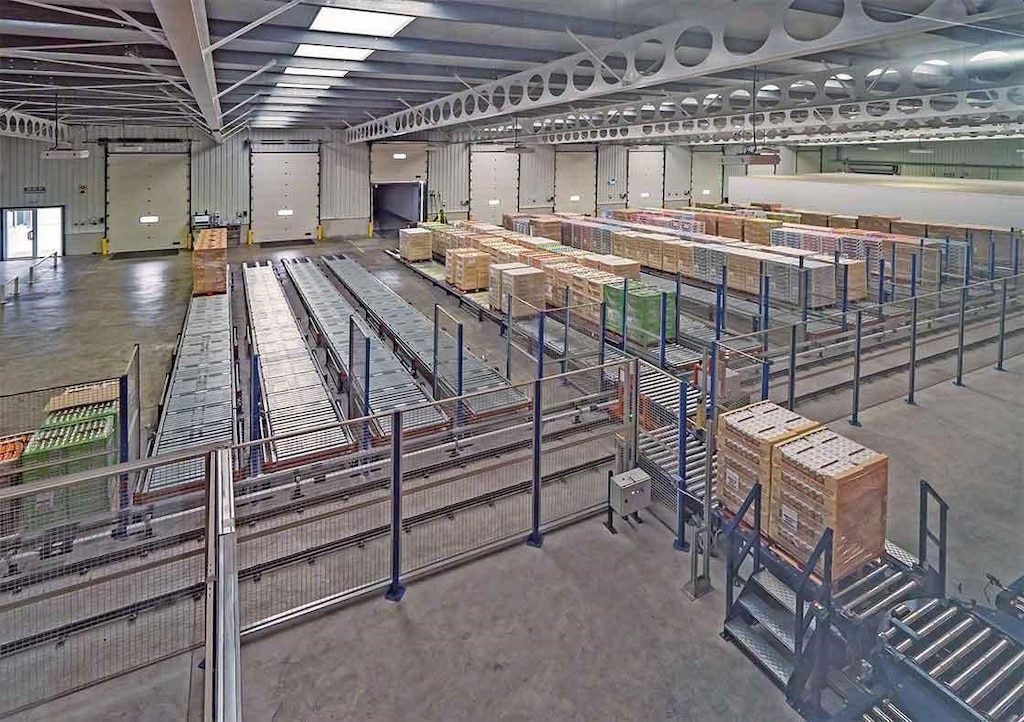 Some examples are and Firat Food, companies which have worked alongside Mecalux to implement automated systems in their warehouses. Both have a conveyor circuit next to the loading and unloading docks that save operator trip-making. These are equipped with pallet checkpoints that carry out quality control, verifying the loading gauge and condition of the load, as well as logging them and updating stock counts in real-time thanks to Mecalux's Easy WMS.
- Establish protocols to regulate the entire goods receiving process.
The more standardized the operation, the fewer incidents will occur. In fact, having a warehouse management system is a big step forward in recording tasks. With a WMS, the paper trail vanishes and everything seamlessly integrated into one spot, facilitating access to and control of your information.
You can perform goods reception work such as adding anticipated inbound stock, logging it, labeling it, and managing its storage location to optimize available space. Plus, the WMS assists in the organization of more complex tasks such as the management of blind receptions, returns, and cross-docking.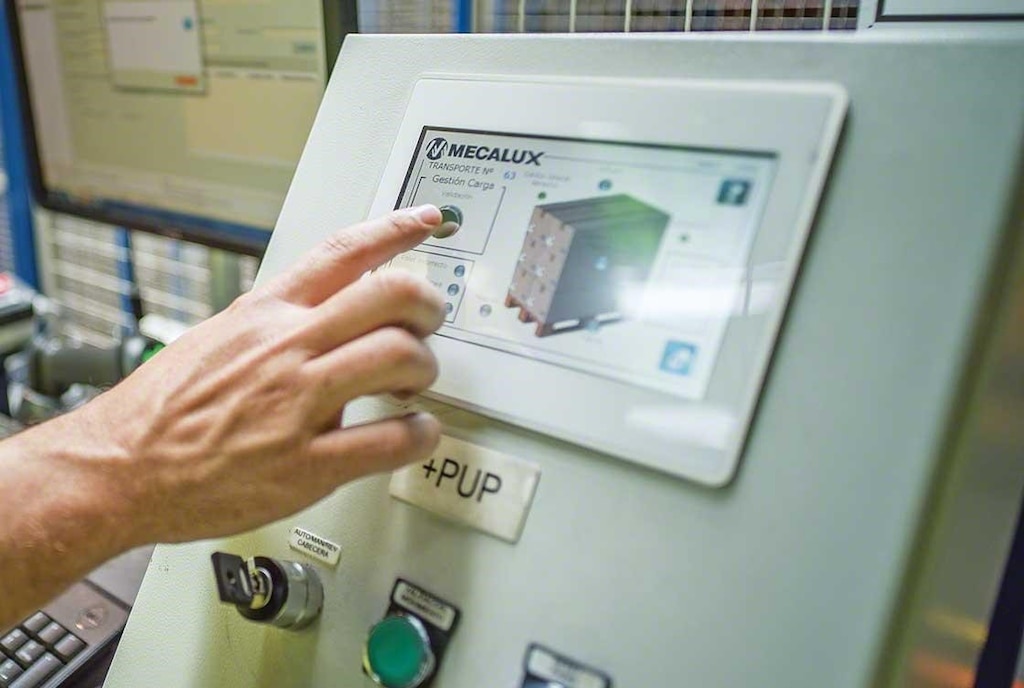 In conclusion, beyond the stages involved in the receipt of goods and the various strategies designed to optimize it, effective operations are impossible without operators having received enough training to carry them out. Whether or not a WMS running inside your warehouse, the workers' capacity is the 'missing link' of an efficient warehouse.
If you believe that your in-house logistics processes, including the receipt of goods, have room for improvement, get in touch. One of Interlake Mecalux's experts will analyze everything in detail and propose solutions tailored to your particular challenges.