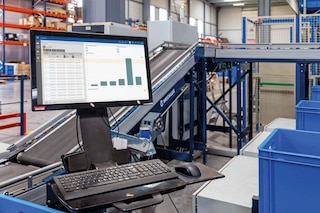 ERP: definition and how it is different from a WMS
September 30, 2019
An Enterprise Resource Planning (ERP) system is an integrated business management software. An ERP can be defined as a program that enables you to organize the different operational areas of a company, since it has an interdepartmental database. In this way, as everyone draws from a single source of data, coordination errors between departments are greatly limited.
Considering that logistics represents a set of activities which are essential for a company's operations, most ERPs have functionalities related to this field within their architecture. In our article, we will go into detail about how ERP systems are structured, what they are used for. Plus, we will focus on logistics operations to see how they relate to warehouse management systems (WMS).
What is an ERP system? Definition and objectives
ERP systems were created to simplify the flow of information between business processes and, in this way, avoid repetitions and inconsistencies between different departments. For example, in the past stock data might have been managed from accounting without actually matching the inventory available in the warehouse. This created all sorts of setbacks that hampered a company's productivity.
That is why ERP systems try to standardize operational processes and achieve this through specialized modules. An ERP software is pre-programmed according to the major areas commonly found in all companies. But, in any case, all ERPs need to be configured to the company's specific way of working, an issue that is addressed in depth in the deployment project.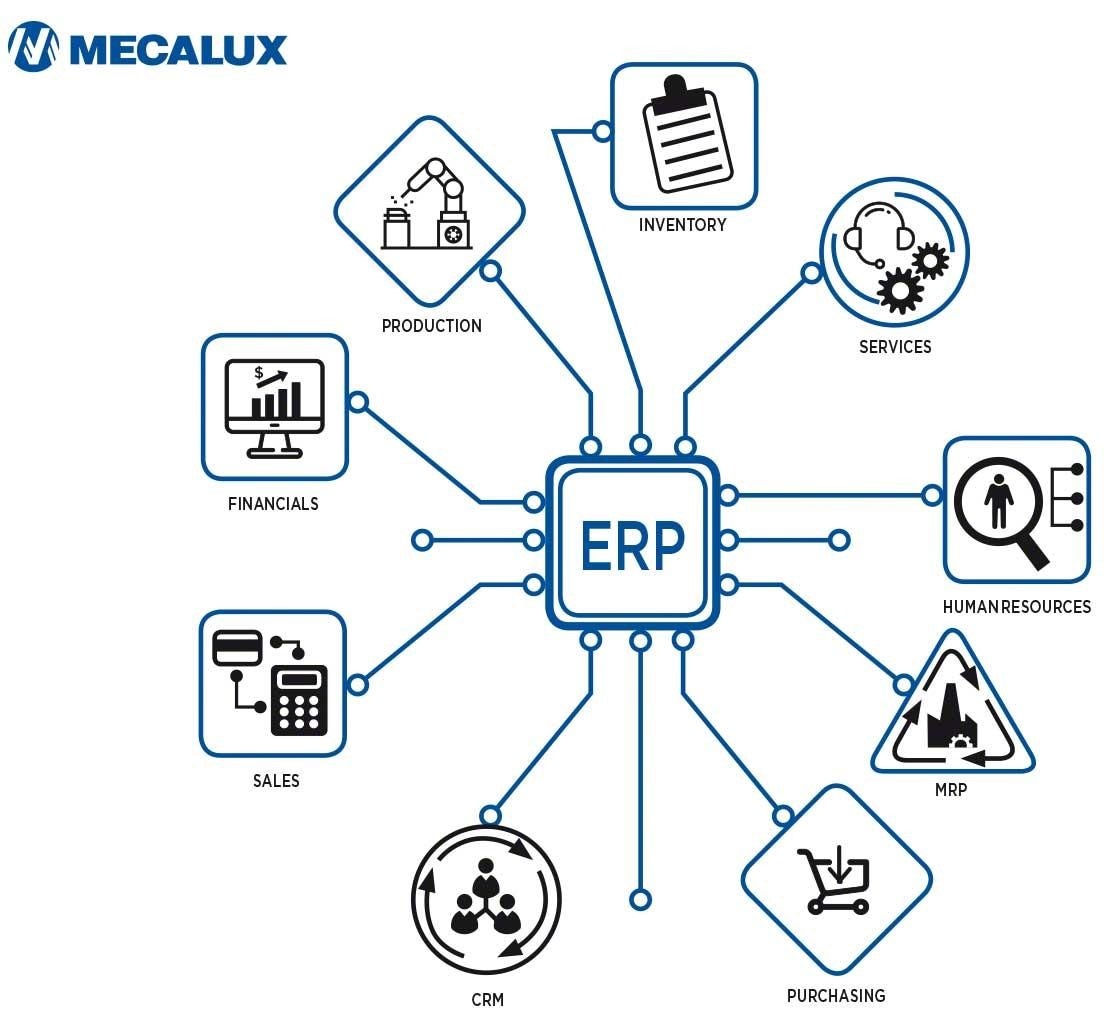 Characteristics and functions that define an ERP
ERP systems are arranged in several layers. If ordered from the more general to more specific ones, they include: modules, processes, transactions and programs. They are all parts of an engine fueled by the same source: a common database or repository. Not only is the entire data pool stored there, but the ERP programs themselves are also stored there.
Let's look in detail at the different modules that make up ERP systems:
- Logistics modules:
Logistics is essential to the functioning of a business and cannot by any means be excluded from an ERP system:
Sales: it includes functionalities related to the sale, delivery and invoicing of products, as well as pre-sales tasks.
Purchases or procurements: it manages the processes that supply materials to production and sales operations. For example, it assists in vendor evaluation, purchasing management, or invoice control.
Warehouses: it includes inventory monitoring and management, inventory valuation, order invoicing control and it centralizes the information system that manages the in-warehouse logistics processes.
Production: it allows activities linked to production to be planned, such as manufacturing control, arranging the purchase of necessary materials, production orders, among others.
- Financial modules:
Finances: it is in charge of debtor control, creditors, liquidity...
Analytical accounting or controlling: it reflects a company's expense and revenue movements. For example, it encompasses functionalities for controlling project accounting, process costing, control and calculation of results, classification by cost types, by centers, among others.
Asset management: it gathers information on the company's assets and groups information on preventive maintenance, repairs, investment management, sale of fixed assets, repayment...
- Transverse modules:
Maintenance: this module is closely related to logistics, since it is in charge of planning the preventive maintenance of all the equipment used in the company, managing the technical service and revision notifications.
Quality: this module guarantees that both the products and processes developed in a company comply with the required quality levels.
Projects: this deals with facilitating the progress of all types of projects that affect a company. Its functions address, for example, the management of resources or deadlines, among others.
Human resources: it helps manage personnel, the hiring of new professionals, training, payroll and administrative activities...
What are the main differences between an ERP and a WMS?
At first glance, the logistics functionalities of an ERP may seem to overlap with the ones offered by a warehouse management system. However, the big difference between an ERP and a WMS lies in the extent to which each is specialized.
The WMS is focused on the warehouse's operational management: it is capable of ordering and optimizing all the movements that take place in an installation, going one step further than the inventory control that an ERP can deliver.
Main functionalities of Easy WMS, the Mecalux WMS

Both types of software complement each other, the ERP being the umbrella under which the warehouse management system is integrated. In fact, the master data handled in the warehouse such as reference numbers or SKUs are established and located in the first.
To illustrate the differences between an ERP and a WMS, let's look at an example of what functions one system or another would perform in a warehouse starting from the purchase-sale process of a product or commodity:
| ERP | WMS |
| --- | --- |
| Requests a purchase order | |
| Manages the contract with the supplier | |
| The ERP records the arrival of the goods in the warehouse by assigning a SKU code and updating the inventory | Organizes the inbound process and assigns a location in the warehouse (put-away) according to logistics parameters |
| | The WMS updates the inventory in continuous communication with the ERP |
| | Optimizes the route for putting the goods away |
| Processes an order for these goods | Receives the information and plans picking along with the rest of the orders |
| | Directs the operator to collect, prepare and label the order |
| | Includes the order in a line according to its shipping route |
| Logs the goods' exit from the warehouse. The ERP updates the inventory in continuous communication with the WMS | The WMS updates the inventory in continuous communication with the ERP |
| Validates supplier invoicing | |
| Processes payments | |
It is worth noting that this is just one simple example that does not truly explain the complexities warehouses are handling these days. The most realistic situations are those that raise questions, such as:
Warehouse management systems have become indispensable for operating with large, complex flows of goods. Only this type of software, in direct communication with the ERP, can achieve the dual objective of controlling warehouse operating costs and maintaining service levels at the same standard.
Advantages of a WMS over an ERP module
Many ERP vendors have developed extra modules that have some of the typical functionalities of a WMS. What advantages does a WMS such as the Easy WMS offer compared to such add-ons proposed by ERPs?
Very high level of specialization: Easy WMS is capable of supporting operations in more than 75 different tasks, all of which are the result of Mecalux's extensive experience in warehouse logistics projects. An ERP does not achieve such a degree of specialization.
In relation to the previous point, you can fine-tune the functionalities of the WMS even further thanks to the special modules. Examples of this are sector-specific software solutions (retail, food industry, logistics operators, etc.) or specific solutions depending on the work areas (Labor Management System for team management or the special WMS for e-commerce module).
Flexible integration: a WMS such as Easy WMS adapts to all types of software and hardware. In other words, it can be connected to any ERP and to identification and picking assistive systems (radiofrequency terminals, voice picking, pick-to-light devices, etc.).
Elaboration of a highly customized project: to integrate a WMS, you need to analyze the way people work in the warehouse in detail to adjust its operations. WMS programs are more flexible than ERP systems in adapting to warehouse operations without having to change the way the software is installed.
If you want to know how the Mecalux Easy WMS can facilitate your warehouse operations, do not hesitate to get in touch with us: we will demo our software for you and develop a project according to the needs of your company.