February 11, 2022
All logistics facilities need warehouse equipment to perform their everyday activities efficiently. If we take equipment to mean any element that makes warehouse activity possible (racks, forklifts, automated systems, etc.), the market offers a wide variety of solutions that can be adapted to the particular characteristics of each company. For instance, depending on the type of unit load and products managed, the material flows and other factors will influence the choice of the most suitable equipment for each need.
In this post, we'll take a look at all the must-have warehouse equipment. We'll run through the most basic and obvious items to other more sophisticated elements that — although not as well known — can also significantly boost productivity and safety in the facility.
What is warehouse equipment?
Warehouse equipment refers to any element, system, or machine employed in logistics tasks such as: goods receipt, storage, stock management, transportation, order processing, and goods dispatch. We can differentiate between manual equipment (pallet racks, forklifts, and order pickers, to name a few) and automated equipment (such as conveyors, electrified monorails, and stacker cranes).

To make logistics processes as efficient as possible,

each operation requires a specific type of warehouse equipment. For example, truck loading/unloading and preparing orders containing small items call for different solutions. Therefore, choosing the right type of warehouse equipment for each operation is key in determining the success of a business's supply chain.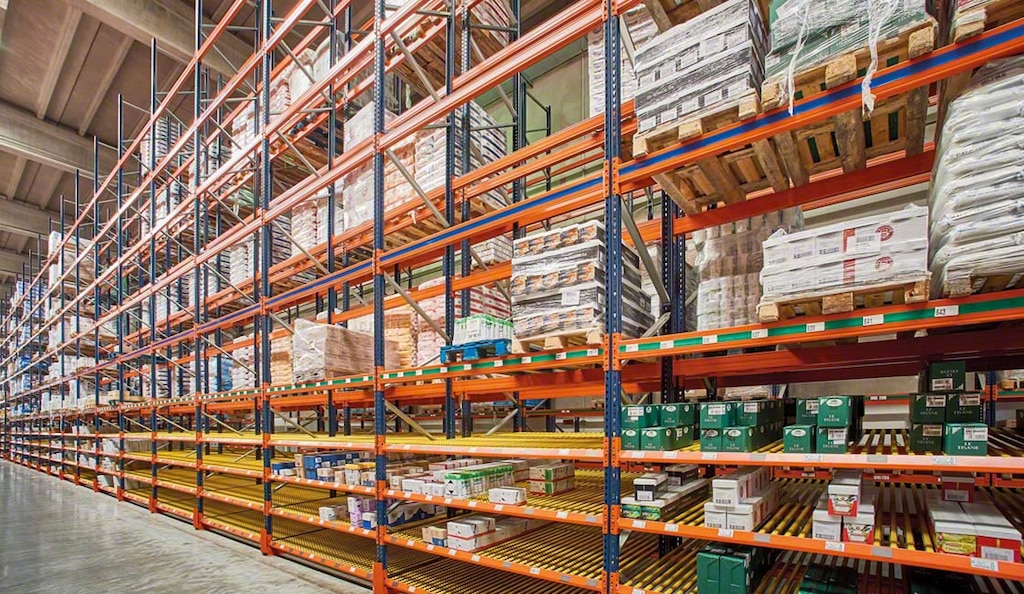 Storage equipment and solutions
Warehouse equipment relating to the storage of goods is extremely varied. On the one hand, we have storage systems for accommodating small items, such as shelving and carton flow racks.
On the other hand are storage systems for pallets designed to hold bulkier goods. These include pallet racks, drive-in pallet racks, mobile racking systems, push-back racking systems, and pallet flow racks. Of all the compact systems, the semi-automated Pallet Shuttle stands out. This storage solution uses a motorized shuttle to move pallets inside high-density racks.
In addition to boxes and pallets, equipment can be employed to handle the storage of cumbersome items. This is the case of cantilever racks, devised to hold long products on their load-bearing arms.
We can also find solutions specializing in the storage of irregular goods, e.g., racking for reels and drums. This category also includes mobile shelving, a storage system generally employed in offices, pharmacies, and archives to store documents or small products.
Digital equipment: the WMS
More and more companies are implementing warehouse management systems (WMSs). This software coordinates all operations in a logistics facility, from order picking to product slotting, among others. The WMS supervises all processes in the warehouse: via an RF scanner, the software tells the operator which task to carry out, minimizing the risk of error in all logistics stages.
The software is present at the various workstations and can normally be accessed from a PC. Likewise, it generates and prints labels for each good to facilitate product identification and traceability.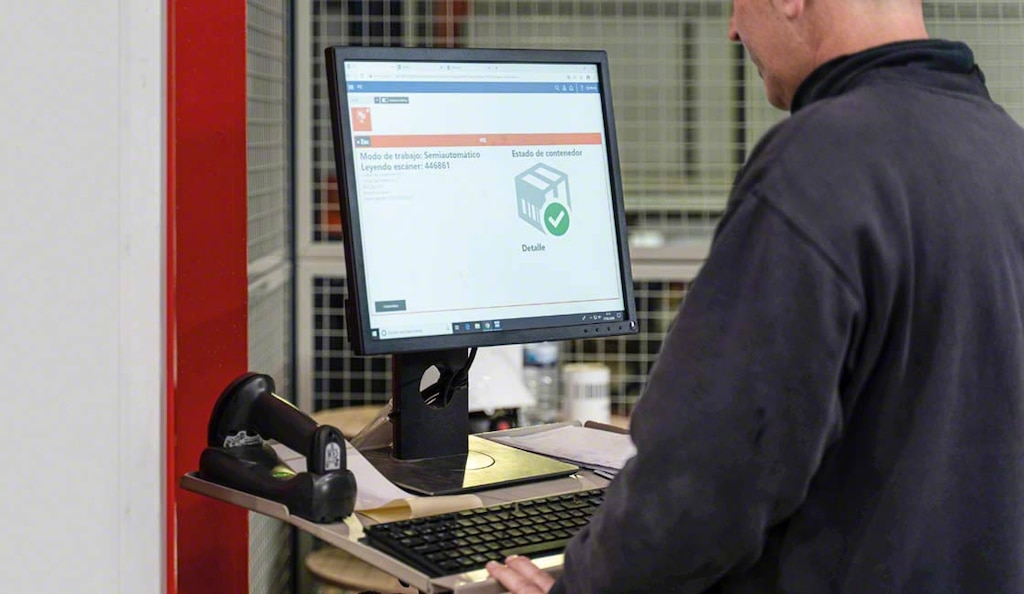 Forklifts and pallet moving equipment
In a warehouse with manual operations, the flow of goods is carried out with forklifts and other manual handling equipment. These machines are charged with transporting palletized goods between the different storage areas.
Not all forklifts fulfill the same function. For instance, pallet jacks and pallet stackers are the most common for order picking and for moving a relatively small number of pallets over short distances. Meanwhile, reach trucks and counterbalanced forklifts serve to transport pallets and place them in different racking units and at different heights.
Equipment for order picking and packing
Warehouse pickers make use of warehouse equipment to cut down on travel and improve their efficiency in picking. One of the most widespread solutions are order pickers, manual handling equipment that speeds up pallet picking. To prepare orders with boxes, operators often follow the pick-to-cart method, whereby they move around the facility, placing the products of multiple orders in their carts.
In this logistics phase, operators are equipped with picking assistance devices that lower the probability of mistakes. One example is voice picking systems, whereby operators use a headset with a microphone to interact with the warehouse management software and follow its instructions to complete each order.
On the other hand, the workstations set up for packing are made up of equipment such as scales, specialized packaging machines and an adjustable ergonomic workbench. Plus, if required, the workstation can be connected to the WMS by means of a computer.
Equipment for automated storage and retrieval systems (AS/RS)
To streamline product movements in the facility and raise throughput, one go-to solution is to automate part or all of your storage operations. The warehouse can be equipped with automatic handling equipment, e.g., stacker cranes (AS/RS for pallets). There are multiple types of stacker cranes — single-mast, twin-mast, and AS/RS trilateral stacker cranes, among others — that can be adjusted to the requirements of each customer. These types of robots make it possible to compact the goods and raise productivity, thanks to their agility in performing combined operation cycles.
In the case of products stored in boxes or on trays, miniload systems (AS/RS for boxes) can be used. With this solution, an automated stacker crane speeds up the placement and removal of stock from the racks.
But goods storage isn't the only operation that can be automated. You can also install automated conveying systems — i.e., pallet conveyors or roller conveyors for boxes, totes, and bins — to increase the flow of movements in the facility. This category includes electrified monorails for pallets, an automatic conveying system comprising self-propelled carriages that move along an electrified rail creating a closed circuit.
The market also offers other robotic load carriers, such as automated guided vehicles (AGVs) and autonomous mobile robots (AMRs), which use technology such as machine learning to transport products in the warehouse.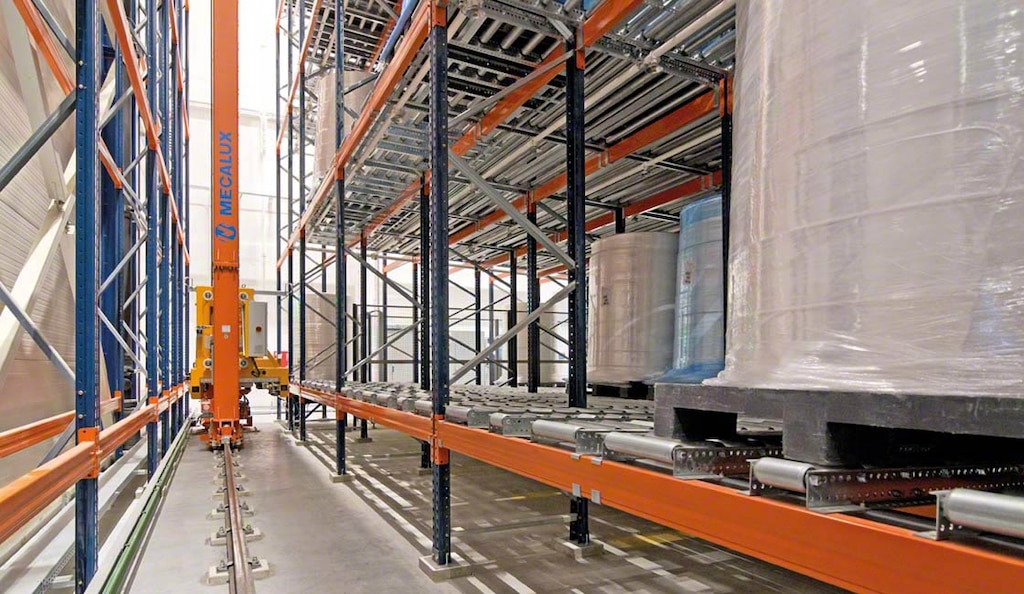 Warehouse equipment for safety
Logistics facilities should be outfitted with safety systems that ensure the integrity of the operators, the products, and the storage and load moving equipment. In this category, we find signage to prevent the main warehouse risks: from floor markings to illuminated signs to RMI signs for the racks.
To guarantee safety, it's also essential to provide operators with the personal protective equipment (PPE) designated by the laws in each country. Moreover, when necessary, wire mesh partitions, pallet rack guards, and pedestrian barriers should be installed.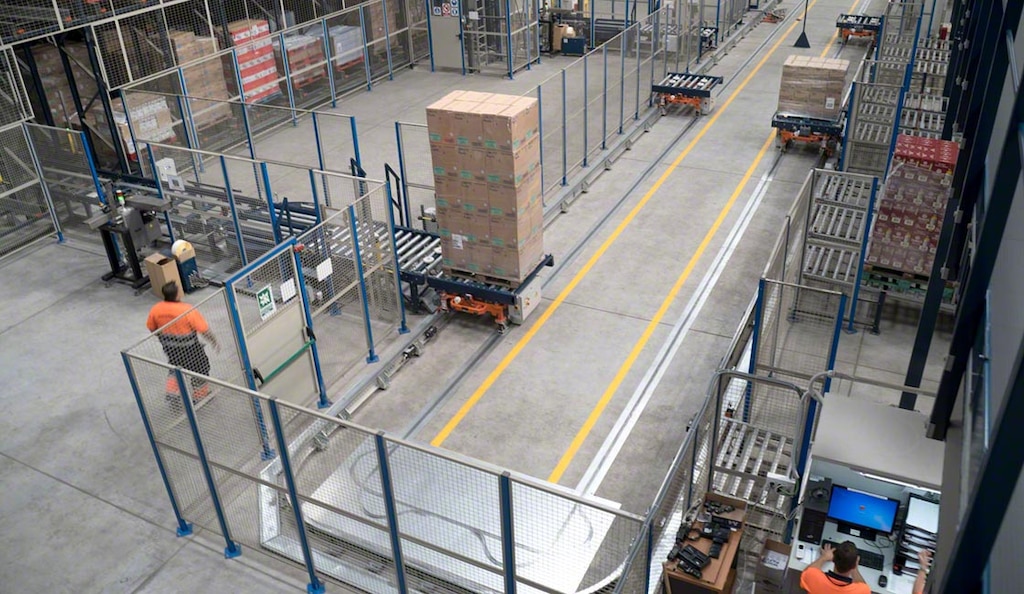 What warehouse equipment do you need?
There's a huge variety of warehouse equipment on the market to meet the needs of every company. Factors such as the available storage space, the warehousing conditions, and the unit load(s) managed will determine which type of equipment is appropriate for your business.
Each type of racking, forklift, and automatic device performs a specific logistics function. And all this equipment as a whole makes the warehouse productive as well as efficient.

Interested in maximizing your facility's performance with manual and/or automatic equipment? Don't hesitate to contact us. For over 50 years, Interlake Mecalux has provided its customers with advice on intralogistics solutions and on how to choose the best equipment for their warehouses.