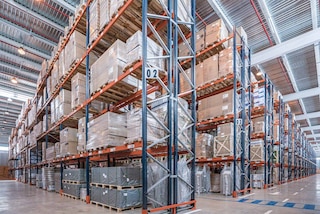 Transit warehouse: solution for transporting goods further
April 29, 2021
A transit warehouse is a type of logistics installation in which goods are stored temporarily and is only set up to receive and quickly dispatch products. These types of warehouses are generally used to carry goods over longer distances, normally, when the transportation between the origin and destination requires more than a day.
In this post, we define what constitutes a transit warehouse, detailing its characteristics and benefits, and we explain how it should be designed based on several real examples.
What's a transit warehouse
To understand exactly what a transit warehouse is, we first need to examine the definition of a warehouse: a facility or structure that serves to deposit or store goods, products, or merchandise to be subsequently sold, used, or distributed.
In this sense, a transit warehouse is a facility configured to provide support to the main distribution network. So, what does this mean? The goods are stored provisionally until required in the next stage of the logistics process, for example, packaging or the final delivery to the customer. Transit warehouses are often strategically located between the main distribution center and a regional facility or the end customer.
Functions and benefits of a transit warehouse
The main purpose of a transit warehouse is to temporarily store goods (known as transit stock or transit inventory) waiting to be dispatched to other company facilities or points of sale that it supports.
One of the most notable benefits of a transit warehouse is its low cost, generally speaking. As opposed to traditional storage facilities, a transit warehouse only stores merchandise; it doesn't perform any other operations on the products. For that reason, sometimes the goods don't even make it onto a rack. Thus, with such a high pallet turnover, the unit loads are left directly on the warehouse floor to carry out the receipt and dispatch operations.
Another cost-related aspect is that the carriers don't make long trips through the facility, which reduces the economic impact of the service.

Characteristics of a transit warehouse
A high level of goods traffic is one of the most distinctive traits of this type of warehouse, since the stock doesn't remain in the facility for very long. This means smooth, agile movements when loading and unloading goods take priority over storage capacity. Therefore, transit warehouses need to be adapted and prepared so that the entire process is carried out quickly and continuously.
Another attribute for which these facilities stand out is their location. Generally, they are used when the distance between the logistics center of origin and the destination exceeds one transit day. Hence, they're located in strategic geographic, well-connected areas and always between the main warehouse and a regional facility or the end customer.
Design of a transit warehouse
When planning a transit warehouse, it's essential to place emphasis on smooth and flexible goods movements. Picking is rarely done in transit warehouses, and the pace of goods receipts and dispatches is very high.
For the warehouse layout design to foster these two characteristics intrinsic to any facility, you have to start by defining the docking areas. This should be carefully designed and distributed to achieve maximum efficiency and avoid bottlenecks. It's also important to have a rack-free area just in front of the docks, known as the warehouse staging area, to temporarily deposit the goods on the floor while they wait to be transported somewhere else.
In terms of the choice of storage system, these facilities require a solution with direct access to the merchandise and that's versatile enough to house multiple SKUs of different shapes, sizes, and weights. In this case, pallet racks are the go-to storage system. They're sufficiently robust and affordable, and they streamline the goods loading and unloading processes. Plus, they make it possible to install double-deep racks to maximize the storage of same-SKU pallets.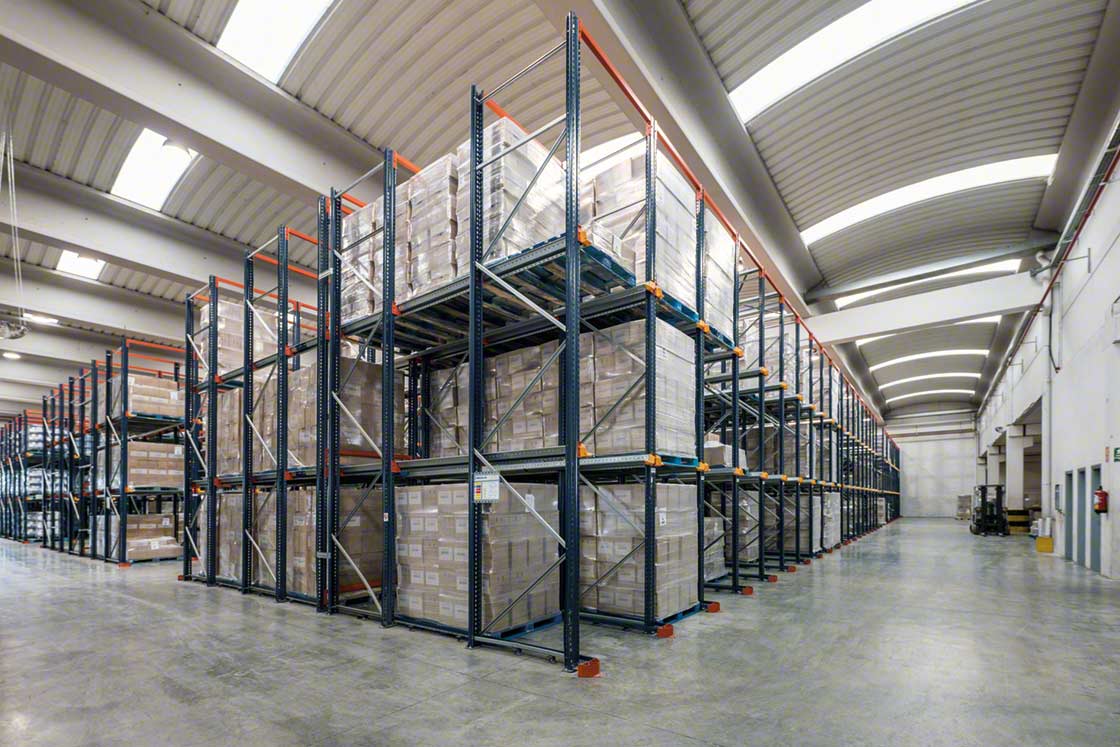 In the case of working with many units of the same SKU, high-density drive-in/drive-thru pallet racks are a popular option. In addition to optimizing the storage space, they can accommodate unit loads of various formats and weights. In this vein, the Pallet Shuttle system extracts and deposits pallets by means of a motorized shuttle, increasing agility in movements.
In relation to software, it's advisable to implement a warehouse management system that verifies that the merchandise received matches those scheduled to arrive, that manages slotting, and that sequences shipments by transportation route. Moreover, many companies benefit from management software that syncs the inventory of their central warehouse with that of their other facilities and/or physical stores in real time. This feature is available, for instance, in the Store Fulfillment module of Easy WMS, the warehouse management system from Interlake Mecalux.
Transit warehouse examples
At Interlake Mecalux, we're specialists in the design and implementation of all kinds of facilities, among them, transit warehouses:
Leroy Merlin: the French multinational recently re-devised its business strategy, opening new stores in the downtown areas of several major cities while strengthening online sales of its products. To accomplish this, and to store all the goods manufactured at its production plant in France, Leroy Merlin built two warehouses to store products before they're delivered to end customers and stores in urban centers. Our company supplied racks with a capacity for 21,636 pallets. Likewise, it set up an extensive receipt and dispatch area in both facilities.
Maheso: this major producer of prepared and precooked meals, present in 15 European countries, has a freezer chamber that serves as a transit warehouse for storing all the goods from its production plant. To store the goods at a frozen temperature, our firm installed a compact racking unit serviced by the Pallet Shuttle system, as it optimizes the surface area, streamlines goods flows, and saves on energy consumption to generate cold air.
The transit warehouses of these two companies are located close to big cities, thus reducing last-mile delivery times.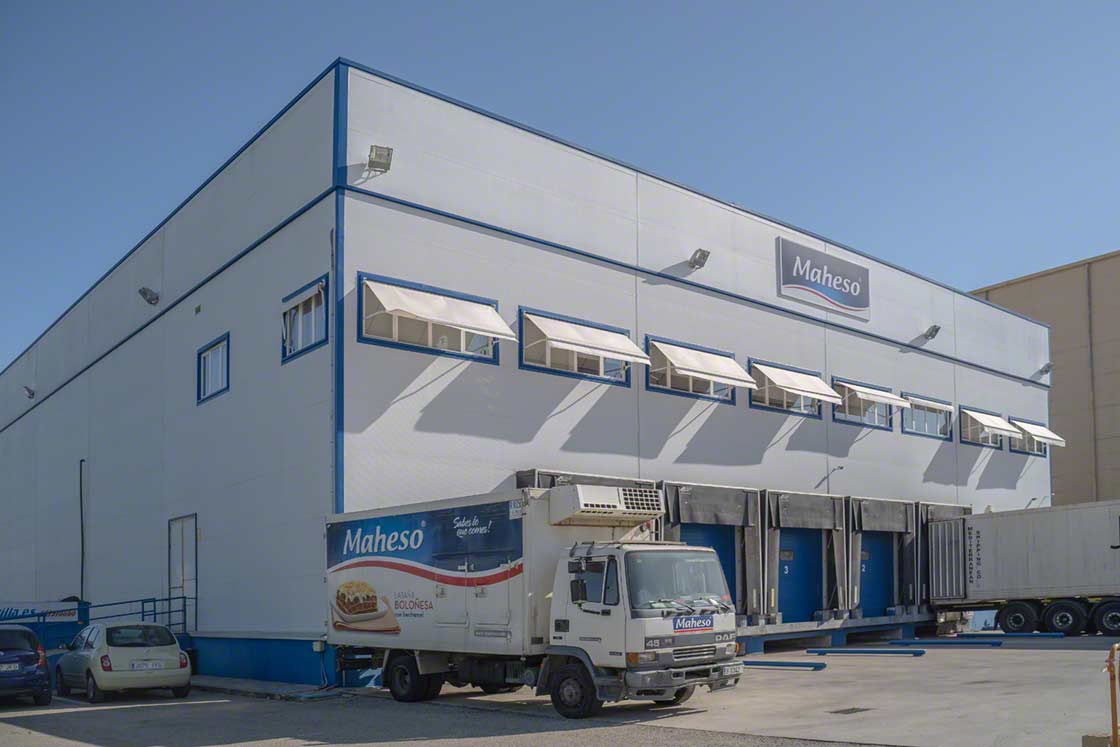 Warehouses for going even further
Transportation and logistics evolve at a dizzying rate, seeking to adapt to new consumption trends, particularly those driven by the e-commerce boom. Logistics 4.0 strives to keep delivery times as short as possible while minimizing operating costs.
A transit warehouse could be the solution your supply chain needs to be more efficient and reduce transportation and goods distribution expenses. At Interlake Mecalux, we have ample experience in designing and installing storage systems that best meet each need. So, if you have any questions or are interested in any of our solutions, get in touch. One of our experts will be happy to give you advice.