February 15, 2022
Warehouse inventory management software is a program that enables you to effectively control goods in your facility. Among its basic features, it records the units stored for each product SKU, their locations, and the history of goods entries and exits.
This inventory software is essential in practically any logistics facility, as manual management increases the risk of imbalances and of operations being carried out inefficiently. Therefore, choosing the right inventory and warehouse management software is crucial for your business's future.
When to use warehouse inventory management software
Implementing software for warehouse inventory control marks an evolution from manual stock control with pen and paper or basic office tools (inventory management with Excel). Inventory management software boosts efficiency in logistics processes such as stock entries and exits, inventory counts, and calculations and forecasts for stock quantities needed at any given time.
One of the main advantages of an inventory management program is stock control: the software monitors product traceability by recording the goods received and orders shipped. Inventory software enables strict management of stock levels: it coordinates cycle counts and determines values such as the reorder point and the maximum stock level for each SKU according to demand, historical records, and criteria predetermined by the logistics manager. Likewise, this software displays inventory levels in real time, which allows managers to know the status of each SKU and availability of stock at all times. This control reduces the risk of stockouts and, consequently, unfulfilled orders.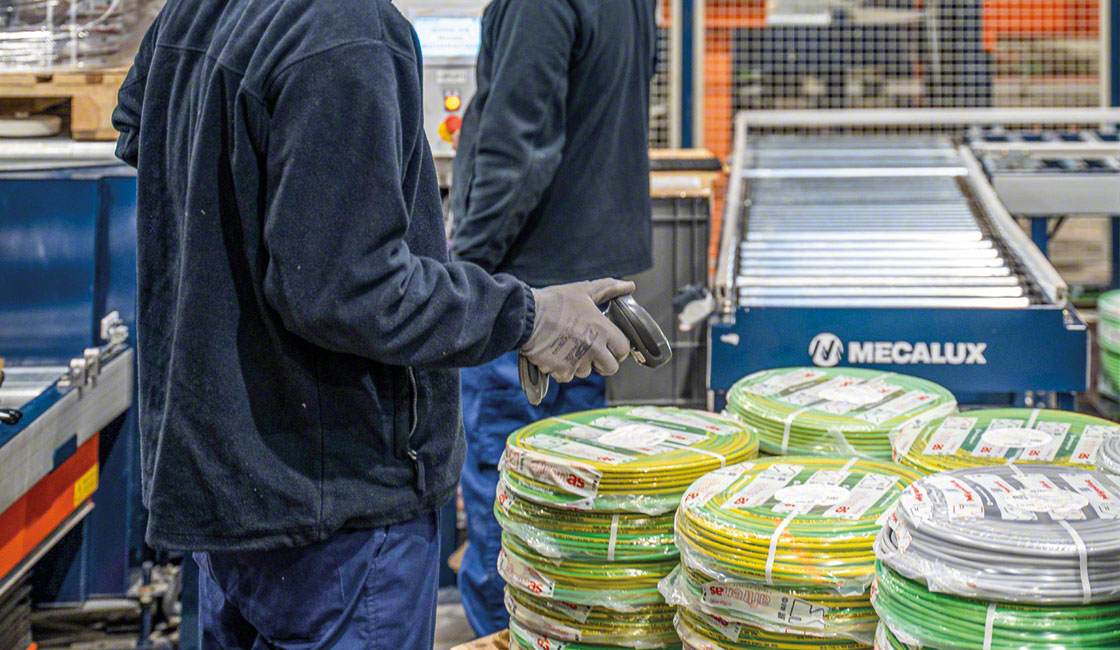 Key features for choosing the best inventory management system
New consumer trends have made warehousing more complicated. The ecommerce boom and the free order returns standard have ushered in a new kind of logistics characterized by a greater number of SKUs and more complex operations. With shorter delivery times, more and more companies are breaking up their logistics infrastructure and spreading their operations across multiple warehouses.
This scenario has led numerous businesses to invest in warehouse inventory management software with a wide range of functions that allow the program to evolve along with the business. When this software includes a series of advanced functionalities designed to efficiently control stock as well as operations in the facility, we're talking about a warehouse management system (WMS). This logistics solution goes beyond traditional inventory management software, as it maintains thorough stock records while ensuring the productivity of all movements made in the facility. These are some of the core features of a WMS:
Putaway management
The software can be connected to QR and barcode scanners to monitor goods inflows and outflows. It can also incorporate specific functions to organize stock movements in the warehouse, taking into account criteria such as product turnover and batch picking.
Management of online sales
Basic warehouse inventory management software should facilitate stock control. But a WMS has additional functionalities aimed at limiting errors in order preparation and dispatch. In the warehouses of companies with online sales channels, the updating of the online catalog needs to be automated across the multiple points of sale (POSs) on the web. These include marketplaces such as Amazon and eBay and ecommerce platforms like Shopify and WooCommerce. The Marketplaces & Ecommerce Platforms Integration module from Interlake Mecalux was specially designed for this purpose.
Multi-store/multi-warehouse management
The warehouse inventory management software you choose should have the option to manage stock in more than one logistics facility. WMSs can coordinate logistics processes such as automatic replenishment of physical POSs and transfers of goods between the different stores. This is a feature you'll find, for instance, in Easy WMS from Interlake Mecalux.
Shipping management
Due to the success of ecommerce and the importance of last mile delivery, dispatch management has become one of the most complex tasks. This is because any error could damage business competitiveness. Besides monitoring stock inflows and outflows, a scalable software program should be capable of organizing shipping processes by carrier route (as the Multi Carrier Shipping Software module from Interlake Mecalux does).
Management of the main inventory KPIs
Data are essential for making well-informed decisions. A WMS compiles real warehouse KPIs, e.g., percentage of SKUs in stock, rate of prepared orders, etc. The collection of this information allows managers to make decisions based on the actual status of operations in the facility.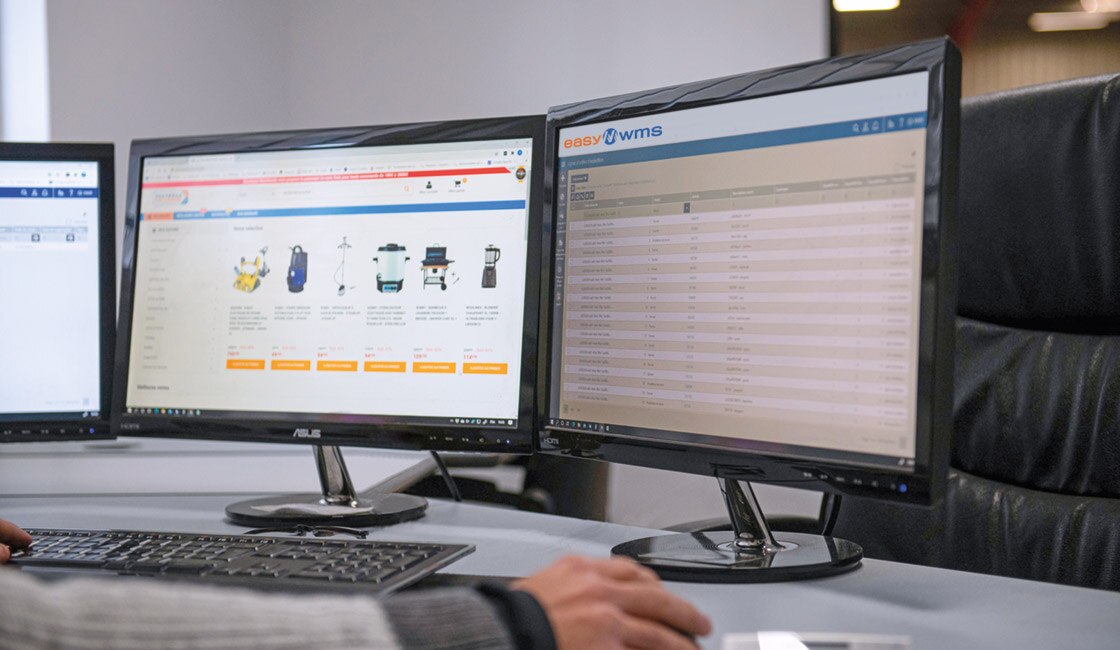 WMS: software for comprehensive inventory management
Logistics 4.0 makes it clear that digitization is the way to eliminate errors in both operations and stock management. That's why more and more companies are investing in advanced inventory software, such as warehouse management systems (WMSs). Beyond ensuring strict stock control and product traceability, a WMS offers numerous additional functionalities such as the organization of wave picking, kitting, returns, and shipping. It also designs and optimizes pick paths, among many other functions.
Easy WMS features several modules for fine-tuning processes, such as:
Location management: Warehouse Slotting Software.
Organization of the various dispatch operations (packing, labeling, and shipping): Multi Carrier Shipping Software.
Coordination between the warehouse and physical stores: Store Fulfillment.
Synchronization between stock in the facility and the various online POSs: Marketplaces & Ecommerce Platforms Integration.
Rent a Book: Easy WMS for effective inventory management
Ecommerce has made stock management much more intricate. It's helped to usher in new market trends such as short delivery windows, free product returns, and orders that are increasingly heterogeneous. Digitizing stock control in the warehouse can result in efficient order picking. And that's exactly why Belgian textbook rental company Rent a Book relied on the Mecalux Group to implement Easy WMS warehouse management software in its facility in Enghien (Belgium). Rent a Book's business is seasonal, reaching peaks of up to 1,000 orders a day during the summer months.
"Mecalux's Easy WMS has been perfectly adapted to our company. Since installing it, we've shortened our order fulfillment time. Plus, the number of errors has gone down, lowering our after-sales service costs. What we value most about this system is its responsiveness and flexibility, as it's tailored to our warehouse and our products," says Grégory Bastieans, Project Manager at Rent a Book.
The Mecalux Group's warehouse management software helps to eliminate errors in all logistics processes in the Rent a Book facility, especially in inventory management. "Thanks to this system, the operator doesn't have to worry about where to look for each product. Instead, Easy WMS tells them where to go and how much to pick. Orders are so accurate that errors can't occur during order preparation," says Grégory Bastieans.
Moreover, to increase throughput in the order dispatch phase, the Mecalux Group has deployed the Multi Carrier Shipping Software module. In addition to personalizing each shipment, this advanced functionality makes it possible for the company to coordinate with BPost, the carrier charged with distributing its orders.
Software to manage inventory and boost efficiency in the warehouse
Inventory control software is a logistics program tasked with monitoring stock entries and exits, performing stocktaking regularly, and coordinating the fundamental processes taking place in the warehouse. Nevertheless, it's important to consider other functionalities that go beyond that. For example, warehouse management software is a must if you need to automate kitting management or perform cross-docking.
In any case, new market trends such as same-day deliveries, free product returns, and the construction of logistics facilities near big cities have led companies to implement more complete software that responds to the challenges of Logistics 4.0.
A program such as Easy WMS can be tailored to the level of complexity required by your business, ensuring efficiency in ecommerce scenarios, in the warehouses of logistics providers with multiple customers, and in the supply of complex production lines. Over 1,000 facilities in 36 countries count on our software to optimize their logistics processes. Get in touch, and one of our expert consultants will offer you a customized solution.