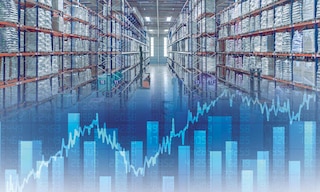 Maximum stock level in inventory management
January 4, 2022
The maximum stock level is one of the ways in which businesses control the number of goods in their warehouses. The mission of any company is to meet the demand for its products. Therefore, organizations must do everything possible to avoid running out of inventory and — at the same time — prevent overstock.
The maximum stock level is a formula for establishing the upper limit not to be exceeded. If that were to happen, expenses would go up due to storage costs or the loss of value of the products: they could perish or become obsolete. That's why it's important to closely monitor this indicator.
Maximum stock level definition
The maximum stock level is the largest number of goods a company can store to provide its customers with service at the lowest possible cost. It's vital to keep inventory control in line with demand. If not, the business could go over the maximum stock level and find itself with overstock, a problem resulting in lack of space, squandered materials, and the risk of the goods becoming obsolete.
Companies classify inventory into different types of stock in order to more accurately control their products. Depending on the number of available items and fluctuations in demand, companies set maximum inventory levels as well as minimum stock levels.
Maximum stock level calculation
The maximum stock level is calculated taking into consideration factors such as capital, product consumption rate, available warehouse space, risk of deterioration and obsolescence, and economic order quantity, among others.
There are four major variables involved in calculating your company's maximum stock level:
Reorder point. The reorder point is the level at which you need to procure new products to avoid a stockout.
Replenishment quantity. This is the exact number of items you need to replenish your inventory. The amount of stock should be neither too high, leaving you with excessive capital tied up, nor too low, amounting to insufficient safety stock. You can use the EOQ (economic order quantity) formula, also known as the Wilson formula, to obtain this value. It consists of calculating how often to place an order and in what quantity, under the assumption that demand is constant and the supplier's conditions are fixed.
Minimum demand. This is the minimum amount of goods consumed.
Lead time. Lead time constitutes the time elapsed from the moment a purchase order is placed with a supplier until the goods are received.
Using these variables, the maximum inventory level calculation would be as follows:
Maximum stock level = Reorder point + Replenishment quantity - (Minimum demand x Lead time)
Source: Supply Chain Intelligence: Application and Optimization by Kaushik Kumar and J. Paulo Davim
Let's take a look at an example. Imagine that fictitious cork company Orch Kork wants to know the ideal maximum stock level for its warehouse. The business has calculated the minimum demand level at 10,000 corks per week; thus, to properly serve its customers, it has to restock a total of 65,000 units every four weeks. Its goal is for its stock levels to remain above 45,000 corks (the reorder point).
In other words:
Reorder point = 45,000
Replenishment quantity = 65,000
Lead time = 4 weeks
Minimum demand = 10,000
Orch Kork would apply the formula like this:
Maximum stock level = 45,000 + 65,000 - (10,000 x 4)
= 110,000 - 40,000
= 70,000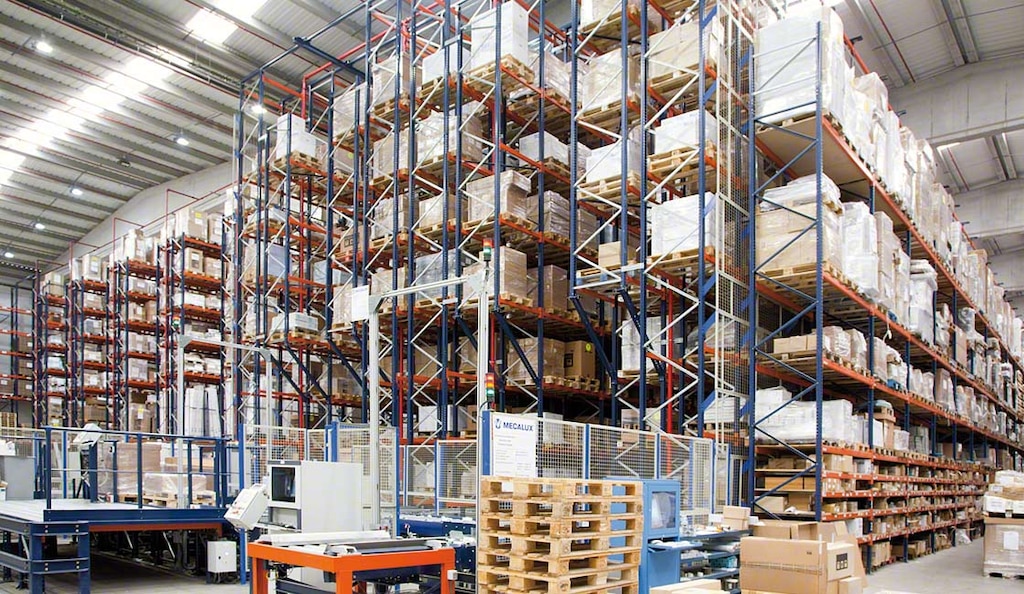 Factors involved in the maximum stock level
One of the needs of any business is to have enough stock to safely satisfy demand. However, managing a large number of items requires additional resources (among them, staff, seamless coordination with suppliers, and sufficient storage space).
Although needs will vary depending on the type of business, when defining the maximum stock level, common elements include:
Consumption pattern. Knowing your customers' consumption habits lets you more accurately calculate the quantity of items you have to store to meet demand.
Costs. Storing products for a long time entails costs for the company: not only the value of the items themselves, but also the storage space required to house them.
Nature of the goods. To define the maximum stock level, it's also important to bear in mind the characteristics of the products. For example, storing many goods with an early expiration date is counterproductive.
Seasonality. At certain times of the year, companies with seasonal products might have to store a higher level of stock to cope with the increased demand. Thus, these organizations must adjust their stock levels during periods of higher consumption.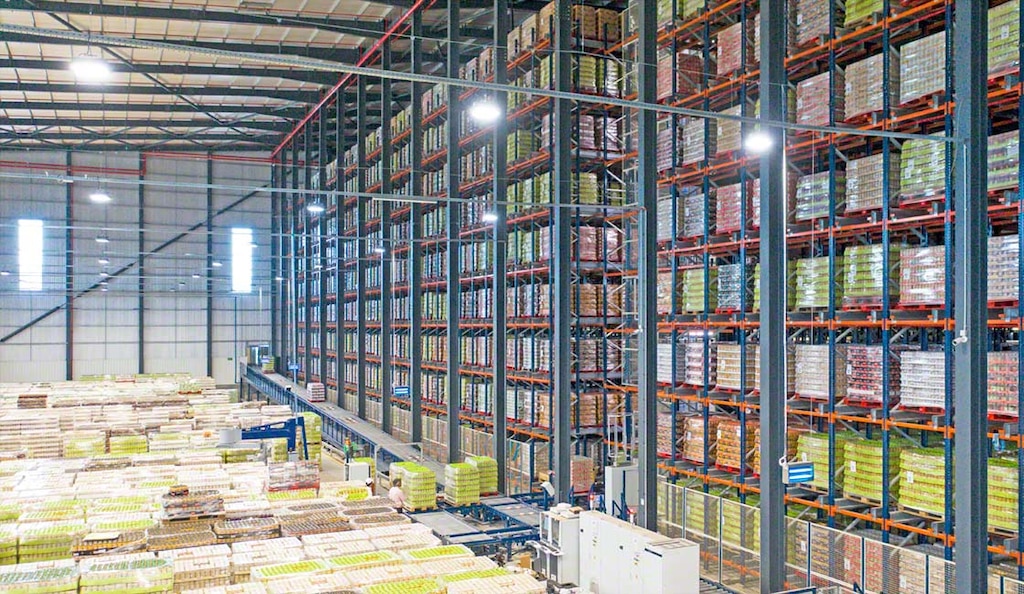 Maximum stock level with warehouse management software
Defining the maximum (and minimum) stock levels is fundamental for controlling stock in the facility, organizing inventory replenishment, and ensuring that picking locations are stocked to avoid interruptions in service.
A warehouse management system (WMS) such as Easy WMS from Interlake Mecalux incorporates features to manage the maximum stock level as well as the minimum one. The company sets the maximum stock level for its logistics facility taking into account variables such as flows, work pace, and available storage capacity; based on those parameters, the software from Interlake Mecalux organizes replenishment.
With goods replenished appropriately, warehouse locations always have the products needed to finish and dispatch orders on time. Implementing inventory management software means being equipped with a perpetual inventory system, which enables you to boost productivity in your facility and, consequently, customer satisfaction.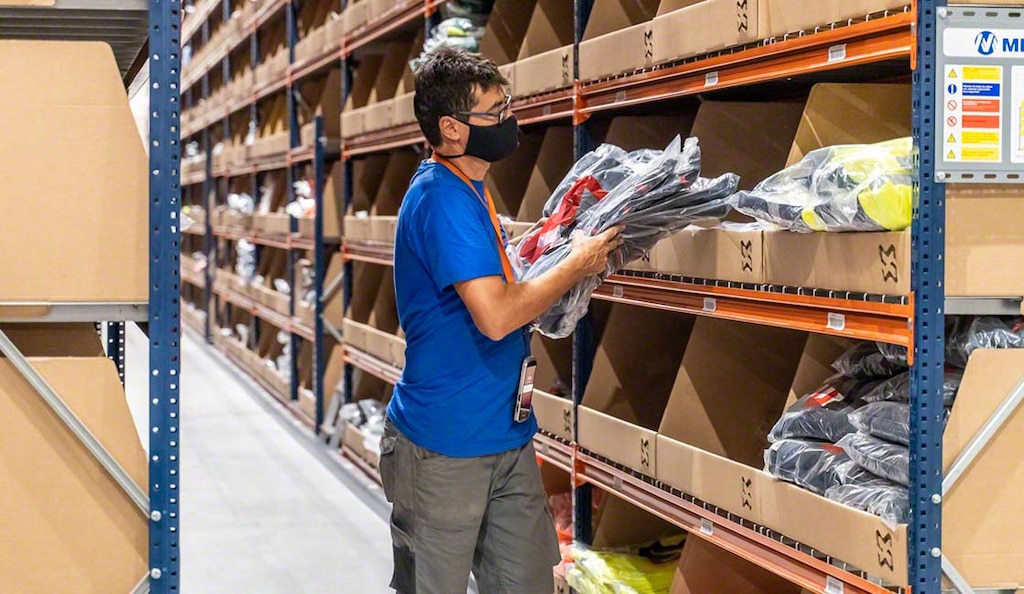 Maximum stock level: key to inventory management
Inventory management is a crucial operation in any warehouse. Correct management of the goods and of the maximum stock level helps to improve efficiency in storage and order picking tasks.
Warehouse management systems allow companies to control their products to a T. Easy WMS software from Interlake Mecalux has been implemented in logistics facilities in all sectors to enhance operations such as order fulfillment and replenishment. Be sure to get in touch; we'll analyze operations in your warehouse to help you boost your supply chain.