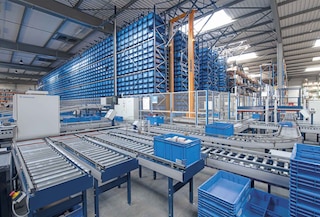 Intralogistics: a competitive advantage
February 16, 2021
Intralogistics is an effective way of differentiating yourself from the competition. Being equipped with intralogistics systems in which all resources and processes are optimized results in much more agile service.
The concept of intralogistics refers to all goods processes and movements that take place in a company, from the time the products leave the production lines until they're distributed to be delivered to customers.
New technologies and Logistics 4.0 have given rise to the emergence of Intralogistics 4.0. This change in paradigm has meant not only automating operations such as storage and order prep tasks, but also effectively managing large amounts of information relating to the goods.
In this post, we break down the particulars of internal logistics and Intralogistics 4.0, as well as the advantages of having optimized intralogistics systems.
Intralogistics: definition
Intralogistics is the part of the supply chain that encompasses all internal goods processes and movements, ranging from the receipt of the raw materials and their dispatch to the production lines to the storage of finished products and their shipment to customers.
When we refer to intralogistics, storage tasks and deliveries of orders to customers are what normally come to mind. Nevertheless, this concept goes well beyond that, including other operations such as product traceability, the management of raw materials, and the dispatch of these items to the production lines at just the right time.
Although intralogistics concerns only those processes that take place internally in the warehouse, it's also affected by external factors such as the supply and demand of both raw materials and finished products. Thus, in peak season, companies have to streamline their processes, especially picking.
Intralogistics has the ability to leverage business. A sound intralogistics strategy — which makes the most of the available space efficiently to achieve greater storage capacity, implements quality controls, and makes sure that products are consumed in the right order — undoubtedly leads to improved customer service.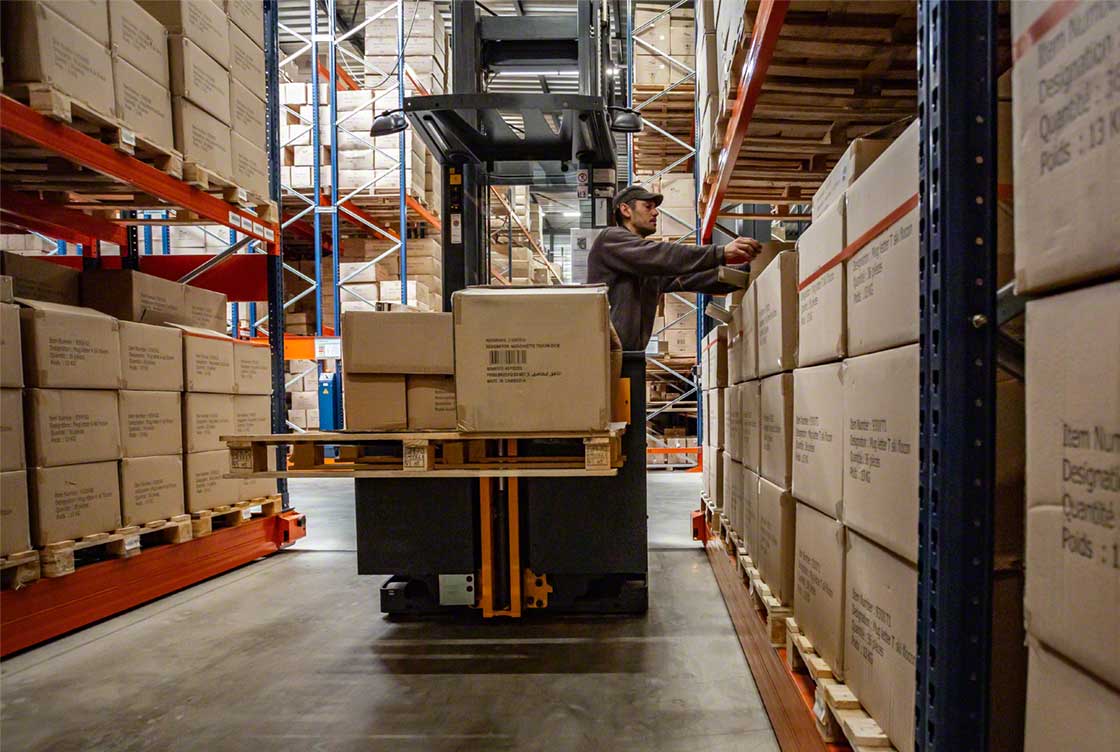 Technology in Intralogistics 4.0
Intralogistics 4.0 represents the deployment of automation, AI, and intercommunication systems in the various warehouse processes. Its objectives are very clear: to execute movements with greater accuracy and speed and at a lower cost.
Intralogistics 4.0 came about through the following advances:
Automation. This refers to fully automated storage systems and handling equipment that maximize the space and volume of the building, in addition to ensuring increased productivity and high availability.
Cobots. This technology has imbued all supply-chain processes with efficiency, from goods transportation to order prep.
Data intelligence. Big data is a very useful tool for knowing and analyzing warehouse throughput in real time. This allows you to predict scenarios and behaviors and, consequently, make improvements.
Technology simplifies processes, making businesses much more agile and flexible in order to adapt to market changes and new consumer needs.
How to optimize intralogistics
Effective intralogistics calls for the coordination of all elements involved in an installation: storage, transportation, and management systems, as well as products and operators.
For starters, storage systems should provide the greatest capacity and be specifically designed to make employees' jobs easier. Storage systems serve to organize the goods in their locations. Order directly impacts all activities, including the work of the staff, stock management, resources, flows, etc. Good merchandise distribution makes it possible not only to take full advantage of the available space, but also to minimize operator travel.
In an organized installation, goods are properly coded and identified in the warehouse management system so as to know their exact location at all times and prevent mistakes.
On the other hand, the facility should be designed to streamline and facilitate the work of the operators. Goods movements account for a very high percentage of warehouse costs. Therefore, companies often automate them because of the positive results this brings, primarily improved agility and safety.
Additionally, the installation should be equipped with all the necessary equipment for carrying out the various functions (for instance, computers, radiofrequency terminals, printers, labelers, strapping machines, stretch wrappers, etc.). The working areas must be clearly differentiated, and operators need to work in sync to fulfill the larger volume of orders.
Lastly, it's essential for the facility to have a warehouse management system, such as Easy WMS, to ensure strict control over all tasks and resources in the installation. This software monitors everything that occurs in the warehouse. At the same time, it oversees operators to enhance their performance.
Advantages of intralogistics
Internal logistics optimization and Intralogistics 4.0 bring major benefits to companies. The reason is obvious: proper warehouse organization helps firms to implement their business strategies and cut costs.
Controlling everything that occurs in the installation is vital for maintaining items in the best possible condition so that their quality meets customers' needs.
Let's take a look at some of the advantages:
Appropriate goods movements and flows.
Stock reduction.
Lower costs.
Workforce optimization.
Leveraged warehouse space.
Streamlined storage and order prep tasks.
Faster, more effective, and more satisfactory customer service.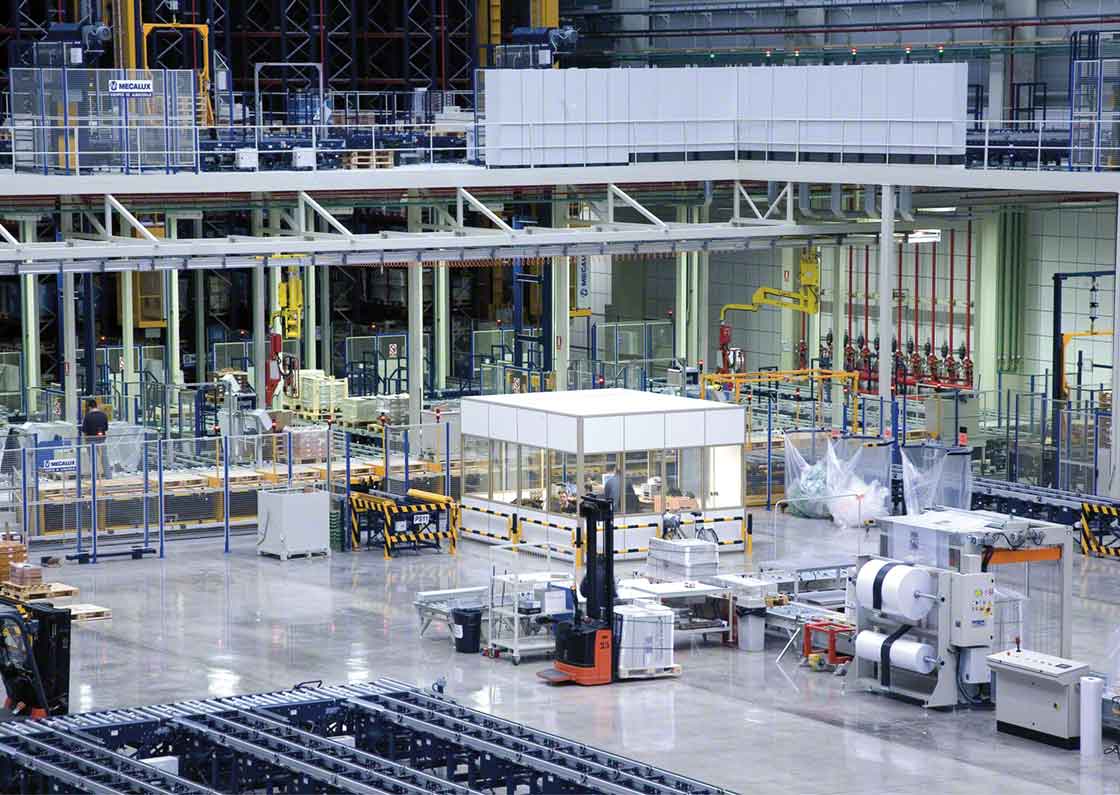 Intralogistics for the future
Organizations are increasingly aware of the fact that having well-organized and productive intralogistics systems constitutes a competitive advantage for their business. Companies can stand out from their competitors, thanks to agile service that's capable of responding to customer demands.
Technology advances such as automation and robotics serve to optimize intralogistics, simplify the work of operators, and control the products. In the end, though, to really perfect your logistics systems, you have to analyze your warehouse in depth. Knowing the ins and outs of your operations and exactly how products are managed is crucial for making decisions to improve the facility.
At Interlake Mecalux, we can show you how to modernize your intralogistics processes. Our solutions include automated installations, transportation systems, and our warehouse management software, all devised to provide the highest possible throughput. Get in touch. We'd be happy to analyze your logistics processes and advise you on the best solution.