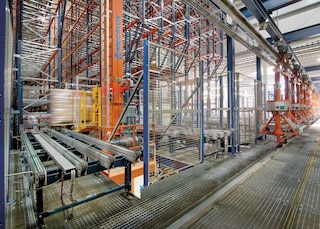 Industrial process automation takes off
July 31, 2020
Industrial process automation is defined as the transfer of functions performed by an operator to a programmable electronic system. Its purpose is twofold:
To replace the manual work of operators in more repetitive or difficult tasks by implementing various technologies.
To improve the quality of the service or the final product and reduce process costs, which is generally achieved by assisting operators.
Industrial process automation in the storage field arose as a consequence of the heightened pressure caused by increasingly tighter delivery times (in large part due to the rise of e-commerce logistics) and overall sales increases (which underline the need to optimize storage space).
So, what trends define the automation of industrial logistics processes?
Industrial process automation in logistics: overview and perspectives
- The presence of robots in warehouses triggers growth
According to data from consulting firm ABI Research, over 4 million robots and machines will be installed in over 50,000 warehouses by 2025, compared to only 4,000 automated installations in 2018. This includes a wide variety of devices, as seen in our article on warehouse robotics.
Nevertheless, nowadays, the most popular machines are those devised to carry out tasks that involve moving loads between the facility's various areas or to connect different installations.
In this vein, stacker cranes or conveyors for pallets account for the sector's most well-established technology. When evaluating these systems, companies prioritize durability, reliability, and operating times. However, they also take into account cost, return on investment (ROI), and maintenance options.
- The road to industrial process automation begins with smaller projects
Sometimes, when we talk about industrial process automation in logistics, it may seem like we're only referring to installations that operate according to a lights-out model, that is, that require minimal human intervention (and, thus, can run "in the dark"). Although it's true that these smart warehouses are prime examples of robotization, when it comes to modernizing an installation, there are different levels of automation.
And that's the key: the starting point for automating industrial logistics processes lies in modest projects. These aim to enhance warehouse productivity, providing operators with automatic devices that help them do their jobs. Let's take a look at some solutions in this regard:
Picking-assistance devices such as voice picking and pick-to-light equipment: these not only speed up the process, but also improve accuracy in order preparation.
Pallet Shuttle: this motorized shuttle is designed to operate in installations with high-density racking. The shuttle takes the place of the operator in pallet entry and exit maneuvers within the storage channel.
Warehouse management system: when it comes to WMSs, there's as much variety as there are prices. Therefore, you can find a simple, affordable warehouse management system that could be enough to get you started on automating a simple installation.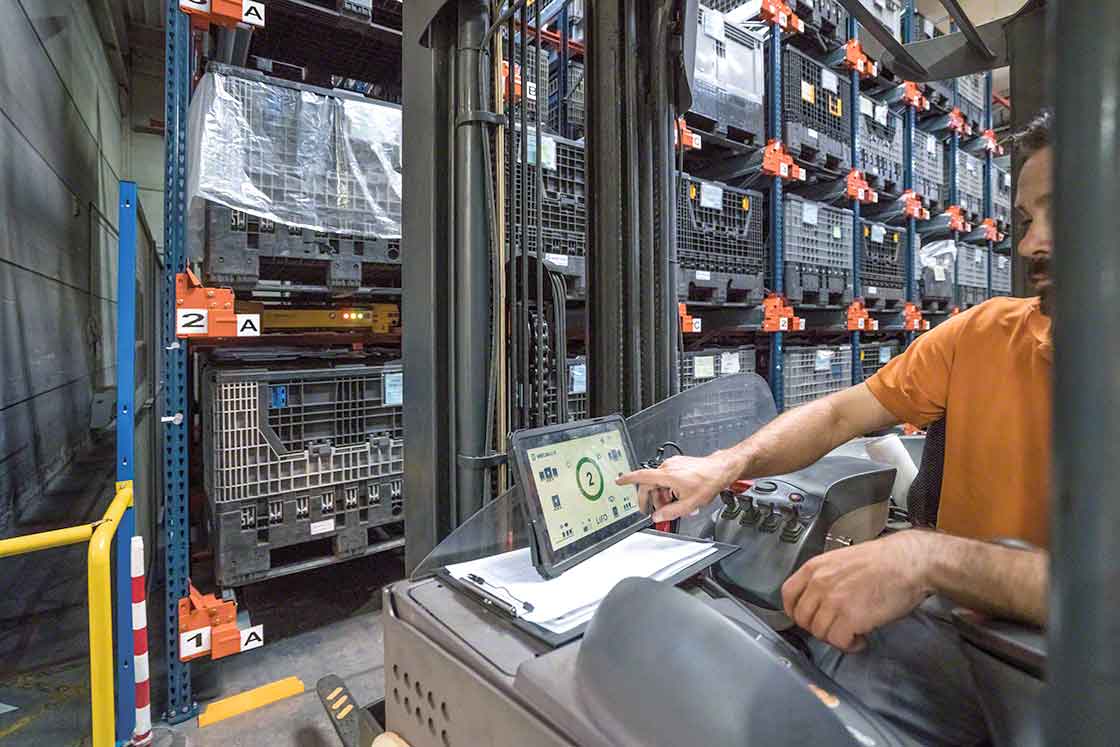 - Accurate needs analysis: the key to successful industrial process automation in logistics
To ensure the favorable outcome of an industrial process automation project in logistics, it's essential to correctly identify the company's needs and evaluate the throughput of the equipment installed to meet those needs. How can you do this? By examining the data.
Today, warehouses are equipped with systems in charge of gathering information: radiofrequency terminals, ERPs, warehouse management systems, labor management systems that monitor employees, equipment maintenance programs, etc. To determine which processes to automate, you have to interpret that vast amount of data. In doing this, key performance indicators (KPIs) linked to the installation and future sales forecasts will help immensely.
To get the perspective of one of our automation and robotics experts when doing your analysis, get in touch. We're backed by over 50 years of experience carrying out industrial process automation projects in all kinds of warehouses. Feel free to check out some of our success stories.