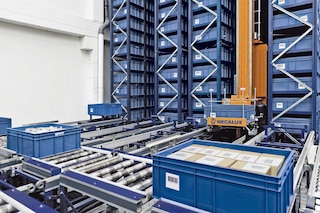 E-commerce automation: this is how it's done
February 11, 2021
E-commerce warehouses are no strangers to automation. With more and more SKUs and increasingly complex orders made up of single-unit, multi-SKU orders, automatic solutions are the only ones that can guarantee less errors and, thus, minimize reverse logistics.
Automation has established itself as the most appropriate solution for improving e-commerce logistics. These are its main advantages:
High-frequency product inflow and outflow cycles.
Simplified order management.
Error-free management of receipt, storage, preparation, and dispatch processes for complex orders.
Improved safety in the flow of boxes and in the work of operators.
Storage space optimization.
Maximum flexibility in organizing stock in the installation.
Total control over inventory in the warehouse — key for e-commerce business.
On the other hand, automation does have its drawbacks:
High initial investment in automated storage systems and software.
Obligation to standardize the unit load in the installation.
Need for good connectivity in the facility to ensure that the terminals and work stations are synced with the WMS.
Although this process has its disadvantages, automating an e-commerce warehouse involves not only boosting productivity, but also improving service to end customers. It all contributes towards the ultimate goal: meeting consumer expectations.
Solutions for e-commerce warehouse automation
Boxes have become the standard unit load in e-commerce installations. As a result, e-commerce companies have had to adapt their storage systems, handling equipment, and picking processes to accommodate these unit loads, which are more difficult to handle than traditional pallets.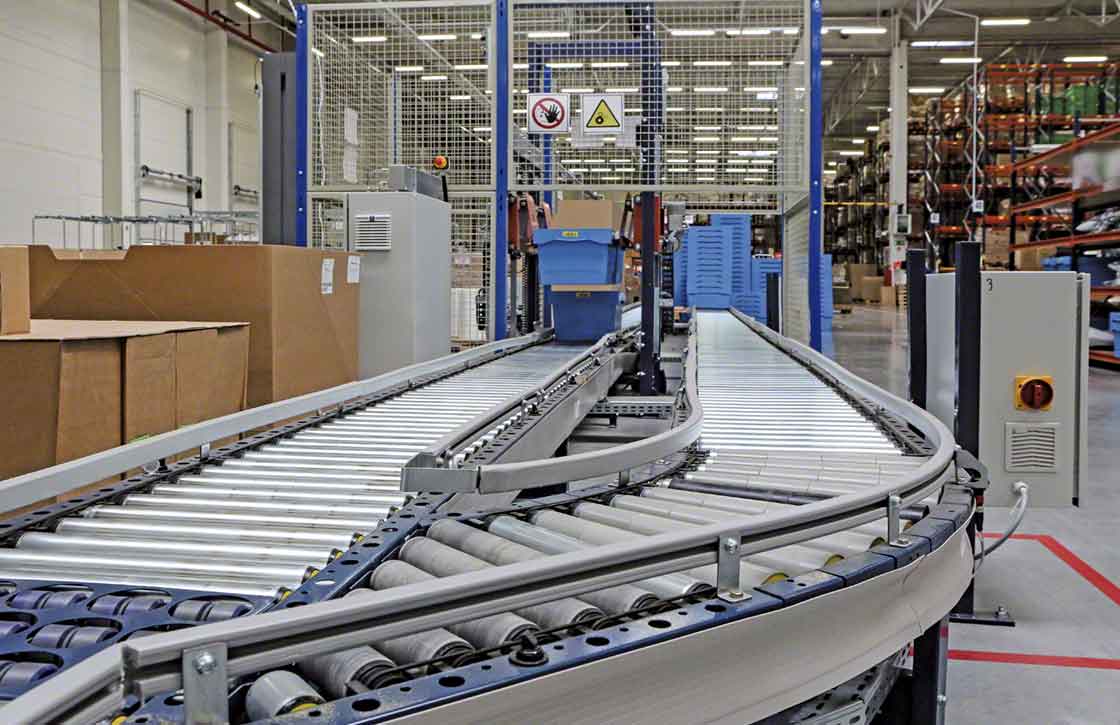 These days, the market offers a plethora of automated solutions for removing and placing boxes from/on shelves, streamlining goods flows in and out of the warehouse, and enhancing efficiency in complex processes such as order prep. Let's take a look at some popular options:
Miniload systems (AS/RS for boxes): these automated storage systems for boxes integrate one or various stacker cranes that quickly remove and deposit goods. This solution is ideal for e-commerce installations, as picking is done via the product-to-person principle. Operators remain at their pick stations, where the products are brought to them automatically.
Roller conveyors for boxes, totes, and bins: due to their size, it's more difficult to move these units loads with forklifts or pallet trucks. For this reason, e-commerce firms install conveyor systems for boxes to connect the various areas of the warehouse. This streamlines operations such as storage and order consolidation, and dispatch.
Robotics: this category includes autonomous mobile robots (AMR), for example, cobots, arms for picking, drones, and robots for sorting orders, all of which are tasked with facilitating the work of operators.
In addition to these fully automated solutions, some e-commerce businesses opt to implement semi-automated methods for improving processes such as picking and goods movements. This is the case of pick-to-light and voice picking systems, which guide workers in preparing orders, helping them to complete this task while minimizing error rates.
WMSs: the cornerstone of e-commerce automation
All automation processes in logistics installations require a warehouse management system to act as the brain, coordinating the various operations taking place in the facility.
And the e-commerce industry in particular calls — even more so — for an automatic administrator to respond not only to the challenges of the sector, but also to those of omnichannel retail itself. This trend, decisive for explaining new methods of consumption, concerns the multiplication of channels in the customer-supplier relationship.
Thus, this exponential increase in orders has compelled companies to look for software that guarantees total control over order prep. In fact, Easy WMS from Interlake Mecalux incorporates specific solutions for dealing with the complexity of omnichannel retail.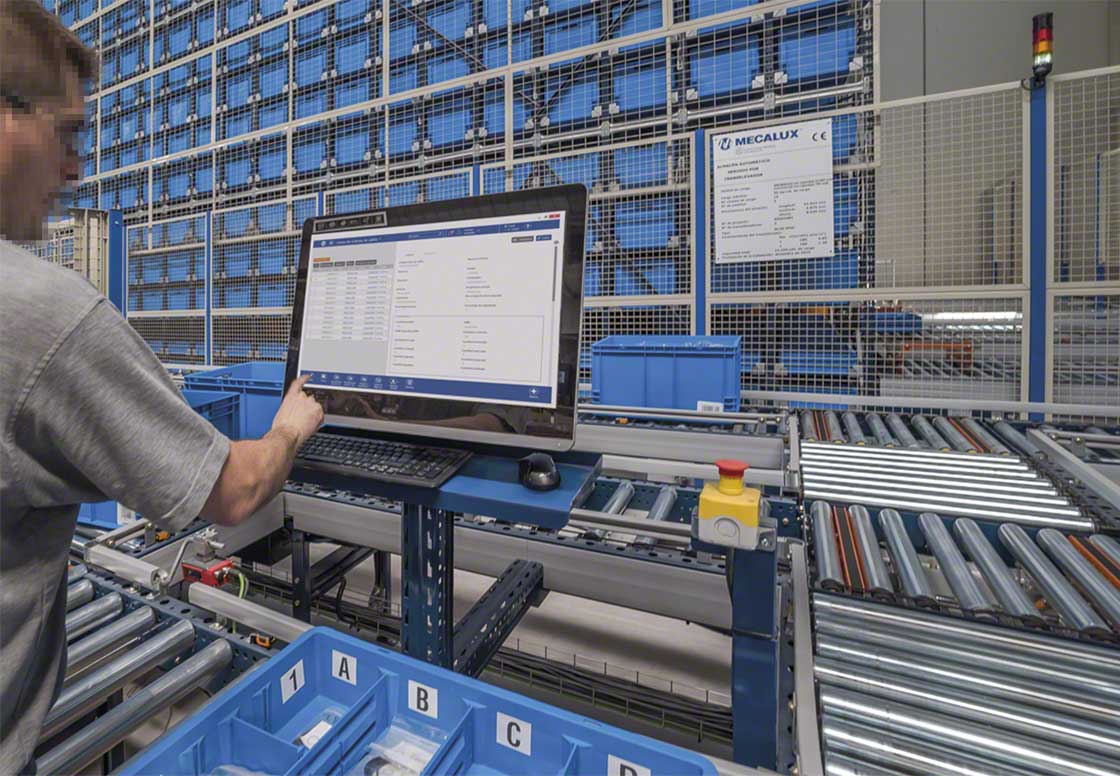 WMS for e-commerce allows you to optimize the various logistics phases an order goes through, speeding up processes ranging from goods receipt and picking through to packaging. This software enables companies to cut their delivery error rates and simplify operator workflows.
Moreover, when an online business works with multiple transportation agencies, there's a higher risk of mistakes. The solution is software that automates this management in coordination with the carriers, expediting order dispatches and raising customer satisfaction. For this purpose, Interlake Mecalux offers the Multi Carrier Shipping Software module.
Another issue in the digital environment arises when products begin appearing in multiple online stores and/or marketplaces. Making sure the stock is accurately updated in all of them can be arduous work when done manually. To prevent backorders, it's advisable to install software for automating the syncing of inventories across multiple platforms.
Efficiency guarantees competitiveness
E-commerce has broken the traditional logistics paradigm, ushering in trends such as the last mile and same-day deliveries. Although complex, these challenges have opened up a range of possibilities for companies that have shown themselves to be efficient in order management and end-customer deliveries.
To ensure agile, error-free logistics operations, e-commerce businesses look to implement the latest technology in their installations. This is the case with automatic storage systems, which guarantee the utmost frequency of product entry and exit cycles. Similarly, management systems optimize complex processes, for example, order preparation and dispatch, and enable comprehensive control of stock.
With more and more SKUs and tricky operations, automating logistics processes is, without a doubt, synonymous with efficiency. If you're interested in boosting the throughput of your e-commerce facility, don't hesitate to contact us. One of our expert consultants will advise you on the best solution for your business.