April 15, 2021
Blockchain in supply chain logistics is the latest technological answer to increasing agility and security in the exchange of information. Blockchain makes communication between suppliers, companies, and customers more effective. American consulting firm Gartner estimates that this technology will add more than $176 billion in value to the industry by 2025.
In this post, we define the concept of blockchain and set out its benefits and applications across the supply chain.
What's blockchain as applied to the supply chain and logistics?
The blockchain network is a set of interconnected computers or nodes that use a common protocol to validate and store the same information in a peer-to-peer (P2P) network.
The information recorded in each node is shared by the rest of those that make up the network. Every time a device enters a new datum, it is transmitted in encrypted form to the entire network for individual validation by each node.
So, what does this mean? That this system doesn't require an external source to authenticate the information; each node acts as a data verifier, preventing any type of unwanted manipulation of information.
Blockchain ensures an interconnected network with three essential characteristics: public, anonymous, and decentralized.
But how does this technology improve logistics operations? With the implementation of blockchain in logistics , communication between supply-chain stakeholders will be:
Securer: this technology doesn't allow for modifications to the information, so data already entered can't be deleted.
More transparent: everything is recorded in each of the nodes comprising the network.
More effective: the information must be automatically verified by the various devices involved in the blockchain network, which does away with having to wait for a third party to validate the data.
Blockchain applications in the supply chain: smart contract
Accurate and streamlined transfers of information between the different nodes and players in the supply chain make it possible to boost productivity in the warehouse and eliminate errors in logistics operations.
In addition, blockchain has brought to the sector a new concept of collaboration between companies: smart contracts. These agreements came about with the aim of reducing costs for end customers, doing away with intermediaries and simplifying processes.
Technologically, smart contracts are computer programs. In them, the different parties define the purpose of the agreement, the actions that can be performed on it, and the enforcement clauses. When any of these conditions are met, the linked clauses are automatically executed.
As they are devised in a blockchain environment, these contracts are unalterable: they are distributed among all the nodes in the network, which verify the information and then validate it, preventing them from subsequently being manipulated by one of the parties.
Although they are subject to legal contracts, these computer codes have gained a foothold as a solution for streamlining processes between different companies, especially with the inclusion of IIoT (Industrial Internet of Things) devices. But how can the implementation of these smart contracts benefit logistics operations? They can:
Eliminate mistakes and fraud in customer/supplier agreements: blockchain ensures that no errors or changes are made to contracts or their performance.
Raise productivity: together with other technologies such as 5G and IIoT, blockchain facilitates full warehouse automation, skyrocketing productivity and efficiency in the installation.
Avoid excessive documentation: as blockchain is virtual, it reduces the use of paper. Moreover, agreements are renewed automatically, provided the parties fulfill the stipulated conditions.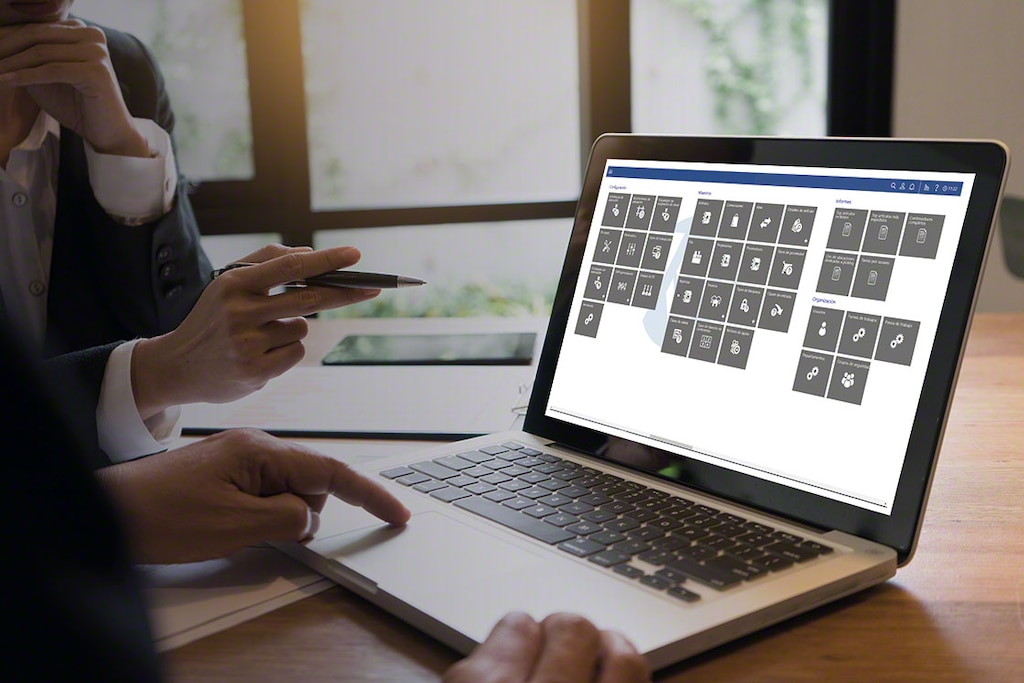 Up to now, blockchain information technology has been gaining ground in sectors and spheres requiring effective, agile, and secure exchanges of data. Examples are international business, last-mile delivery, and product traceability, among others.
Blockchain: traceability and transparency for the supply chain
Blockchain could become that standard information channel between all the players operating in the supply chain, providing a secure way to record data on goods and contracts throughout the entire logistics phase.
Thus, in conjunction with all IIoT elements (autonomous mobile robots, sensors, automation, smart tags, and other devices controlled by the WMS), blockchain enables:
Increased productivity, saving time and money: a securer and more powerful information transfer network makes warehouse automation more efficient, with more cycles and less errors.
More trust and transparency in the supply chain: the exchange of information between the various stakeholders takes place via a set of nodes that verify each new datum recorded.
Real-time traceability: thanks to the interconnection between all network participants, the business has full control over a product's traceability 24/7, resulting in more flexible and effective service for end customers.
In addition to these advantages blockchain employs smart contracts to create agreements that benefit all those involved in the supply chain while guaranteeing compliance with applicable regulations. Ultimately, blockchain technology stands for agility, transparency, and security at the service of Logistics 4.0.