March 30, 2021
The IoT (Internet of Things) is already a reality for more pioneering companies. The Industrial Internet of Things (IIoT) encompasses the network of physical objects that use sensors and software to connect to the web and share data, which makes them smart devices.
In fact, the growth of this technology is set to skyrocket in the coming years: a study by consulting firm Grand View Research puts IIoT investment at $949 billion by 2025.
In this post, we'll explain the concept of the IoT as applied to industry, its advantages for companies, and, particularly, the trends that will have the most impact on Logistics 4.0.
What is the IIoT?
The IIoT will be the next big revolution in business. This technology, which will enable different objects to connect with each other and share data, includes the set of devices that operate via the internet and other analytical platforms in order to process the data collected along the entire supply chain.
As opposed to the generic IoT, which is more focused on consumer benefits, the IIoT facilitates the interconnection of machines and devices in logistics and industrial procedures with the aim of improving process efficiency and performance.
With a global turnover of more than $14 trillion by 2030 according to a study by consulting firm Accenture, the IIoT, together with the development of Industry 4.0, will allow companies to do the following:
More easily detect inefficiencies and reduce errors as much as possible.
Maximize efficiency in the company's industrial processes.
Cut logistics costs, meaning both time and money.
IIoT applications
The Industrial Internet Consortium (IIC), a body made up of over 200 businesses dedicated to promoting the use of the IoT in the industrial field, highlights the 15 most widespread ways in which this technology will be employed:
Smart storage applications.
Predictive and remote machinery maintenance.
Control of cargo, goods, and transportation.
Connected logistics.
Intelligent measurement of each logistics process.
Applications on smart cities.
Smart agriculture and livestock control.
Industrial safety systems.
Energy consumption optimization.
Industrial heating, ventilation, and air conditioning.
Monitoring of manufacturing equipment.
Asset tracking and intelligent logistics.
Monitoring of ozone, gas, and temperature in industrial environments.
Workers' safety and health.
Warehouse asset performance management.
In summary, according to the ICC, the IIoT will increase the efficiency of storage installations through process monitoring. Additionally, it will improve safety in warehouse operations, especially in more complex processes or those that could pose a risk to both the goods and operators.
Differences between the IIoT and Industry 4.0
The terms IIoT and Industry 4.0 are often confused. Although the two go hand in hand when it comes to boosting companies' overall competitiveness, they represent different ideas:
| Industry 4.0 | IIoT |
| --- | --- |
| Digitization | Big data and analytics |
| Automation | Interconnected devices |
| New materials | Predictive maintenance |
| Process improvement techniques | Industrial safety |
That is, IIoT technology is one of multiple solutions to the challenges presented by Industry 4.0: it comprises the exchange of data and information between all the devices incorporated in the warehouse. In contrast, Industry 4.0 defines the new paradigm and new challenges facing businesses: process improvement, automation, and digitization in order to remain competitive in such a complex environment.
IIoT benefits
The introduction of the IoT in industry will provide the sector with a host of advantages for achieving the goal of any logistics process: to maximize profitability while reducing operating costs. Its multiple benefits for industry include:
Increased warehouse efficiency and throughput: the interconnection between people and machines will facilitate the optimization of each logistics process.
Predictive maintenance of machinery: the machines will have sensors that, without human intervention, will warn operators of the risk of breakdowns before they occur. Thanks to this feature, the productivity of each operation will improve.
New business opportunities: monitoring each datum produced by the company will make it possible to anticipate new market trends and foresee which business segment could be most worthwhile for the company.
Improved energy efficiency: the incorporation of the IIoT will change the energy efficiency model, as warehouses will be equipped with sensors that will help to optimize energy consumption.
Industrial safety: connectivity is considered the best safety ally in storage installations. Processes involving IIoT elements will be outfitted with sensors and monitors to prevent any accident that could occur in the facility.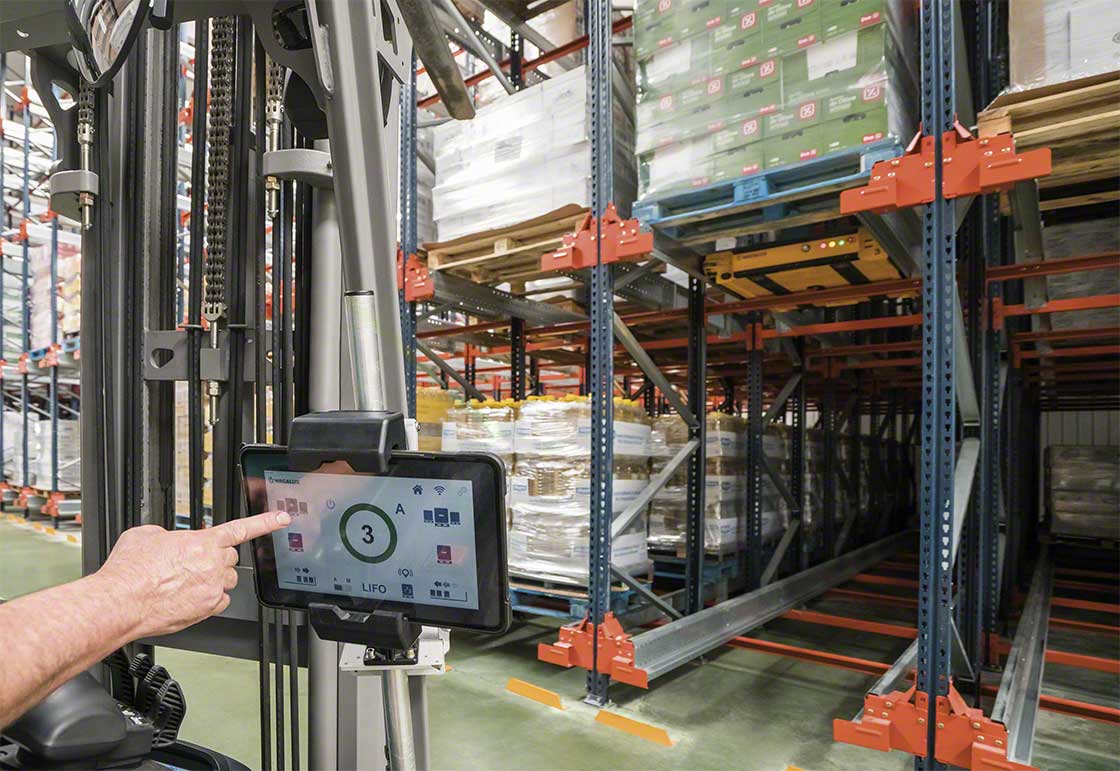 IIoT: present and future
The IIoT will be a revolutionary milestone for all aspects of the supply chain: from transportation and storage to more complex operations such as quality control.
All the same, more innovative installations are already incorporating technologies that depend directly on the interconnection and exchange of information between machines. For example, the use of digital twins is a reality for businesses with Industry 4.0 warehouses. It's already possible to create high-precision replicas of an installation and its workflows, which means changes and improvements can be simulated digitally, without altering the actual structure of the warehouse.
And there's more: warehouse automation (consulting firm Gartner calculates that 85% of companies will make use of automation in their installations by 2022), smart tags (through NFC technology) for boosting efficiency in picking, and predictive improvement in warehouse management systems, among other advances, are seeing large scale implementation.
In short, the IIoT will offer a wide range of improvement options in all operations, particularly those which, today, still seem particularly complex and require the greatest number of resources, such as order prep and last-mile delivery.