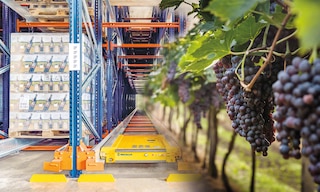 Wine warehousing: making sure your wine stays fine
November 21, 2022
Behind every bottle of wine is a demanding logistics process aimed at ensuring the highest quality of the product. Transportation, storage, and order picking are fundamental operations in the supply chain of any wine company.
Wine logistics calls for full product traceability to identify the origin and the different production and logistics stages the goods go through before reaching end customers.
How does wine warehousing work?
Wine can arrive at logistics facilities in bulk or previously bottled. Some of these bottles are marketed immediately, while others — e.g., reserve wines — must be aged for a certain period of time before being sold.
In wine warehousing, it's essential to take into account factors such as humidity and temperature to preserve the quality of the product. According to the article Wine storage guidelines by Christian Butzke, Professor of Enology at Purdue University, wine should be stored at temperatures between 50 °F and 60 °F. "Wines stored at cooler than recommended temperatures — below 50 °F — may not develop their full potential for aroma and flavor." On the other hand, Butzke says: "Temperatures above 60 °F may stimulate the growth of dormant microbes, leading to off-flavors, hazes, and excess carbon dioxide."
Light is another factor to pay special attention to. Several studies have shown that the sun's rays alter wine's flavor, longevity, and consistency. Therefore, wine warehouses should be enclosed facilities without natural light.
One of the most popular goods management strategies in wine warehousing is the FIFO (first in, first out) method, where the first unit load stored on the rack is the first to leave. This storage and retrieval technique guarantees that the perishable products with the earliest expiration date are distributed and sold first.
Wine is sensitive to vibrations, so no sudden movements should be made when storing it on the racks. In this context, automation is an extremely effective solution for managing goods with the utmost security.
Typically, wine companies and third-party logistics (3PL) providers responsible for wine warehousing have many product units per SKU. For this reason, it's advisable to use high-density storage systems. In addition to offering the highest possible storage capacity, these compact systems reduce energy consumption in rooms operating at controlled temperatures.
For instance, in the Italian town of Santa Vittoria d'Alba, 3PL provider Genta Lodovico has six cold stores outfitted with Movirack mobile racks to house its customers' wine. The storage system consists of racking installed on motorized mobile bases that move laterally on rails. The major benefit of this solution is that the racks can be compacted almost completely, coming together or separating to open only the working aisle required at any given time. "The racks on mobile bases give us direct access to the pallets. We can open an aisle whenever we want and identify the type of product we need at a glance," says owner Domenico Genta.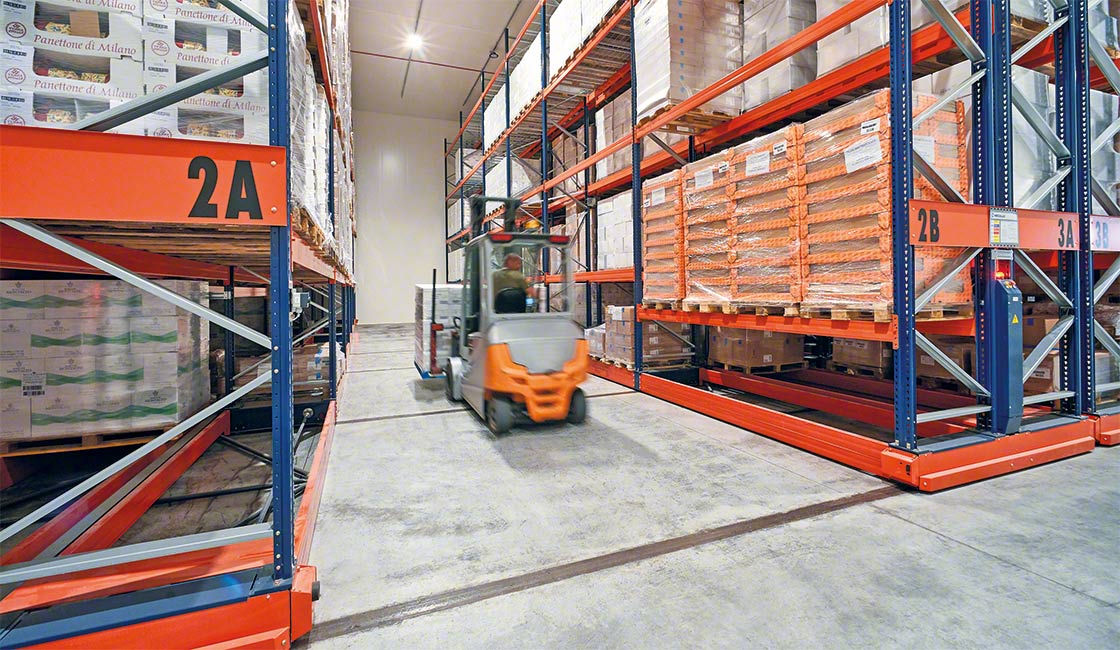 Software for wine warehousing
Real-time inventory management is strongly recommended for any wine company. It provides control and total traceability of products, monitoring the movements stock makes on its journey through the logistics center.
Real-time inventory control calls for a warehouse management system (WMS) that automates data every time a product enters or leaves the facility. This software records inbound and outbound goods, plans the slotting strategy (determining the ideal storage location for each item), and orchestrates order picking, among many other functions.
One example of process digitization in the wine industry is the warehouse of wine company Viñas Familia Gil in Jumilla, Spain. With a presence in over 40 countries, the business manages its facility with Easy WMS warehouse management software from the Mecalux Group. The program provides real-time monitoring of the organization's 700 SKUs of wine from its different wineries throughout Spain. "The main advantage we've found with the start-up of this facility and the implementation of Mecalux's Easy WMS is that we can assure our customers that the wines they receive comply strictly with the quality conditions stipulated by the industry for temperature, preservation, and moment of consumption. Another added benefit of Easy WMS is how easy it is to know the location of all our stock in real time. In short, with this software, we can control the entire warehousing process," says Diego Lozano, Operations Manager at Viñas Familia Gil.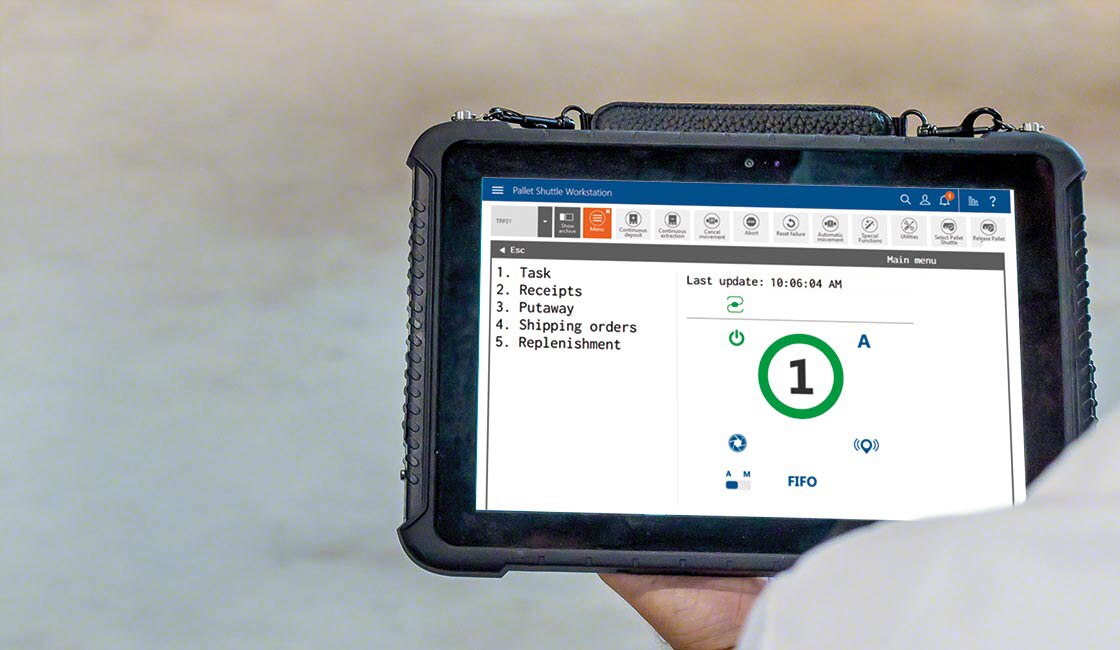 How to automate wine logistics
Wine logistics can not only be digitized but also automated with storage solutions that boost productivity, safety, and efficiency. In wine warehousing, automated storage and internal transport systems prevent possible errors due to manual management and reduce the energy expenditure per pallet or box.
The level of automation will depend on the particular needs of each wine company. It's possible, for instance, to automate all operations, as Vins i Licors Grau did in its logistics center in Palafrugell, Spain. To streamline the preparation of online orders, the business installed a mini-load system (AS/RS for boxes) with stacker cranes. This solution eliminates internal picker movements and performs nonstop combined storage and retrieval cycles.
The French wine of Vignerons de Tautavel Vingrau, meanwhile, is stored in the semiautomated Pallet Shuttle system. With this solution, a motor-driven shuttle loads and unloads goods from the racks. Operators use forklifts to position the shuttle at the entrance to the storage channel. They then place the pallets on the rails above the shuttle, which moves the loads to the positions designated by the operators. "Thanks to the Pallet Shuttle system, the entry and output of the goods are much quicker compared to other high-density solutions. Plus, we can view and efficiently control all our stock," says Tatiana Rey-Landriq, Sales Assistant at Vignerons de Tautavel Vingrau.
Wine producer Domaines Paul Mas also installed the semiautomated Pallet Shuttle system in its logistics center to house finished products from the bottling line. Through automation, pallets containing wine are moved quickly and safely. By reorganizing and automating its warehouse, Domaines Paul Mas has optimized its wine storage and preservation conditions.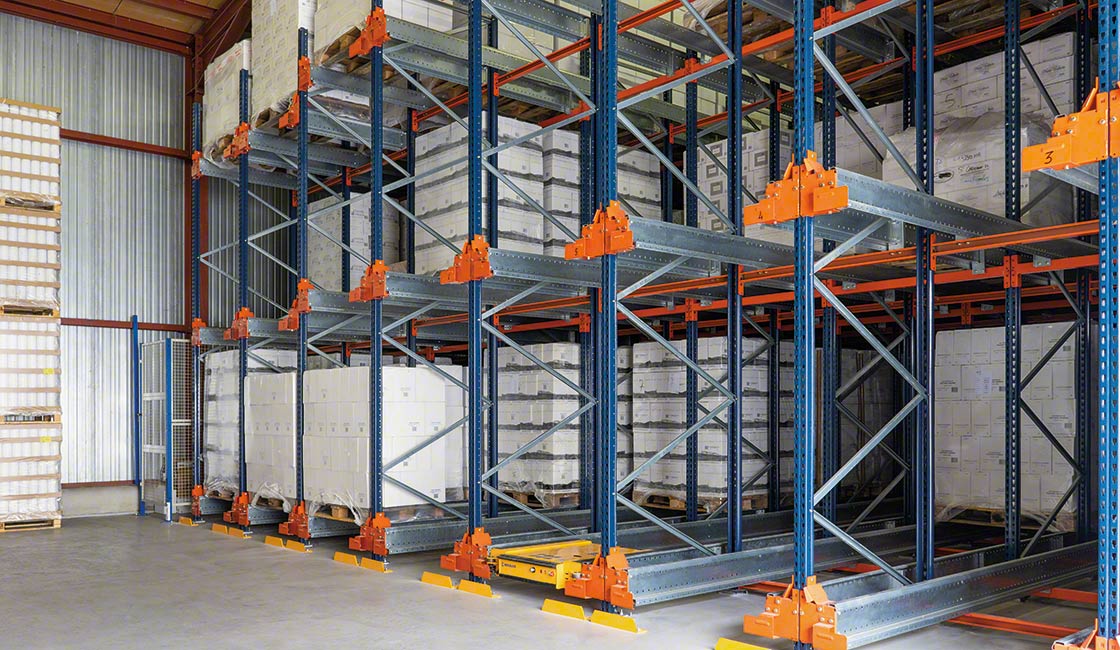 Wine warehousing: traceability, efficiency, and safety
Wine logistics demands safe, efficient operations that guarantee that products reach the hands of end customers in the proper conditions. Automating wine warehousing ensures efficient, error-free goods handling as well as strict stock control at all times.
The wine supply chain presents challenges such as temperature, humidity, and product storage time management. All these conditions can be met with digitized, automated logistics operations. Interested in intralogistics solutions that maximize productivity and efficiency in wine warehousing? Don't hesitate to contact us. One of our expert consultants will advise you on the best solution for your company.