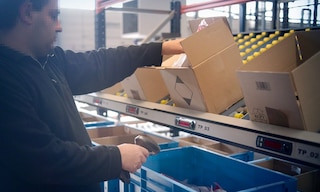 Tote picking: speedy picking directly in bins
June 28, 2021
The tote picking system is a way to expedite picking and reduce errors. This is achieved by minimizing the number of movements an operator makes to complete an order.
Market changes such as the e-commerce logistics boom have forced many companies to overhaul their logistics processes with the aim of increasing efficiency. Tote picking is a solution that speeds up order prep to guarantee that goods are shipped to customers in the shortest time possible.
In this post, we'll examine tote picking and show you which companies will most benefit from this working method.
What is tote picking
Tote picking (or pick-to-tote) consists of removing items from a shelf or box and depositing them in a plastic bin (the products that make up the order will be grouped in that container). Then, with the help of a conveyor for boxes or cart, the tote is transported to the consolidation area, where workers check that all the products requested by the customer are there. Lastly, the products are packaged, labeled, and dispatched.
In logistics, the container used in the system is a tote. It's a plastic box small enough to be picked up by hand and easily moved around the warehouse (generally by means of conveyors for boxes).
Tote picking is compatible with the goods-to-person order prep method: operators remain at their pick stations, waiting for the products to be brought to them (via a miniload system, for example). They then carry out tote picking, removing items and sorting them into bins.
Pick-to-tote is particularly useful in businesses that manage small products (as in the case of the healthcare, pharma, spare parts, and distribution industries). This is because a multitude of small SKUs can be placed inside each tote.
Likewise, this method is typically seen in companies that perform mass picking. By reducing operator travel in the warehouse as well as the number of movements, employees can complete more orders.
One alternative to pick-to-tote is pick-to-carton, in which cardboard boxes are employed as opposed to plastic bins. The difference is that, in this case, customers receive the box itself with the products inside. Therefore, once the order is finished, the boxes merely have to be sealed and labeled.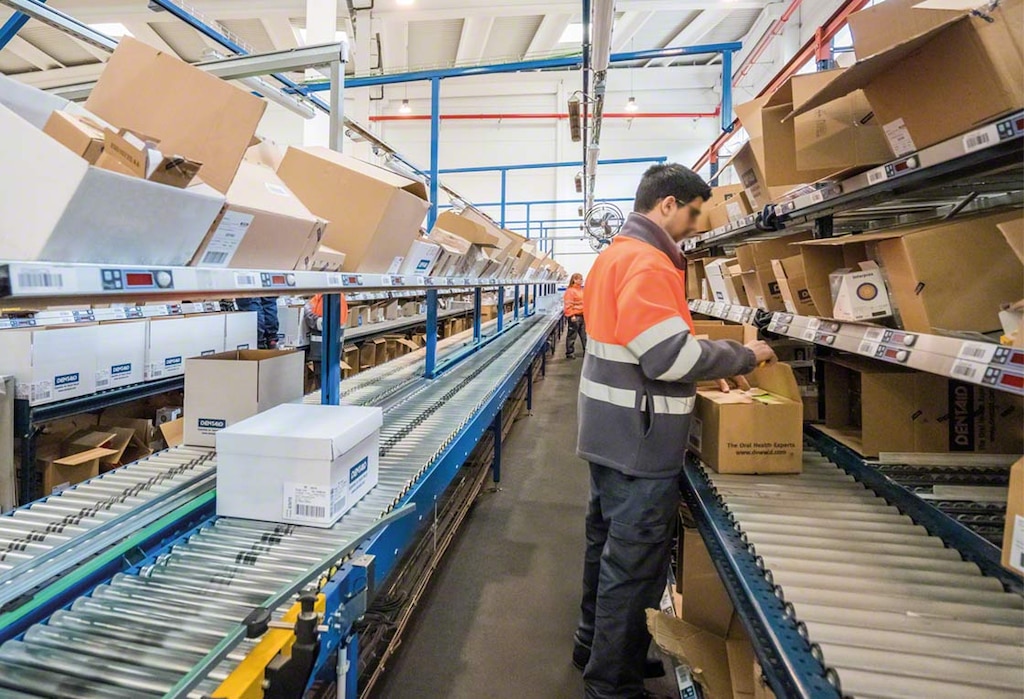 Solutions for effective tote picking
Operators are in charge of carrying out tote picking, sorting the goods in boxes or totes. Therefore, it's up to the logistics manager to look for solutions that facilitate tote picking, for example:
Goods-to-person
As noted above, tote picking is a form of order prep that follows the goods-to-person concept.
This work method eliminates operator travel in the facility when it comes to locating the SKUs that make up the orders. As a result, the operators can concentrate on tote picking, that is, retrieving the items from the boxes they receive from the warehouse and sorting these items in bins.
The goods-to-person model is often implemented in AS/RS for boxes (miniload system), where a stacker crane for boxes supplies the pick stations with the merchandise needed to complete the orders. The Shuttle System is also common, in which conveyors for boxes and lifts move the boxes to the workstations for the operators to complete the orders.
Customarily, the pick stations where tote picking is done usually consist of U-shaped conveyors that bring the boxes to the operators. At that point, the operators remove the items and distribute them into bins below the conveyors, behind them, or next to them (this might be on carts, conveyors for boxes, or picking shelves).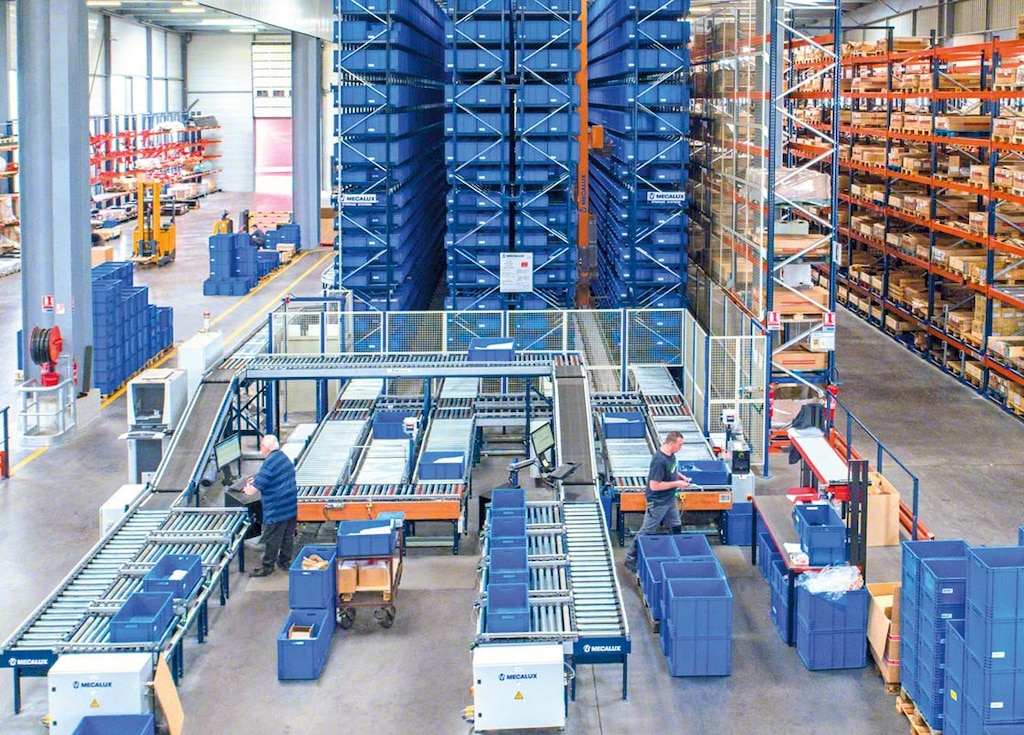 Pick- and put-to light devices
Although automation is becoming more and more widespread, operators continue to play a fundamental role in order preparation. Therefore, any improvement that facilitates their work will result in improved agility and a rise in productivity.
Tote picking strategies are often complemented by light assistance systems. These constitute devices that, when activated, turn on a light and a number. The light helps the operator to identify the box from which the goods are to be removed or in which they should be deposited. The number indicates the quantity of items to remove or to place in each location. The system also has a button for confirming each operation.
Pick- and put-to-light devices show the worker which merchandise and quantity to remove from each box. With these instructions, operators can perform tote picking more quickly and without making mistakes.
These devices communicate directly with warehouse management systems (such as Easy WMS from Interlake Mecalux) to supervise and optimize order preparation.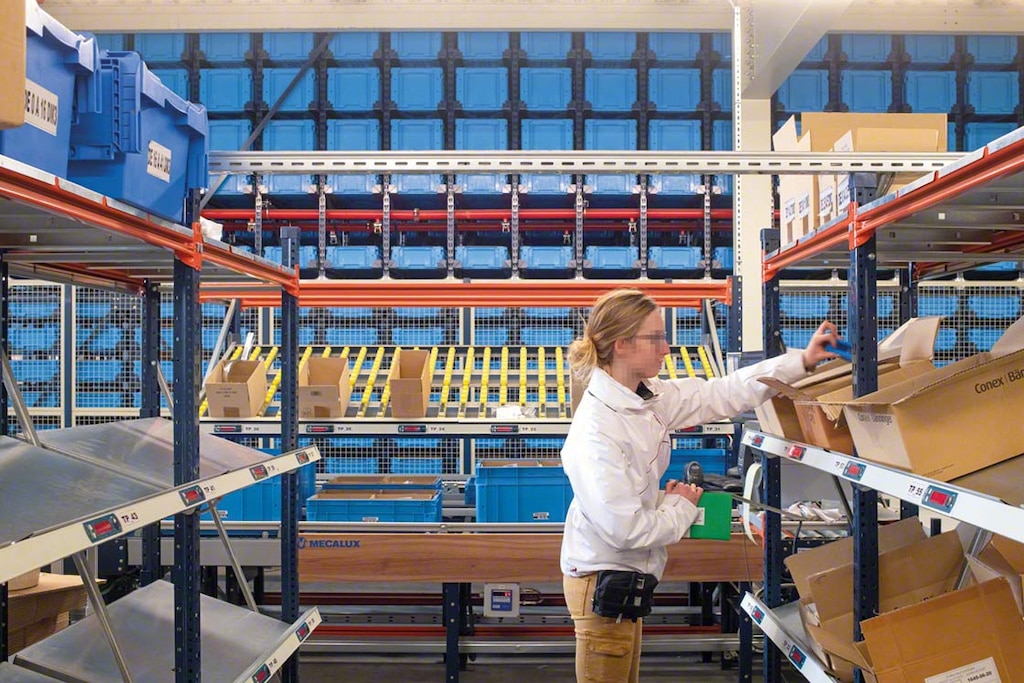 Voice picking
This is a solution that, just like pick- and put-to light devices, helps warehouse workers to carry out tote picking. In this case, the worker receives verbal instructions by means of a headset.
To implement voice picking, operators use the headset and a microphone, together with a control device (the size of a cellphone) fastened at their waist or simply put in their pockets.
The main advantage of this solution is that it provides employees with more freedom of movement for tote picking. Like the light assistance devices, it requires a warehouse management system to organize operations and transmit the information to the workers.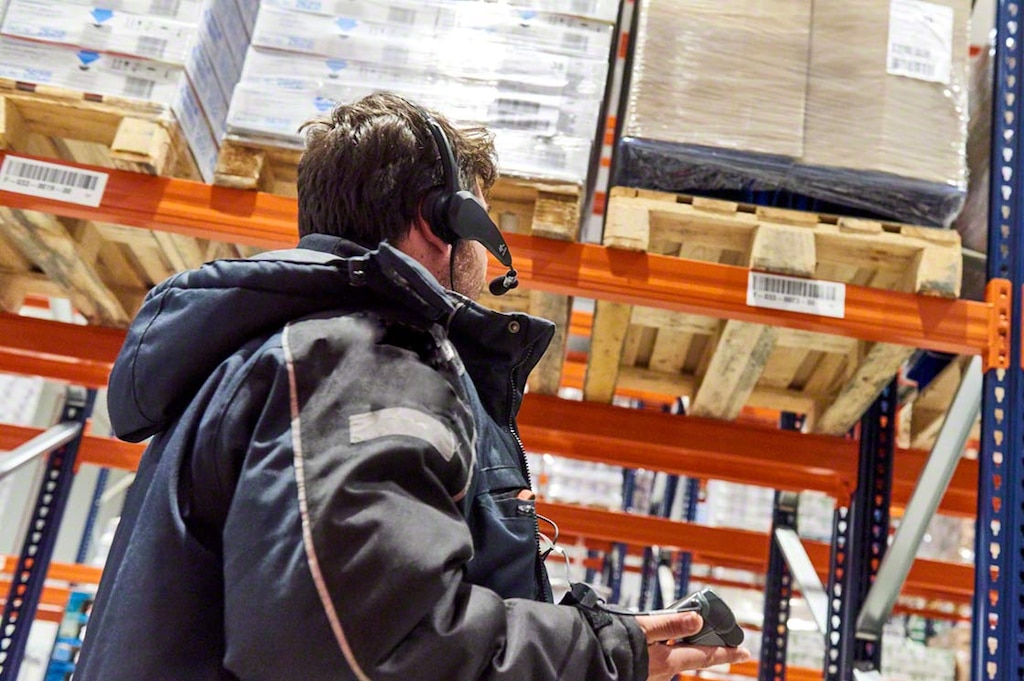 More agile picking
Tote picking is a work method specifically designed to streamline the preparation of orders containing small items. Operators produce as few movements as possible: they remove the items from the boxes and place them in a bin. With all the items in the same tote, it can then be consolidated and dispatched much more quickly.
Interlake Mecalux has extensive experience developing solutions devised to boost picking. Get in touch to learn how to ramp up productivity in preparing orders containing small products.