March 9, 2022
Logistics management is the process of organizing products and goods movement flows in the warehouse to reduce the time and costs involved in preparing and shipping orders. Optimal logistics and commercial management can give businesses a competitive advantage. Proper distribution of logistics flows is the first step towards differentiating a company from its competitors and meeting customer expectations.
Logistics has become essential for organizations concerned with effectively managing raw materials and products and supplying the right quantities of goods in excellent condition.
What is logistics management in business?
Logistics management encompasses the planning of goods storage and transportation operations to ensure the final distribution of these products. This process comprises the workflows from the time the company receives the raw materials to produce the good — or the items sent by suppliers — until the orders are distributed.
Logistics involves several departments within an organization. Their position in the organizational chart will vary according to the type of company and the importance of the supply chain in the business strategy. Logistics can be outsourced, integrated in the sales department, or can constitute an independent department that works in coordination with manufacturing.
Depending on the needs of each business, logistics management comprises a wide variety of processes such as the warehouse layout design, the inspection of warehousing tasks, order picking optimization, the selection of the ideal handling equipment, and stock control, among others.
The job profiles that perform logistics management tasks are extremely diverse and can include professionals such as supply chain technicians, who secure the necessary resources to coordinate movements of goods, stock management technicians, who control the status of products in the warehouse, operations managers, who ensure optimal organization of logistics processes, and logistics managers, who organize the day-to-day running of the logistics facility. In companies with complex supply chains, the role of the supply chain manager is key for coordinating operations and ensuring an effective logistics strategy.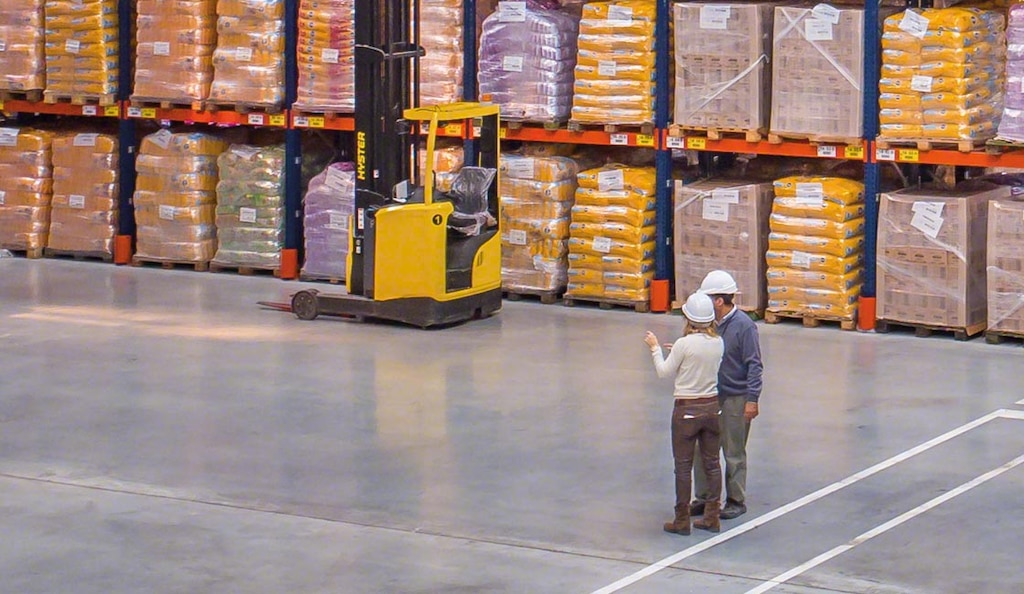 Objectives of logistics management
Sound logistics management looks to ensure an efficient supply chain in order to achieve the following goals:
Cut costs. The appropriate use of logistics resources helps to bring down costs for companies, affording them better control over profit margins. This objective can be fulfilled by optimizing processes. For example, the warehouse can be outfitted with pick-to-light devices, enabling operators to prepare orders more quickly.
Reduce order delivery times. For customers to be happy, it's crucial to provide fast service with deliveries in the shortest time possible. To do this, businesses put into practice ways to speed up the distribution of goods. For example, they employ cross-docking, which consists of distributing items without having to store them beforehand.
Boost business competitiveness. Logistics management goes beyond organizing the movement of goods. Prioritizing aspects such as agility in order dispatch and control of product traceability lets companies create added value and stand out from the competition.
Optimize inventory management. Stock is one of the prime assets of any organization. With optimal stock levels, businesses can ensure efficient service, avoiding logistics errors — i.e., overstock and stockouts — due to poor planning.
Achieve maximum efficiency. Logistics management aims to maximize productivity in all operations, doing away with unnecessary steps. Companies can improve their customer service by implementing solutions that optimize warehouse processes (e.g., through logistics automation).
Protect the environment. Green logistics is the order of the day. More and more companies are incorporating in their logistics management processes that contribute towards minimizing the environmental impact of their operations. For instance, businesses can implement a waste sorting process for recyclable materials or reduce paper use by implementing computer programs such as warehouse management system software.
Ultimately, the purpose of logistics management is to ensure strict control over the goods to provide better service, satisfy customer demand, and gain a competitive edge.
Areas of logistics management
Just as there are different types of logistics, there are also a number of areas of logistics management centered on specific phases in the supply chain:
Supply. This logistics management area consists of organizing the processes necessary for distributing goods in the agreed-upon conditions. For example, in a food company, logistics management of supplies ensures that the products are stored and transported at the optimal temperature and in the perfect conditions to maintain their qualities.
Goods distribution. This supply chain phase looks to optimize the distribution of goods. The dispatch process includes the sorting of products to be loaded on the delivery truck, the design of the transportation route, and the unloading of the truck at the destination.
Production. Product manufacturing requires raw material deliveries to be scheduled in advance. To do this, it's vital for all processes to be supervised and for the warehouse to be seamlessly coordinated with the production lines.
Reverse logistics. This type of logistics management deals with the organization of returns to the vendor or manufacturer. Reverse logistics is tasked with recovering the value of a product or properly disposing of it.
International logistics. In companies with markets in multiple countries, logistics management encompasses operations aimed at transporting goods from one country to another. This process demands excellent organization so that international movements of goods are carried out securely and without errors.
Successful logistics management is based on advanced control of all the processes that make up the supply chain, resulting in enhanced customer satisfaction and, consequently, the improvement of the company's reputation.
Logistics management KPIs
Effective logistics management calls for an exhaustive analysis of all processes taking place in the supply chain. With supply chain KPIs companies can monitor all their operations.
These KPIs measure logistics performance through the analysis of processes such as goods receipt, storage, inventory, and goods dispatch. With this information, companies can detect operational inefficiencies, calculate their degree of business competitiveness, explore ways to minimize the time spent on operations, improve their use of resources, and cut management costs.
To measure logistics management KPIs, businesses turn to technology. Interlake Mecalux, for instance, features the Supply Chain Analytics Software module, an extension of the Easy WMS warehouse management system designed to display and analyze operations for strategic decision-making. This technology applies big data techniques to sort information extracted from warehouse operations and convert it into actionable metrics to improve throughput.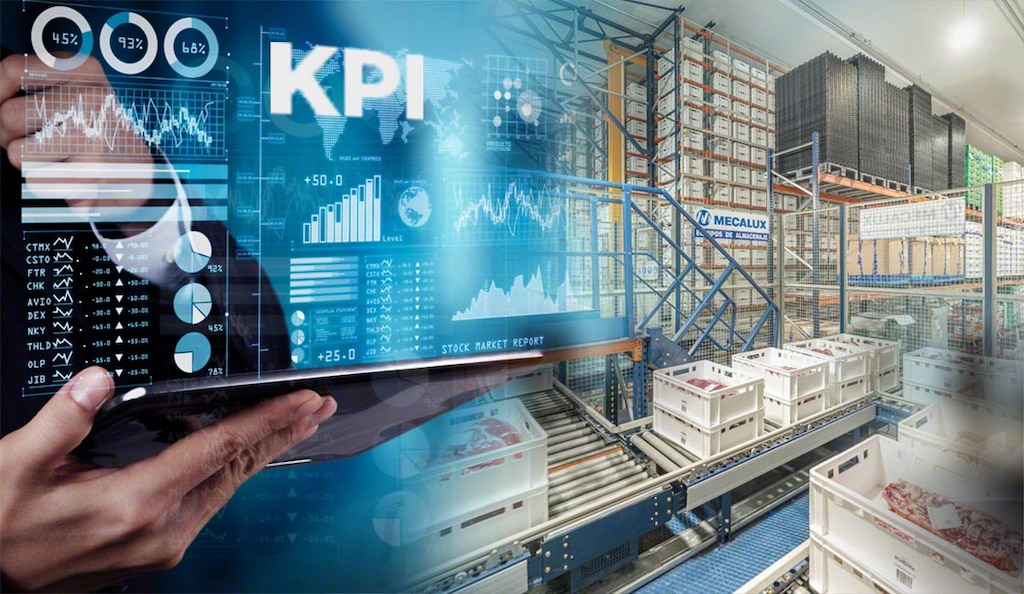 Importance of logistics management in business
A company that differentiates itself from the rest does so on account of customers' perceptions of its products and services. Logistics management gives businesses a competitive edge: it makes it possible to lower costs (which has a direct impact on sales prices) and shorten the time spent on order fulfillment.
To meet order delivery deadlines and promote customer satisfaction, companies need to maintain control over all supply chain operations. To do this, it's ideal to be equipped with technology that enables complete visibility of the status of the warehouse. At Interlake Mecalux, we develop software capable of optimizing processes and providing information in real time on the performance of the logistics facility. Get in touch so we can show you how our software can benefit you and help to optimize your logistics management.