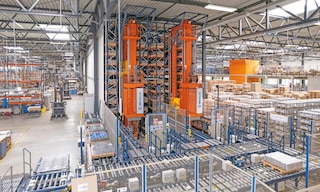 Logistics processes: key points for optimizing your supply chain
May 16, 2023
The strategic importance of logistics processes in a company's business and especially in the supply chain is paramount. Organizations with efficient logistics operations are more productive and competitive because they can lower their operating costs and offer quality service to their customers.
With the consolidation of new consumer standards such as omnichannel retail, competent management of logistics processes often means having a competitive advantage. This is why more and more companies focus on implementing new technologies that provide efficient and error-free service to end customers.
What are logistics processes?
Logistics processes encompass all activities through which a product passes from its manufacture to its delivery to the end customer. This includes transportation, storage, and eventual distribution. The aim is to deliver the requested quantity of materials at the right time and place and at the price agreed upon in advance.
The first step in having an optimized supply chain is to tightly manage all the activities involved in the different logistics processes. Companies must ensure that resources and information are properly distributed throughout all the links in their logistics chain.
In a context in which Industry 4.0 is taking center stage, automation in logistics is the solution that more and more companies are turning to so as to remain competitive. The management of logistics processes improves considerably when all or part of the operations in the supply chain are automated, including the transfer of information.
5 logistics processes: how to optimize them, with examples
These are the five most common logistics processes: procurement, storage, inventory management, order picking and dispatch, and transportation and delivery of goods.
1) Procurement
The purpose of procurement is to supply raw materials or goods to a logistics center, manufacturing center, or point of sale in order to properly conduct business (production, distribution, or sale). Having a well-organized and coordinated facility is a must for managing procurement in a way that is efficient and profitable. Companies that incorporate a warehouse management system (WMS) into their logistics processes can organize their stock levels based on their sourcing strategy.
Procurement also provides for the shipment of goods to manufacturing. To optimize this logistics phase, Easy WMS, the software from Interlake Mecalux, has the WMS for Manufacturing module, which ensures an uninterrupted supply of raw materials to the manufacturing lines. In addition, the program is connected to the manufacturing execution system (MES) to sync warehouse operations with production processes and ensure supply. This advanced functionality provides full traceability of all processes and real-time visibility of inventory.
One example of a company that has optimized its procurement process through digitalization is French business Dexel. This manufacturer of adhesives, sealants, and soundproofing material has reduced its production lead times thanks to just-in-time logistics operations managed by the WMS for Manufacturing module. "The supply of goods to the manufacturing lines must be flawless to ensure that products are manufactured correctly. Our priority is to have a complete record of our goods, knowing detailed information on production and the logistics processes that each of them has undergone," says Nathalie Burgals, Finance Manager at Dexel.
2) Storage
Storage covers the activities related to properly storing, protecting, and preserving goods for the required period of time. To carry out this activity, the company must choose the storage system that best suits its logistics needs, taking into account the layout of the facility and the characteristics of the goods themselves. It's essential to choose the right number and type of handling equipment to handle the products because the throughput of the warehouse depends on it.
Automation and digitization have become the best allies when it comes to optimizing the storage of goods. Companies use automated solutions such as stacker cranes, conveyors, electrified monorail systems, and transfer cars, among others, to increase productivity and minimize errors.
IKEA Components serves as an example, as it has modernized its logistics processes with automated systems that enable it to prepare 99% of orders successfully. "With automation, we can cope with fluctuations in the number of orders. During the pandemic, the volume of activity rose and fell constantly, so automation helped us adjust our resources to the needs of the market. Thanks to automation, we've also optimized our logistics and operating costs," says Frantisek Stora, Managing Director of IKEA Components Slovakia.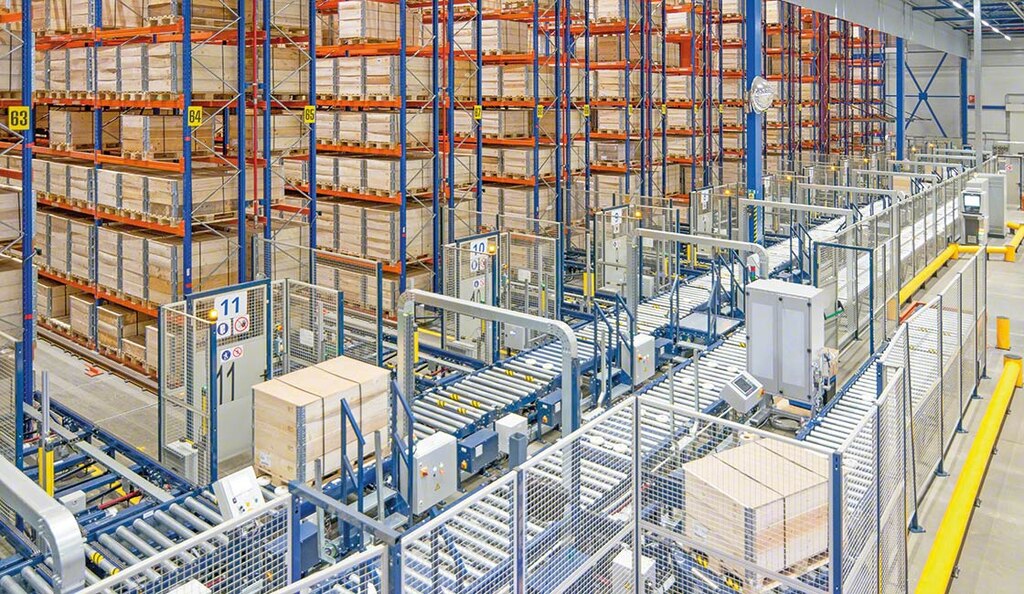 3) Inventory management
Another relevant logistics process is inventory control to determine the amount of stock and the timing of supplies to meet customer requirements. Efficient stock management has a direct impact on the throughput of the operations involved in the logistics process and reduces exposure to overstocking or stockouts.
To track the goods accurately and efficiently, it's advisable to install a warehouse management system (WMS). This software allows organizations to control in real time the resources available in their facilities, know the exact location of each item, supervise product entries and exits, and anticipate exactly when the goods will be sold out. To do so, the WMS identifies and records the products the moment they arrive at the warehouse. It then assigns them a location based on the needs of the business (slotting). As a result, products are fully traceable.
Digital stock management leads to more efficient operations. For instance, Heidelberg, a multinational supplier to the printing industry, uses Easy WMS in its Barcelona facility to optimize its inventory management. In the words of Sonia Ros, the company's Logistics Manager: "Thanks to Easy WMS we've simplified our inventory management. We've definitely improved our response times, product placement, and quality control."
4) Order picking and dispatch
Order processing involves packaging the products requested by customers so that they can be dispatched at minimum cost and in the shortest possible time. Together with transportation, this logistics process has the greatest influence on final customer satisfaction — good service is only possible if orders are delivered on time and without errors.
Picking and dispatch operations comprise various activities. These include operator travel around the warehouse, the removal of products from the racks, goods sortation and consolidation, packaging, and truck loading.
Orders can be sent to end customers, manufacturing centers, or other company facilities and stores. Employing a WMS is essential to report every new order that enters the system, thereby ensuring agile deliveries and eliminating the margin of error in picking. The software can be connected to picking assistance devices — i.e., pick/put-to-light or voice-picking devices — to optimize operations.
"With Easy WMS, we've streamlined all our processes. As a result, 90% of the items ordered before noon are dispatched the same day," says Jordi Colilles, Digital Director of Motocard. The chain of stores specializing in motorcycling equipment and accessories equipped its facility with the Mecalux Group's WMS for Ecommerce to facilitate the processing of orders destined for its brick-and-mortar stores and online customers. The installation of Easy WMS has marked a turning point in Motocard's logistics operations. The supervision of the WMS and the optimization of operator pick paths have benefited the company enormously, ramping up speed in storage and order picking tasks.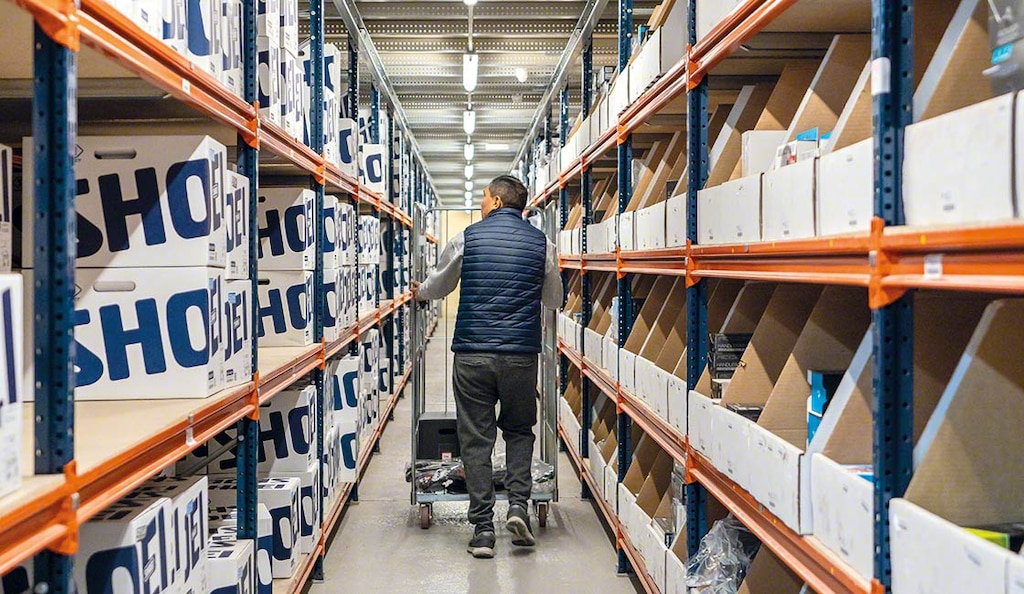 5) Transportation and delivery of goods
Last-mile delivery — the final leg of the goods delivery process — is one of the main challenges in logistics. Products must overcome numerous obstacles from the time they leave the distribution center until they reach their final destination. Optimizing transportation and delivery costs can be key to achieving efficient processes and differentiating yourself from the competition.
At this logistics stage, ecommerce companies usually work with one or more transportation agencies. To avoid delays and failures that can lead to customer complaints and ultimately slow business growth, companies must coordinate packaging and labeling processes with freight forwarders.
To optimize the final logistics process, the Mecalux Group has developed the Multi Carrier Shipping Software module. This advanced functionality streamlines the dispatch of goods by coordinating with the software of the main carriers. The program organizes order packing, labeling, and shipping to ensure that no errors occur at this logistics stage.
"We've improved the goods dispatch process in addition to eliminating shipping errors," says Vincent Beaufreton, development manager at Espace des Marques, after implementing Multi Carrier Shipping Software in its two facilities in France. The correct distribution of the warehouse and the organization of operations have allowed the online clothing and footwear retailer to triple the number of orders shipped.
Synced logistics processes for efficiency
Coordinated logistics processes improve service to end customers and optimize a company's costs and resources. Faced with the complexities of today's logistics landscape, automating decision-making through logistics software and automated solutions can be the path to efficiency.
Software like Easy WMS coordinates the flow of information with other links in the supply chain to achieve synced and productive logistics processes. If you want to fully leverage the advantages of automating and digitalizing your company's logistics processes, don't hesitate to get in touch with us. Our team of expert consultants is ready to provide you with personalized advice on the optimal solution for your needs.