March 17, 2022
Automated stock replenishment is a solution increasingly implemented in warehouses to save on time, travel, and costs. Automating this logistics process makes it possible to supply goods to the storage area just when they're needed.
In warehouses with uninterrupted flows of goods, automatic inventory replenishment systems prevent stockouts and ensure that pickers always have the items they require to prepare orders.
What's automated replenishment?
Automated stock replenishment consists of the implementation of automated transportation, storage, and/or management systems to speed up the supply of raw materials or finished products to warehouse locations or production lines. This logistics concept can be applied to topping off stock in different storage systems or areas as well as in production centers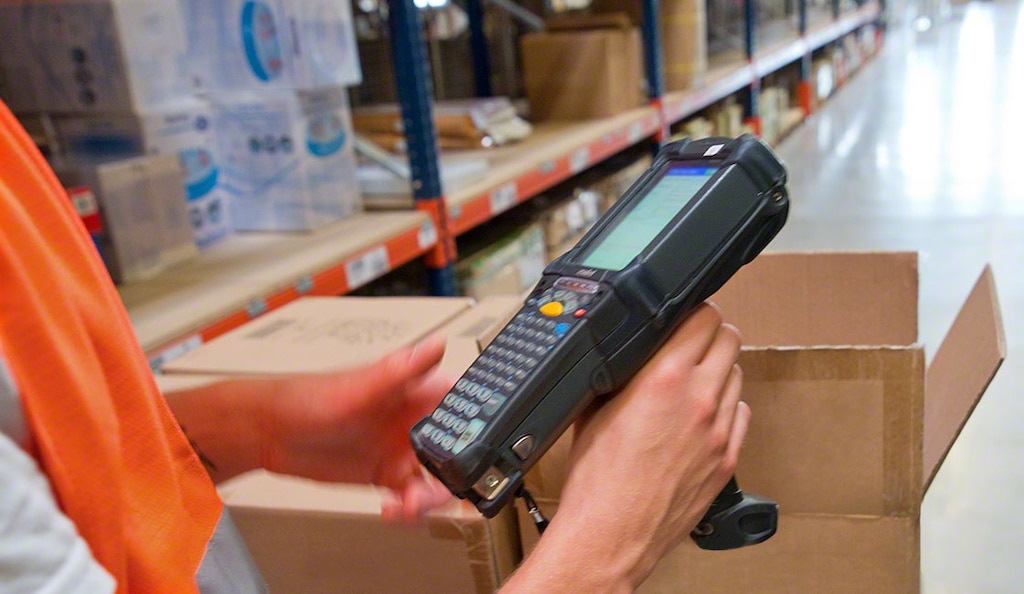 Automated inventory replenishment should take into account the various inventory replenishment strategies, e.g., just-in-time (workstations resupplied as required), reorder point (inventory is replenished when the minimum stock thresholds set are reached), and top-off, which takes advantage of fluctuations in order prep to replenish the picking shelves during slow periods.
Warehouse management systems (WMSs) enable a digital supply chain that's integrated with suppliers, automating replenishment when the time is right. This program determines the key inventory management parameters ― minimum stock levels and safety stock ― and designs replenishment strategies to ensure optimal order management.
Advantages of automated replenishment
Inventory replenishment software maintains continuous flows of goods to the storage systems, production lines, and/or pick stations. Let's take a look at some of the main benefits of implementing an automated solution for this logistics operation:
Complete, real-time inventory control. Automating replenishment with warehouse management software leads to more accuracy in goods handling, especially in the areas of stock turnover and product traceability.
Optimal supply of goods. Automatic handling equipment replenishes the racks with items when required so that the locations always have the right stock levels to fulfill orders.
Management of product seasonality. Having an automatic stock replenishment system is ideal for dealing with unexpected increases in demand. The software ensures the availability of safety stock to cope with changing demand for goods.
Reduced storage costs. Automated stock replenishment lowers logistics costs in facilities that manage large volumes of goods. Automated supply replenishment systems limit unnecessary stock, product handling times, and travel of both the goods and the operators.
Automatic replenishment orders in manual warehouses
In a manual warehouse, automated replenishment helps to solve inventory management problems such as stockouts and potential deterioration in product quality.
By incorporating warehouse management software, you can automate when to order from suppliers: the program calculates product demand regularly and establishes replenishment actions based on the information collected and the predetermined strategy.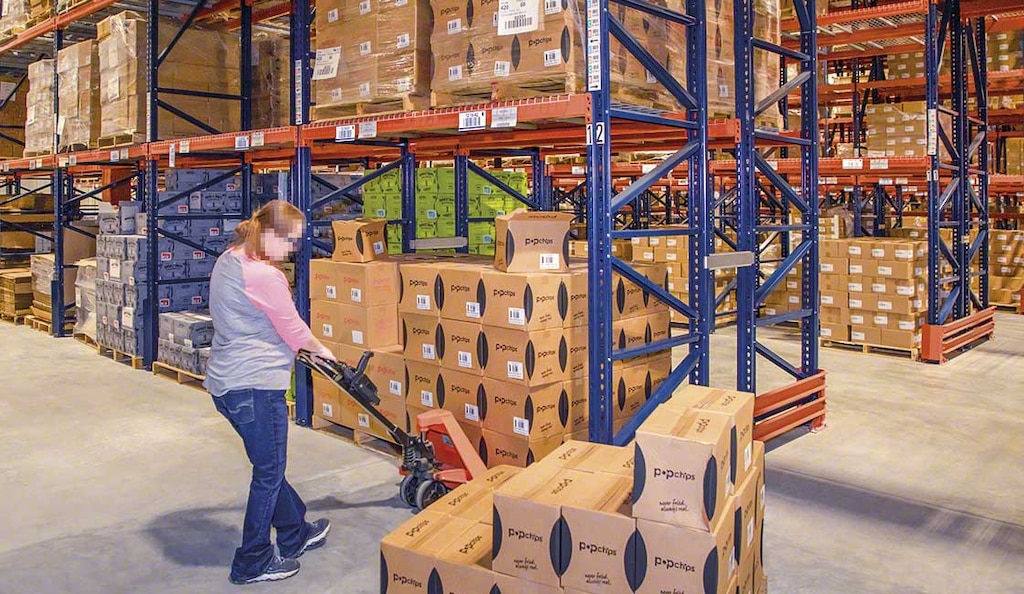 A logistics program such as a WMS eliminates the possibility of errors arising from manual inventory management, prevents excessive operator travel, and minimizes mistakes in stock handling and product slotting. To make operators faster and more efficient in replenishment, the software can send instructions via put-to-light devices. These consist of displays showing the exact quantity of items that operators should store in each location.
To improve stock management efficiency in manual warehouses, WMSs can run multiple replenishment strategies, including just-in-time and top-off. The logistics manager merely has to assign a replenishment strategy to each area or subarea in the facility. The WMS automatically creates stock replenishment tasks for operators, telling them via their RF scanners when to supply more SKUs, how to do this, and in what quantities. In manually run warehouses, workers perform these operations with the help of handling equipment such as pallet jacks, counterbalanced forklifts, and carts, among other devices.
The Lil' Drug Store warehouse in Cedar Rapids, IA, is a clear example of a company that's ramped up its efficiency in processes such as goods replenishment by implementing a WMS. The solution from Interlake Mecalux, which combines pallet racks and the Easy WMS warehouse management system, saves time and costs in replenishment: "The narrower aisles and taller racking have enabled us to increase our pallet capacity by over 40%. We were also able to lay out the warehouse in a manner that provides us much better efficiency in all operations, particularly when replenishing product," says Tom Klein, Lil' Drug Store's Distribution Center and Logistics Manager.
Replenishment operations in an automated warehouse
In facilities with high flows of goods and that prepare large quantities of orders, manual product replenishment is usually replaced with automated conveying and storage solutions. These automated systems trigger the movement of goods to storage locations or pick stations..
Automatic handling equipment such as stacker cranes (AS/RS for pallets) and miniload systems (AS/RS for boxes) ensure combined cycles ― loading, unloading, product relocation ― storing and retrieving goods from the racks quickly and without errors.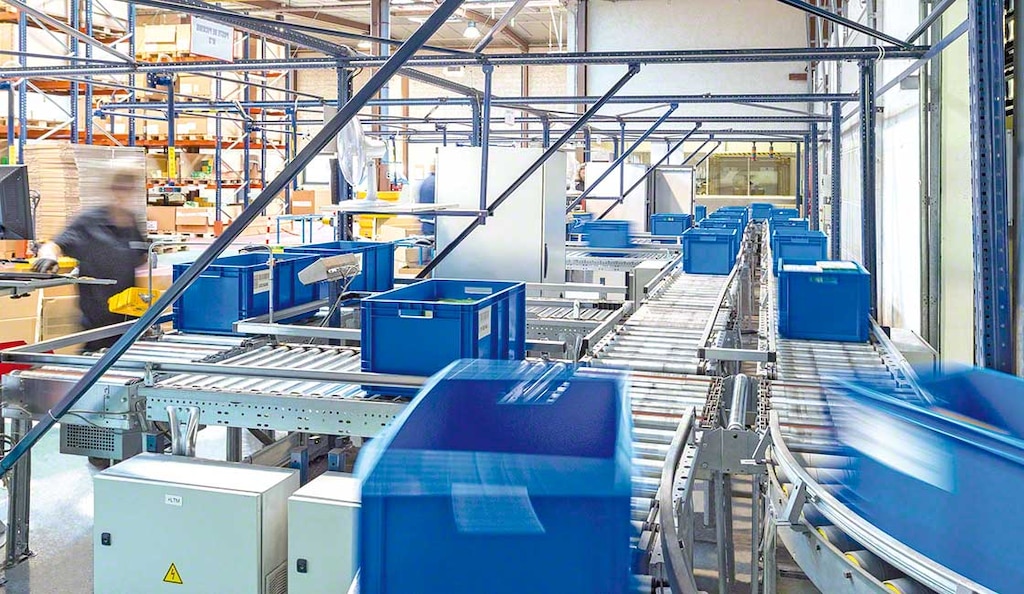 In addition to storage, movements of stock in the warehouse can be automated with systems such as pallet conveyor systems, electrified monorails, and roller conveyors for boxes. These solutions facilitate stock replenishment by supplying products continuously to pick stations, storage systems, and even production and assembly lines.
To maintain constant stock replenishment flows, it's common to combine multiple automated solutions. This is the case of French spare parts distributor MGA, which equipped its facility with a miniload system. MGA's AS/RS for boxes is made up of four miniload stacker cranes, three pick stations, and a replenishment station. A conveyor for boxes allows for a constant flow of products to replenish the locations on the racks.
Automatic replenishment system for nonstop supply
Stock replenishment is a complex operation; tasks such as order picking, kitting, and product returns depend on it. That's why more and more companies are implementing automatic replenishment software to minimize errors in the supply of goods to production lines and pick stations.
Solutions such as warehouse management systems coordinate replenishment — both manual and automated. These programs provide full control over the goods stored, specifying when and how much product to stock in each location. Software such as Easy WMS can be complemented with automatic solutions such as conveyors and stacker cranes, which speed up the workflow and enable continuous, uninterrupted, and error-free replenishment to the different warehouse zones.
Want to eliminate errors from your operations and maximize efficiency in your warehouse? Don't hesitate to contact us. One of our expert consultants will advise you on the best solution for your business.