Convenience store supplier streamlines replenishment with bolted selective rack
Interlake Mecalux supplied a bolted selective rack system for Lil' Drug Store Products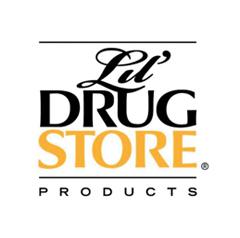 Interlake Mecalux and its partner Hawkeye Material Handling recently supplied a bolted selective rack system for Lil' Drug Store Products, a health and beauty product supplier for convenience stores and gas stations nationwide. The new racking has substantially improved product replenishment and storage capacity at the company's warehouse in the town of Cedar Rapids, Iowa.
Lil' Drug Store, huge growth
Founded in 1974, Lil' Drug Store Products, Inc. supplies health and beauty products, such as travel-size and trial-size pain relievers and cough medicine, to convenience stores, gas stations and other clients. The company also distributes automotive products, snacks, and general merchandise to more than 135,000 stores across the United States. That kind of growth is one of the company's core values. Lil' Drug Store Products has grown from a simple idea to become the leading supplier of products in the convenience channel. The company's sales growth is the result of its commitment to innovation to meet changing consumer needs.
Lil' Drug Store's needs and the solution
As a result of its success and increased sales in recent years, Lil' Drug Store needed additional storage space at its distribution center in the town of Cedar Rapids, Iowa. The company's goal was to build a storage system that would suit its existing product storage needs in a more efficient manner, while also offering room for growth. Interlake Mecalux partner Hawkeye Material Handling worked closely with Lil' Drug Store's Distribution Center Manager and Project Manager to provide a high bay racking design that was efficient and cost effective for the company's distribution needs.
Hawkeye Material Handling – which had been Lil' Drug Store's vendor partner for two previous projects at its former distribution center – also collaborated with Interlake Mecalux to provide a design that met Lil' Drug Store's requirements. The result is a new 82,500 ft² distribution center, 75 percent of which contains high bay racking. Hawkeye Material Handling installed 14 double-deep rows of Interlake Mecalux bolted selective racks that are 27' high and 42" deep. The storage capacity is 3,908 pallets of 40" x 48" with a maximum weight of 2,200 lbs. The racking also features Interlake Mecalux bolt-on column protectors to safeguard the frames during loading and unloading operations.
Versatile bolted selective racking
The bolted selective pallet racks were the perfect solution for Lil' Drug Store because they can store the 400 finished product SKUs that the company actively sells – such as trial size drug products, auto supplies, batteries and necessity and personal care items – as well as its 300 SKUs of display components. Each day operators unload and stage these products in the distribution center's receiving floor and staging area. Workers count and check the goods for quality before placing them in the high bay bolted selective racks. The warehouse utilizes radiofrequency devices for inventory tracking and management. Goods placed on the second level of the racks and higher are reserve stock used for replenishment.
The climate-controlled warehouse can store any type of product at any location within the facility. Operators pick product in even numbered aisles while replenishment takes place in aisles with odd numbers. "This allows us to do most of the replenishment of our products without impacting our picking process," said Tom Klein, Lil' Drug Store's Distribution Center and Logistics Manager. "Our layout has saved time in the replenishment process since we have room to store most of our back-up stock directly above and behind the pick face for each item." Once operators finish picking items and the order is complete, they stage the products on the shipping dock and prepare them for loading onto trailers stationed at the dock.
Overall, Lil' Drug Store's new bolted selective racking has made much of this work considerably easier. The installation increased Lil' Drug Store's storage capacity by 1,200 pallets and made it easier for the company to replenish merchandise, according to Klein. "Our new facility is roughly the same amount of floor area as our previous facility," he said. "We were able to utilize narrow aisles and taller racking to increase our pallet position capacity by over 40%. We were also able to lay out the warehouse in a manner that provided us much better efficiency when replenishing product."
Klein also praised the installation for its simplicity. "Since we pick our orders direct to pallets and most of our product is 'case pick,' our project did not require much automation or specialty storage," he said. "Hawkeye and Interlake Mecalux were willing to sell us what we required rather than 'pushing' us to make the project too complex."
"I also appreciate the options Hawkeye Material Handling and Interlake Mecalux provided us during the design of our building," Klein added. "We were able to have an efficient and safe layout while staying within our budget."
Advantages for Lil' Drug Store
Greater storage capacity: the bolted selective rack installation increased Lil' Drug Store's storage capacity by 1,200 pallets for a total of 3,908 pallets.
Improved replenishment: the layout of the warehouse enables easier and more efficient replenishment of merchandise.
Product diversity: thanks to the bolted selective rack, Lil' Drug Store is able to store its 400 finished product SKUs of different sizes and weights.
Lil' Drug Store's distribution center: Bolted selective rack
Number of bays:
540
Number of aisles:
15
Aisle width:
124"
Pallet positions:
3,908
Pallet type:
GMA
Max weight per pallet:
2,200 lbs