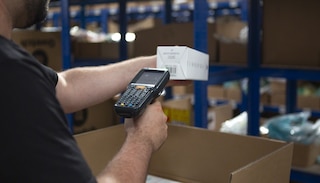 Same-day deliveries: rising to this logistics challenge
October 6, 2020
The main goal of logistics has remained stable over time: to deliver the appropriate products to the right place, at the right time, and at the lowest possible cost. However, it's never been as complicated as it is today. This is largely due to the new standards that have been established in the sector due to the growth of online shopping. Among them are same-day deliveries or shipping in under 24 hours to a residence, without error, and at an affordable price.
In this sense, limiting costs while ensuring an exceptional level of customer service has become a major logistics challenge. In our article, we'll examine the implications of consolidation on urgent shipments and explore solutions already in place in warehouses in the sector.
New consumption habits call for quick and free shipping
It's impossible to understand the logistics reality of same-day shipping without considering the role of consumers as drivers of change. The National Retail Federation's 2019 Consumer View survey reflects major customer demands in this sense:
65% of consumers take cost and delivery times into account before even adding products to the shopping cart. Thus, delivery terms directly affect purchasing decisions.
75% of respondents expect free shipping when buying from an e-commerce store. This percentage is up 7 points compared to the previous year.
70% of those surveyed said they had tried and were satisfied with BOPIS (buy online, pick up in store) delivery methods when they were free of charge.
Additionally, a DHL survey on e-commerce shipments outlines the expectations of consumers nowadays. Requirements that stand out are optimal customer service, quick delivery times in 24 hours or less, multiple delivery options to choose from, and the ability to use various purchase and returns channels arbitrarily (omnichannel retail).
Origin of same-day delivery
A few years ago, Amazon set out to remove the obstacles that typically held consumers back when purchasing online. Its objective was to provide a quick, comfortable, and secure shopping experience. Not only did it succeed, but it set a standard for all other companies dedicated to online sales: this is what's known as the Amazon effect. What impact has this had on logistics?
Amazon has established deliveries within 24 h (or even the same day) as the normal delivery time expected by consumers. The popularity of the Amazon Prime subscription program—which had over 112 million users in the US alone at the end of 2019—is based precisely on free and fast shipping that's also carried out very effectively.
With such a limited time frame, inventory has to be immediately available and located as close as possible to the final delivery point. This has filled warehouses with stock and increased the demand for storage space around large urban hubs. As a result, companies have devised specific storage strategies for e-commerce retail (Amazon itself is known for its chaotic storage system).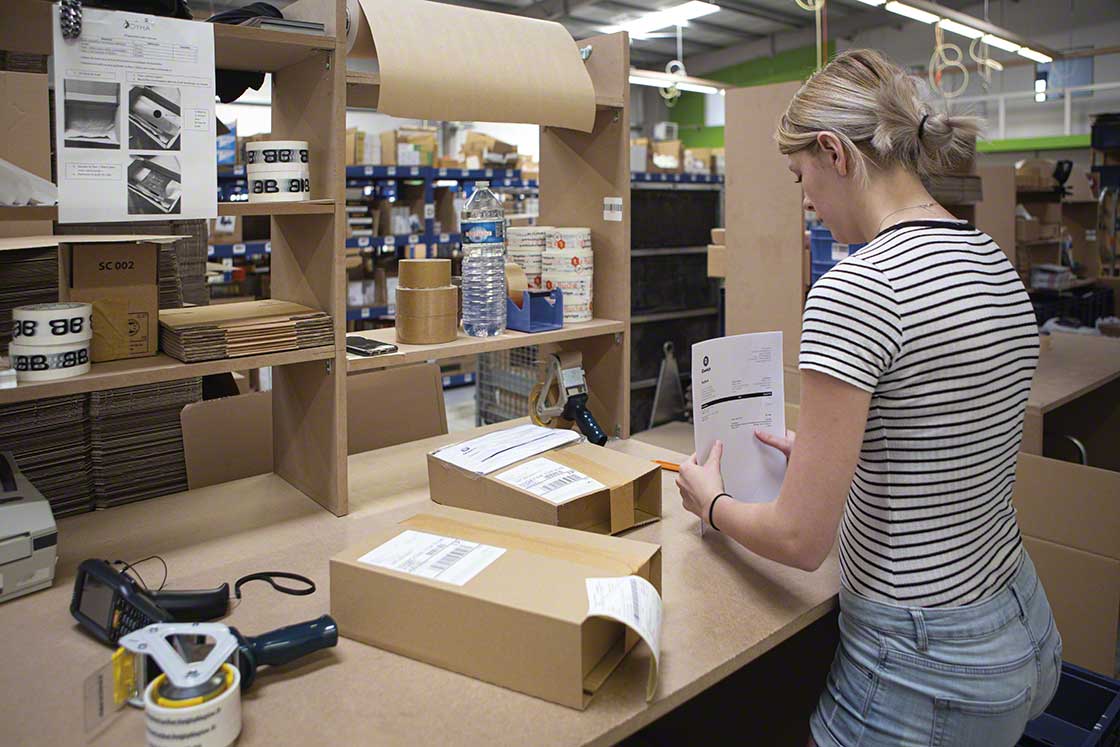 One-day shipping obstacles
Providing shipments in 24 hours involves difficulties that not all companies are prepared for, since they:
Require extremely efficient inventory management throughout the logistics network.
Generate complex order prep tasks due to the handling of small unit loads and the tight time frame in which they need to be shipped.
Cause space shortages in many instances, as the goods have to be as accessible as possible to streamline picking.
Call for the implementation of logistics traceability tools in all directions: for managing both deliveries to customers as well as the returns made by them.
Drive up logistics costs at every step of the supply chain, from the selection of suppliers for the purchase of stock to the last mile.
Preparing your warehouse for deliveries in 24 hours
In the case of installations that supply orders for e-commerce retailers, there's no single solution. There are, however, several strategies that have proven successful for businesses in the sector, enabling them to work with the speed that same-day deliveries require. We'll highlight the main ones below, illustrating them with some examples:
Picking optimized with a WMS
To achieve the one-day delivery target, handling of the products that make up the order must be kept to a minimum. Warehouse management systems are key to fulfilling a growing number of picking orders without error and as quickly as possible, as they accurately control a facility's inventory data. With a warehouse management system such as Easy WMS, the warehouse manager can establish priorities, picking strategies, and organize operators so that workloads are distributed appropriately.
This is how the installation of La Ruche, a French logistics operator dedicated to the e-commerce sector, went from managing 150 daily orders with a manual system to dispatching 500 every day. With the implementation of Easy WMS, it registered a 233% improvement.
Meanwhile, the WMS can be integrated with other devices that streamline the order prep process. This can be done, for example, with smart carts when the pick-to-cart method is used, with voice-picking headphones, and with pick-to-light LED displays. All of this is aimed at reducing cycle times in the installation.
WMSs for coordination with other links in the supply chain
Like in a relay race, the order advances along the supply chain, and the margin available for it to arrive on time narrows. To do away with interim steps and inform the customer of the status of their order, it's necessary to connect the warehouse with the transportation agencies.
This is something that many e-commerce companies do through specialized modules for WMSs, Multi Carrier Shipping Software in the case of Interlake Mecalux. This system coordinates the labeling of packages so that they leave the warehouse prepared for handling by the transportation agencies (and, thus, don't need to be reconditioned). Plus, this software assigns each order a tracking number , allowing customers to access the information directly from the carrier's application.
Pick modules and raised walkways to leverage every inch of storage
With same-day shipments, the time taken to prepare the order in the installation is reduced to hours, requiring products to be within reach of the operators. Consequently, high-bay and high-density storage solutions are not usually the best choice for e-commerce warehouses. What are optimal, on the other hand, are pick modules with raised walkways.
The distribution of goods on pick module floors multiplies the available storage space yet doesn't reduce accessibility. This was the strategy chosen for the installation of online clothing rental company Rent the Runway. Dedicated completely to the preparation of orders sent to customers' homes, this warehouse contains multi-level pick modules featuring Interlake Mecalux racks specifically designed for hanging garments. In this way, Rent the Runway can handle the more than 65,000 dresses and 25,000 earrings, bracelets, and necklaces destined for any of its many current e-commerce customers.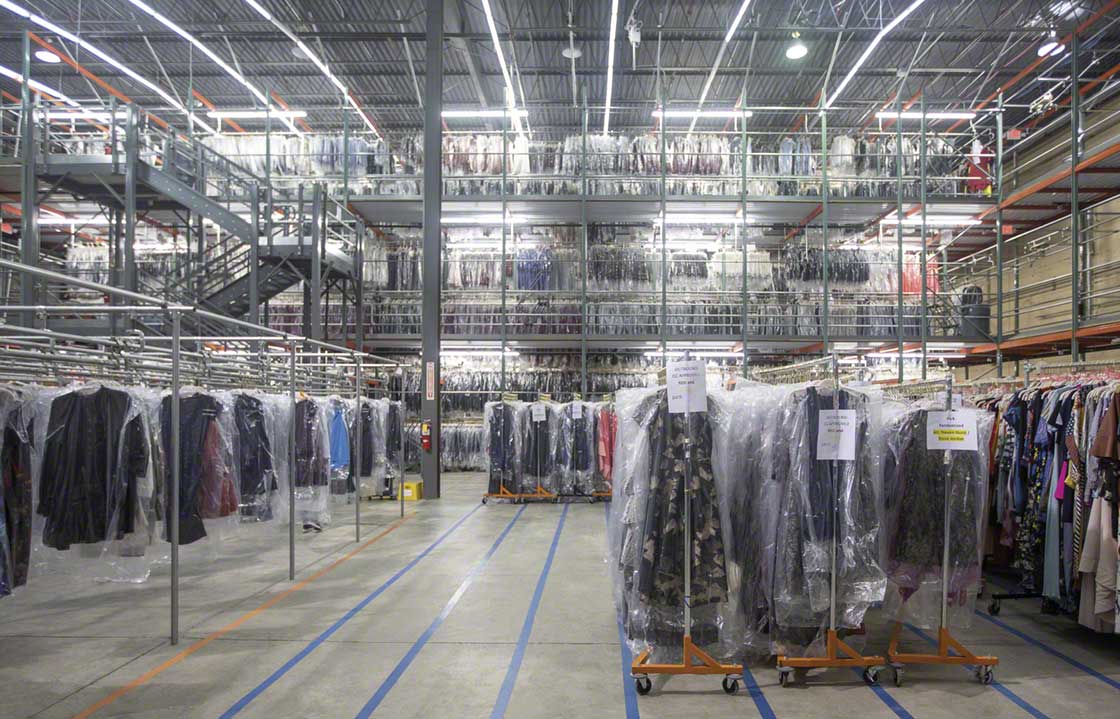 Automation of internal warehouse transportation
The most time-consuming picking phase consists of movements of operators to the products. Therefore, many installations that operate with urgent shipments decide to automate the internal transportation of goods, especially in warehouses with an extensive surface area or various floors.
Conveyor systems for boxes are extremely useful in this vein, as they not only connect the various areas, but also expedite goods movements between different floors. Mecalux installed them, for example, in the warehouse of Eobuwie, the Polish e-commerce business specializing in fashion and accessories. This was done precisely to save its operators time in the picking stage, as they work directly in areas assigned to them following a batch-picking strategy. In addition, conveyors help to sort orders in the consolidation area.
Logistics adapted to same-day deliveries
Competing in an environment that demands deliveries in 24 hours means embracing digital transformation: only in this way is it possible to keep up with customer expectations regarding logistics service in online shopping.
If you'd like us to walk you through the transition to this new logistics trend, get in touch. One of our experts will analyze the situation at your warehouse to improve its operations.