December 11, 2020
Retail companies have had to adapt to online sales of their products at an unprecedented rate. E-commerce has forced them to reorganize their entire supply chain, starting with harmonizing their warehouses with omnichannel retail strategies. This has led to the concept of micro-fulfillment, that is, micro-logistics centers located in urban areas and charged with bringing products to end consumers.
Decentralized logistics was created with a view to having installations that were smaller but more agile and able to manage more complex orders. The main goals of micro-fulfillment centers are to bridge the distance with customers, speed up order delivery times and slash logistics costs.
In this article, we'll analyze micro-fulfillment centers: their characteristics, their advantages for companies' logistics operations, and the importance of automation for streamlined, error-free order preparation.
What's micro-fulfillment?
One logistics strategy being adopted by many businesses in the e-commerce sector nowadays is micro-fulfillment. But what is it, exactly? The objective of micro-fulfillment is to supply products to final consumers, thereby expediting deliveries of online orders.
Typically, micro-fulfillment centers are small, located near cities, and equipped with automated storage systems. They're urban microhubs set up to prepare a large number of orders, each with few SKUs, which are common in online sales.
How did the concept of micro-fulfillment arise? The e-commerce boom has transformed consumption habits. In addition to more complex orders, users demand increasingly faster deliveries.
Customers will no longer settle for receiving the product two or three days after purchasing it; they want it the next or even the same day. It's getting more and more difficult to achieve customer satisfaction and loyalty, and logistics now plays a crucial role in this.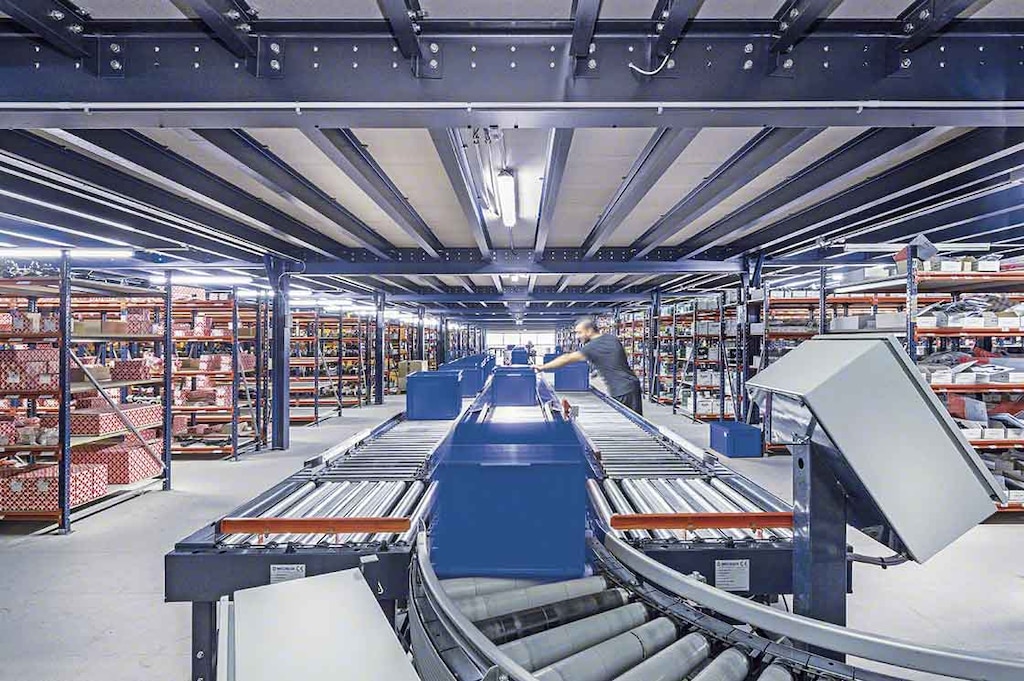 Micro-fulfillment centers
The first distinctive characteristic of micro-fulfillment centers is their location, which is a concept strictly linked to logistics real estate. To shorten delivery times, it's advisable to move the warehouse closer to the end consumers, who, from a volume point of view, live in big cities. The installation doesn't exactly have to be downtown, but it should be near the major city to ensure that the last mile, one of the most critical points in e-commerce logistics, is as efficient as possible.
A simple way to set up a microhub in a city is to convert spaces within commercial premises (for example, the warehouse of a hypermarket). Without forfeiting the inventory of the store itself, you optimize a space you already have and can now prepare orders much closer to the customers.
A second characteristic of micro-fulfillment centers is the presence of automation in both storage tasks and order management. The commitment to implementing technology in warehouses makes it possible to streamline operations, improve inventory management, reduce errors, and eliminate logistics cost overruns.
Some common automation solutions in micro-fulfillment centers are miniload systems or AS/RS for boxes, mezzanines combined with conveyors, and dark warehouses (fully automated installations that don't require lighting). Likewise, a robust warehouse management system (WMS) is essential for achieving high throughput.
Micro-fulfillment pros and cons
Having a micro-fulfillment logistics center lets you deliver orders more quickly and implement omnichannel strategies more effectively. Some of its major advantages include:
Speedy order deliveries: the distance between the warehouse and the end consumer is directly proportional to order delivery times. A micro-fulfillment center notably cuts last-mile times.
Optimized omnichannel strategies: decentralized logistics makes it possible to prepare more complex orders, such as those in omnichannel retail, where a product can be delivered or returned via different channels (physical store, home, point of delivery, etc.).
Decreases in certain logistics costs: proximity to end customers makes it easier to trim transportation costs. Plus, micro-fulfillment allows you to better leverage the spaces you already have.
This new trend, however, does have some drawbacks that retail firms should bear in mind:
Limited storage capacity: although space optimization is a reality, urban hubs are not known to have a lot of storage surface area.
Few units per SKU: due to the fact that e-commerce sales feature a small number of units per SKU and a wide variety of products, there are fewer opportunities to make the most of the storage space than there were with more uniform goods.
Limited order preparation capacity: in cases where the micro-fulfillment center is located in a store, the complexity of combining online orders without affecting inventory in the brick-and-mortar store makes it impossible to prepare a very large number of orders, in contrast with large distribution centers.
All-in-one solution: automated operations and management
Micro-fulfillment centers require cutting-edge technology, adjusted to the size and needs of the installation, to guarantee efficient operations, respond to e-commerce challenges, and ensure logistics systems tailored to omnichannel strategies.
Along these lines, when the dimensions of the micro-fulfillment center allow for it, one solution that stands out is the miniload warehouse for boxes, which maximizes space efficiency by means of an AS/RS stacker crane. With this system, based on the product-to-person principle, goods are picked from their locations and automatically brought to the pick stations.
Simultaneously, a WMS (Easy WMS by Interlake Mecalux, for instance) monitors all processes carried out. This yields greater throughput in both storage and picking tasks. The drop in logistics costs and errors generates a quick return on investment (ROI).
Easy WMS has various modules that enhance the management of micro-fulfillment centers:
Store fulfillment: controls the inventory of the warehouse and of the physical store in real time. Adaptable to various types of stores, Store Fulfillment prevents stockouts and synchronizes operations between the installation and the brick-and-mortar store (order prep, replenishment, returns, etc.).
WMS for Ecommerce: ensures the scalability of an e-commerce business, in addition to optimizing and lowering the costs of omnichannel logistics. This module streamlines workflows, improves picking times, and prevents errors in order preparation.
Multi Carrier Shipping Software: incorporates advanced functionalities to manage operations related to the packaging and labeling processes as well as connections with the major transportation agencies.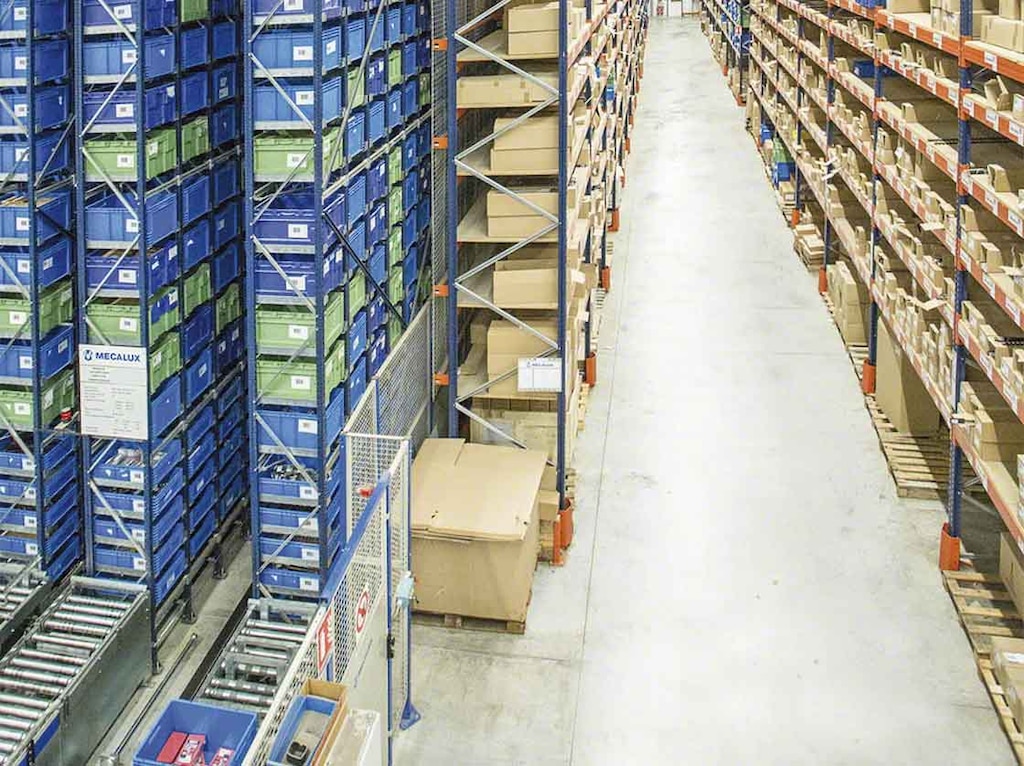 Retail outlets: present and future
In the current market, innovation goes hand in hand with being competitive. If a company doesn't modernize its processes, it runs the risk of falling behind.
Micro-fulfillment is the ideal solution for retail businesses to really make a difference in dealing with the logistics challenges of omnichannel retail and the changing mindsets of end consumers.
Interlake Mecalux has an extensive catalog of storage systems that mold to any kind of space, as complex as it may be. In addition, the features offered by Easy WMS will help you to maintain a flexible, error-free supply chain.
Be sure to contact us if you need personalized advice on designing, installing, or fine-tuning your warehouse.