March 19, 2021
Additive manufacturing is a production method with the aim of making products on the spot with a digital model and without the need for molds. Associated with 3D printing, this technology has come to revolutionize manufacturing centers with more efficient and cost-effective processes.
In this post, we analyze additive manufacturing, how it's improved production chains, and, above all, its role in Logistics 4.0.
What's additive manufacturing?
Related to 3D printing, additive manufacturing is a production system that uses computer-aided design (CAD) and 3D scanners. This new production concept creates objects by adding layers of material, especially metal and plastic.
As opposed to traditional manufacturing processes, with this method, no material is eliminated during the creation of the design (which is known as subtractive manufacturing). Applied to mass production, additive manufacturing can cut costs, eliminate errors, and produce with more agility and accuracy.
Today, this procedure is implemented particularly in sectors in which personalization and precision are key. For example, it is used to make implants and surgical instruments in the healthcare sector and parts and components for the aerospace industry.
Commonly used as a synonym for 3D printing, additive manufacturing and three-dimensional printing are not exactly one and the same. Additive manufacturing refers to the production of new complex and durable components in an industrial context, employing materials such as metal, while 3D printing comprises a specific type of additive technology that makes it possible to create objects in a limited way and in more domestic settings.
Additive manufacturing technologies
Additive manufacturing is a constantly evolving technology. Let's run through the main additive manufacturing techniques at present:
Stereolithography (SLA): this is the first additive manufacturing technique to emerge. This method uses as production material a liquid resin solidified under ultraviolet light.
Selective laser sintering (SLS): invented towards the end of the 1980s at the University of Texas, this type of additive manufacturing combines a laser with plastic powder to create new objects.
Fused deposition modeling (FDM): popular because of its easy and economic handling, this system — patented as FDM — makes it possible to mold prototypes and produce on a small scale.
Binder jetting: this comprises spraying a liquid binder onto a bed of powder that then solidifies.
PolyJet or material jetting: this is a machine consisting of a laser directed at a bed of metal powder. It serves to manufacture prototypes and completely functional final metal parts in a matter of days.
Although there are multiple techniques that employ metal and plastic to build objects layer by layer, more and more companies are experimenting with other materials — even food.
Additive manufacturing: what do I need to implement it?
Additive technology requires a workstation aligned with the production center to design and schedule the creation of new objects for mass production. So, businesses choosing to deploy this new technology need to be equipped with the following:
3D modeling software, that is, a CAD (computer-aided design) app.
Additive manufacturing equipment, such as a 3D printer.
A supply buffer with the raw materials required for creating products in bulk. In other words, the plastic and metal are added in layers to create the final object.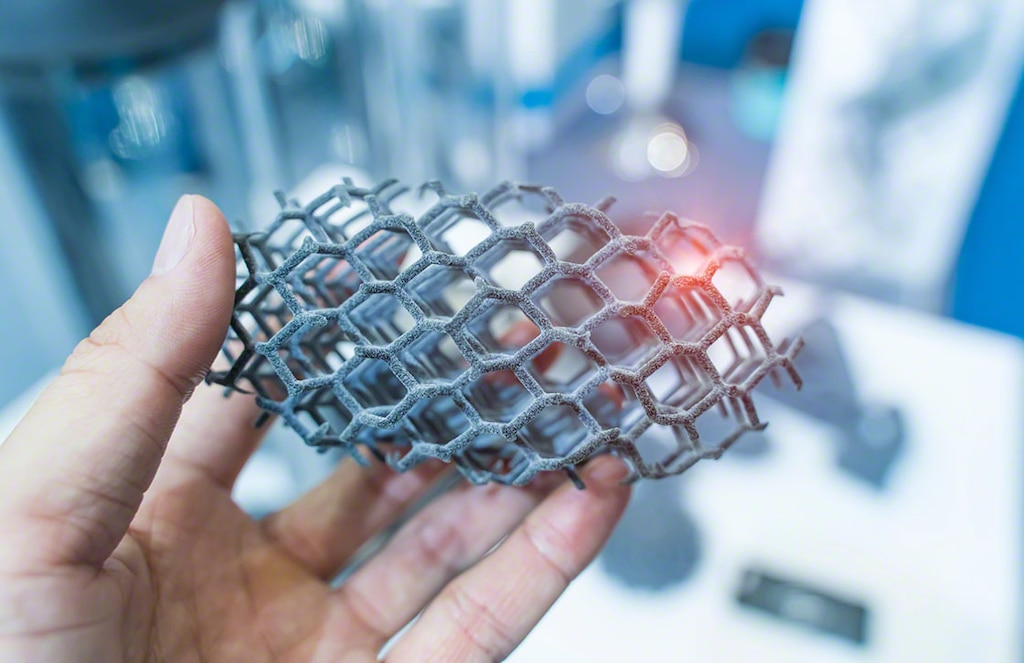 How does additive manufacturing work?
There are five basic processes to additive manufacturing:
1. A 3D model of the object to be reproduced is created. The workstation is equipped with a computer and CAD software.
2. The file created in the software is converted to a format that differentiates the layers into which the object is digitally divided. Generally, it is converted to an STL (Standard Triangle Language) file.
3. This file must be transferred to the 3D printer or the machine charged with reproducing the final product.
4. Subsequently, the machine prints in series and layer by layer the quantity of items configured at the workstation.
5. Following a safety and cooling period, the operator removes the model from the production line, and it is ready to be moved to the storage or dispatch area.
We should note that, once the product is designed in CAD, the production line takes the digital model to mass-produce the item, bringing agility, speed, and precision to this stage.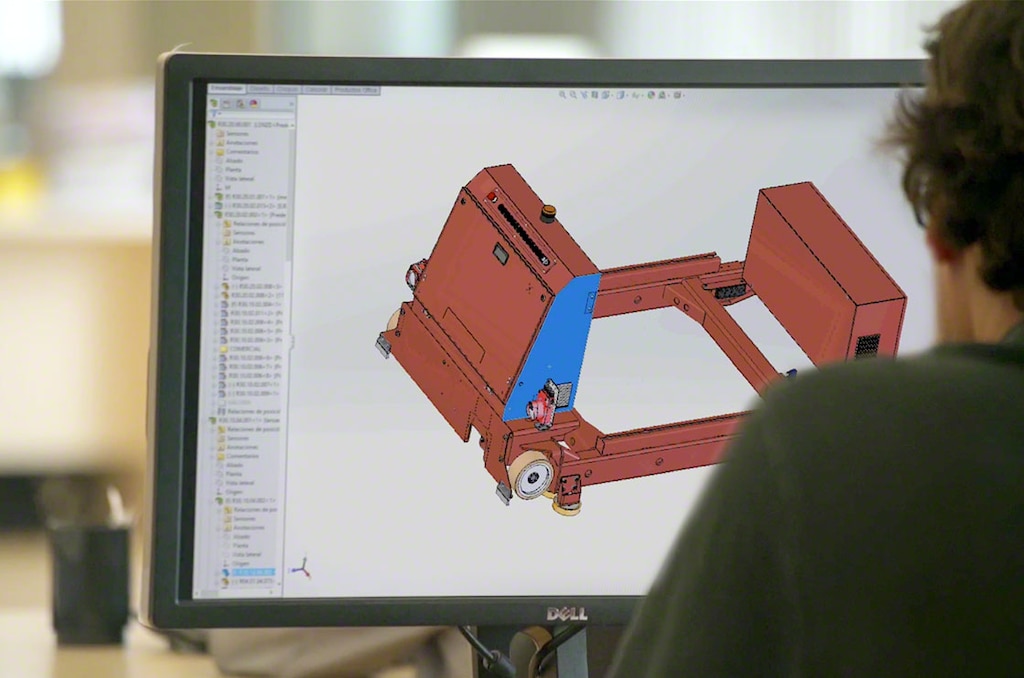 Additive manufacturing pros (and cons)
Additive manufacturing is an innovative technique that offers multiple advantages:
Precision in design and production: 3D modeling minimizes errors in the manufacturing process.
Flexibility, agility, and adaptability: this production system requires only a computer, software, and a piece of additive manufacturing equipment, making it possible to incorporate low-complexity production lines in warehouses.
Reduced logistics and manufacturing costs: the different parts and products can be built from materials such as metal and plastic powder, lessening the economic impact in the manufacturing stage and eliminating transportation between the production and logistics centers.
Product personalization: designing the product beforehand allows for the product to be modeled according to customer demands, resulting in improved service and a better brand image for the company.
In an omnichannel and Industry 4.0. context, in which companies must manage an increasing number of daily orders with less leeway, additive manufacturing makes it possible to produce in line with demand, e.g., the just-in-time (JIT) system. That is, products can be made according to the customer's terms, without the need to have that stock on hand already. Nevertheless, additive manufacturing does have some drawbacks:
High initial outlay: implementing production processes with this technology represents a considerable cost for businesses, mainly due to the machine responsible for configuring the product.
Limited use of materials: with the current state of additive manufacturing technology, only plastic and metal materials can be used to mass-produce products.
Surface porosity: the main additive manufacturing techniques nowadays generate parts with porosities in the structure that are difficult to detect with the naked eye but can lead to malfunction.
Additive manufacturing applications for warehouses
Every day, the number of companies implementing additive manufacturing in their production processes increases. This technique ensures lower operating costs, more efficiency in manufacturing logistics, and a significant improvement in the quality of the final product.
The possibility of designing and constructing a digitally personalized element make this production system an appealing option for businesses. In the end, additive manufacturing works for both continuous production and for making personalized objects as per customer needs.
For this reason, sectors such as the healthcare and aerospace industries have already implemented these types of processes in their installations. The resilience of plastic and metal coupled with the hygiene of the production process ensure the utmost quality of the final product.
As a matter of fact, the automotive sector has already incorporated additive manufacturing in multiple processes. For example, the McLaren Formula 1 team is equipping its race cars with parts made by 3D printers.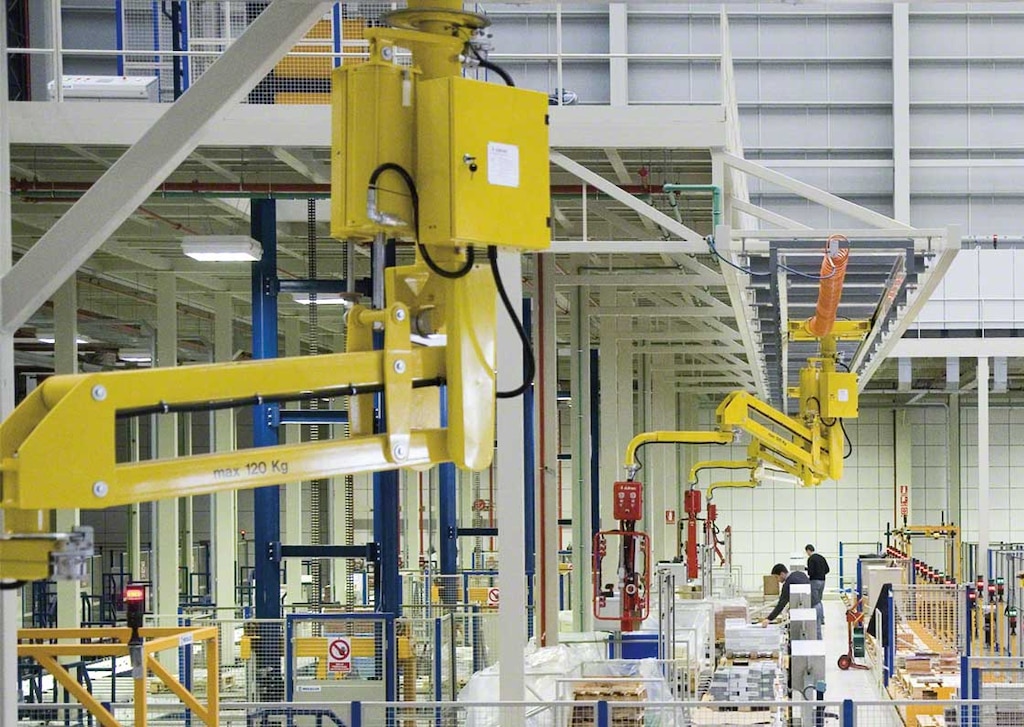 Additive manufacturing: production center efficiency
Up to now, 3D printing has become popular primarily as a standard method for manufacturing industrial objects. However, the diverse additive manufacturing trends in the market have the potential to revolutionize all aspects of production. Logistics stands to gain significantly from the implementation of these processes in production centers. In fact, the most notable benefits of this technology include:
Lower production costs.
Reduced warehouse stock.
Product personalization without the need to create a value-added workstation.
Very few tools are needed to put additive manufacturing into practice. With merely a computer, CAD software, and an additive manufacturing device, companies can incorporate low-complexity production lines in their existing warehouses.