May 19, 2022
Supply chain automation involves the use of new technologies in logistics processes to improve efficiency in production, warehousing, and product distribution, among other areas.
These technologies — together with others that have yet to become mainstream, i.e., the Industrial Internet of Things (IIoT) and the metaverse — are part of Supply Chain 4.0. This concept incorporates automated digital solutions to promote agile, flexible, and high-throughput processes in warehouses and production centers.
What's supply chain automation?
Supply chain automation consists of applying new technologies to implement more efficient and more productive logistics and manufacturing processes. Four of the main technologies used to automate the supply chain are robotic process automation (RPA), artificial intelligence (AI), digital twins, and machine learning (ML).
New technologies facilitate the introduction of solutions geared towards achieving a digital and connected supply chain. In warehouses and production centers with Industry 4.0 technologies, management programs are charged with syncing the tasks of operators and machines to optimize complex operations such as order fulfillment, product returns, and the assembly of components on assembly lines.
According to the Accenture study Supply Chain Workforce of the Future, smart machines offer a unique opportunity for supply chains: "Technologies like AI, digital twins, the Internet of Things (IoT), and the cloud allow companies to predict and monitor the impact of almost every action. The result? A new level of visibility and speed that fundamentally changes the way companies engineer, plan, source, manufacture, supply, service, and reclaim/recycle goods," say the authors.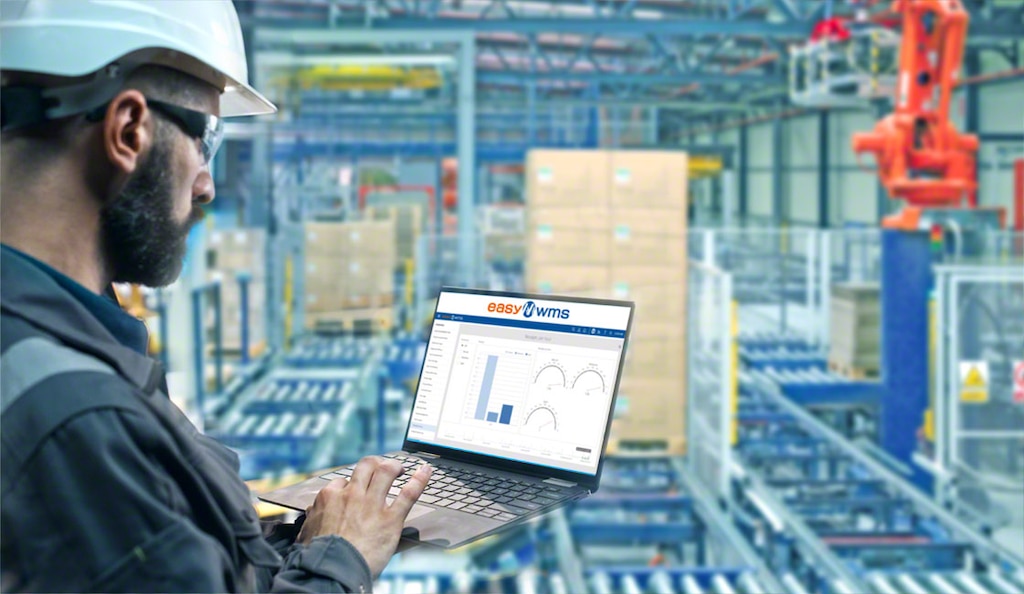 Supply chain automation entails the incorporation of advanced management programs to digitize processes. It also involves automated production, warehousing, and transportation solutions managed by a software program. These applications employ AI and big data technologies to boost productivity in stages such as goods receipt and order processing.
The McKinsey report Autonomous Supply Chain Planning for Consumer Goods Companies shows how implementing automated solutions that drive autonomous planning can enhance throughput and cut costs for consumer packaged goods (CPG) companies: "Autonomous supply chain planning can lead to an increase in revenue of up to 4 percent, a reduction in inventory of up to 20 percent, and a decrease in supply chain costs of up to 10 percent."
Benefits of automation in supply chain
Supply chain automation is associated with the implementation of automated solutions in stages such as the production, warehousing, and conveying of goods with the aim of eliminating cost overruns in the different operations. The implementation of new technologies such as AI, ML, and the IoT facilitates:
Uninterrupted goods flows: in a warehouse or production center, automated solutions ensure the continuous supply of products to the assembly lines or storage areas. ML enables the implementation of autonomous mobile robots in logistics facilities, which are tasked with distributing stock to the different points of the warehouse without having to follow a predetermined route.
Error elimination: installing automated solutions based on technologies such as AI or RPA reduces the probability of mistakes in process management and goods handling.
Inventory accuracy: supply chain automation entails equipping the facility not only with automated solutions, but also with digital programs that can guarantee real-time inventory management. Digitization also involves syncing all programs that play a part in the supply chain. Warehouse management software is an ideal tool for ensuring product traceability.
Flexibility in the face of disruption: the use of digital solutions and automated systems increases a warehouse's or production center's ability to react when faced with supply chain disruption ― i.e., that caused by the coronavirus pandemic. These technologies can even help to predict unexpected peaks in demand.
Can the supply chain be fully automated?
Already a reality in many companies, supply chain automation is a trend that's set to shape the future. This is illustrated in the McKinsey study Automation Has Reached Its Tipping Point for Omnichannel Warehouses, which says: "The warehouse-automation market is forecast to reach $51 billion by 2030, a CAGR [compound annual growth rate] of 23 percent."
New technologies in the supply chain will not only ramp up operational throughput in warehouses and production centers, but also pave the way for autonomous production, storage, and distribution. According to the analysis Supply Chains Will Become Autonomous Faster Than You Expect from consulting company Gartner, the supply chain will progress from automation to autonomy over the next decade: "Most CSCOs [chief supply chain officers] from global supply chain organizations agree that over the next 10 years the most advanced global supply chains will be leveraging hyperautomation — a combination of technologies including RPA, ML, and many others — to become more autonomous," says Pierfrancesco Manenti, VP Analyst for the Gartner Supply Chain Strategy team and author of the report.
Nevertheless, the road to full automation of the supply chain could take some time. The Gartner analysis divides the development of supply chain automation into three separate periods: automation (by 2025), augmentation (by 2030), and autonomy (beyond 2030). The differences between the three stages will be marked by the level of consolidation of technologies in the supply chain. While the automation period will be characterized by the IoT, RPA, and augmented intelligence, 2030 will feature technologies such as ML, digital twins, and responsible AI. From 2030 on, supply chain autonomy will be bolstered by AI and human augmentation, which encompasses technologies that improve physical and mental capacities through natural or artificial alteration of the human body.
If the end goal for companies is to have fully automated supply chains, Gartner recommends that the technological transformation of their supply chains should be their top priority: "Although it'll be a 10-year journey, CSCOs are advised to start working on this transformation now. Technology is developing really fast, and there is no time to wait and see. CSCOs should continue pushing for more process automation through RPA, while combining it with ML to also automate more complex decision-making," says Manenti.
Supply chain automation: agile, efficient operations
Supply chain automation refers to the application of technologies such as ML and AI to the warehouse by means of automated solutions and digital programs. The introduction of automatic robots eliminates errors in process management and goods handling, resulting in more effective logistics and manufacturing operations.
Adopting automated solutions and digital programs across the supply chain boosts warehouse productivity, increases visibility for supply chain stakeholders, and ensures perpetual (real-time) inventory control during logistics operations. Thinking about automating your supply chain? Don't hesitate to contact us. An Interlake Mecalux expert will offer you the ideal solution to automate your facility, optimize your processes, and eliminate errors due to manual management.