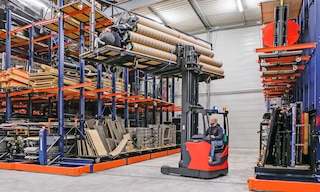 Side loader forklifts: the solution for transporting long loads
February 6, 2023
A side loader forklift is a machine designed to move goods in warehouses with long items such as profiles, pipes, or wooden boards.
This material handling equipment ensures that non-palletized items are conveyed in a safe, agile manner between the different areas of a facility. Additionally, side loader forklifts come in different shapes and weights to meet any particular logistics need.
What's a side loader forklift?
A side loader forklift is a type of handling equipment that transports loads from the receiving area to the racking locations or from the production lines to the storage area. Although they can handle pallets, side loader forklifts are ideal for long loads, such as wooden planks, metal bars, profiles, and pipes.
Designed primarily for indoor use, these industrial vehicles can also be operated outdoors. Side loader forklifts are an evolution of conventional reach trucks, as their wheels can rotate 90°. On these machines, the forks are positioned on the side as opposed to the front. Thanks to these two modifications, side loader forklifts can raise loads sideways and move them in narrower aisles.
Benefits of a side loader forklift
Side loader forklifts have a clear advantage over conventional forklifts: they're designed to transport long and bulky materials. By picking up and conveying goods laterally, they can move through narrower aisles, boosting the facility's storage capacity.
Side loader forklifts are one of the safest kinds of handling equipment for transporting extra-long items like wooden boards, metal rods, and pipes. Their configuration minimizes possible damage to long products as well as storage systems. Moreover, by moving sideways, they provide operators with greater visibility, avoiding the handling of overhead loads.
Conventional forklifts, on the other hand, carry long loads crosswise, so the aisles need to be wider to move the goods safely. In contrast with typical forklifts, side loader forklifts pick up products on one side of the machine, allowing operators greater maneuverability in handling the load.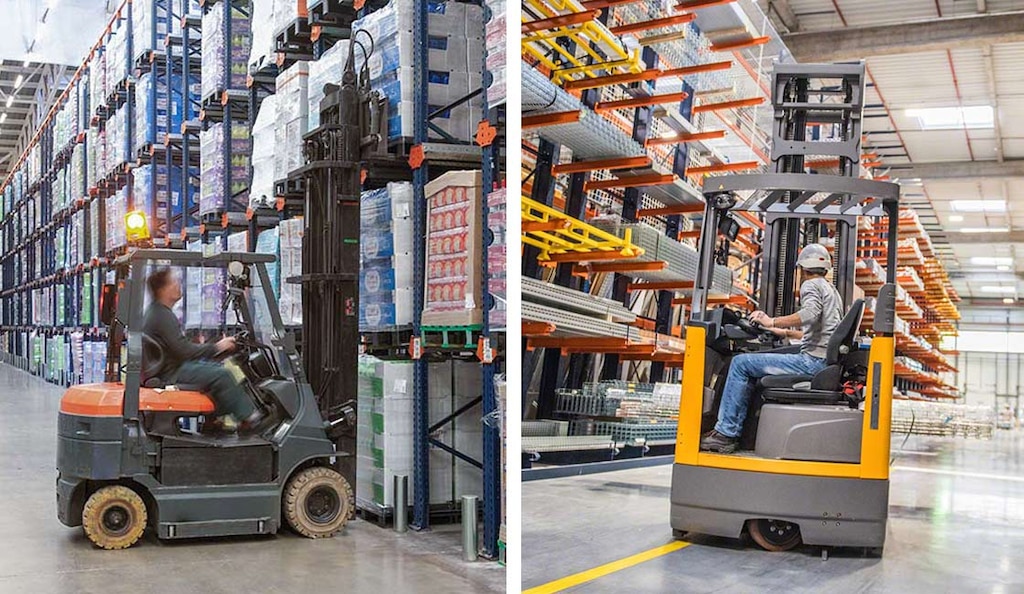 Side loader forklift applications
Side loader forklifts are used to store very long products on warehouse racks. Applications include facilities of companies that handle long loads such as pipes, profiles, and moldings. They're also used in logistics centers that house materials whose size makes them difficult to palletize, such as boards or sheets.
Likewise, side loader forklifts are typically found in warehouses that distribute orders containing long loads via cross-docking. These facilities allocate part of the floorspace as a staging area (for temporary storage). To streamline operations in this storage buffer, side loader forklifts handle long loads from the time they're stored until they're dispatched again.
In terms of the storage system best suited for side loader forklifts, cantilever racks are an excellent choice. This system, formed by bases, columns, and cantilevered arms, can be adapted to different types of facilities and long or variable-length products. Cantilever racks are designed so that operators have direct access to the goods and can handle loads with side loader forklifts or other lifting equipment.
These racks can also be installed on mobile bases that move sideways autonomously to increase storage capacity. In this case, the side loader forklift accesses only the storage aisle the operator has selected with the remote control.
Example of a side loader forklift
Giménez Ganga is a leading manufacturer of solar protection solutions, ceiling coverings, and decorative blinds. It employs side loader forklifts in its warehouse in Alicante, Spain, to efficiently handle aluminum profiles measuring between 16.5' and 23' long. With regard to logistics, these types of products can't be stored on pallets due to their size. Therefore, they require a storage and internal transport system adapted to their large dimensions.
To modernize its facility, Giménez Ganga has installed mobile cantilever racking. This solution optimizes space while maintaining direct access to the goods. "With Mecalux's mobile cantilever racks, we've gained 48% in capacity," says Ramón Encina, Process Improvement Department Manager at Giménez Ganga.
Now, Giménez Ganga's logistics processes are faster, safer, and more efficient. With the high-density storage system from the Mecalux Group and sideloader forklifts, the company has benefited from expanded storage capacity and effective, speedy management of its 458 SKUs.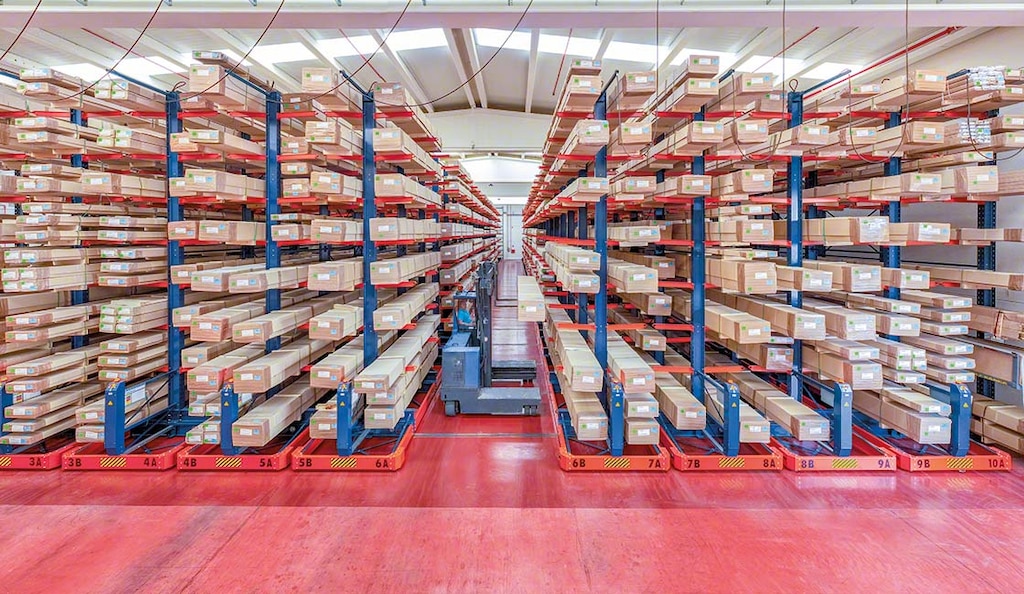 Optimizing the transport of long loads
Side loader forklifts are a popular solution for warehouses that handle very long goods and items with special sizes. With this type of handling equipment, coupled with compact storage systems, you'll gain agility and safety in transporting materials. What's more, you'll expand your storage capacity.
Looking to ramp up your throughput in your warehouse for long and heavy items? Don't hesitate to contact us. An Interlake Mecalux expert will advise you on getting the most out of your supply chain.