June 10, 2022
Inventory balancing involves transferring products from a physical warehouse or point of sale (POS) to another company facility. The aim of this operation is to even out the amount of stock available in the various warehouses and stores and to define the optimal stock levels for providing service.
By moving items from one point to another, the risk of error could be high. But with a warehouse management system (WMS), companies with multiple facilities can minimize this risk. That is, the WMS enables them to record the movements their goods make, from the time they leave a store or warehouse until their delivery to the destination point.
What's inventory balancing?
Inventory balancing means transferring excess goods in a store or warehouse to another store or warehouse that needs those items.
Moving stock between facilities has two main advantages:
For the warehouse/store sending goods, this frees up space, making it possible to accommodate new SKUs. Thus, the products won't become obsolete in the company's logistics facility, which would increase storage costs.
For the warehouse/store receiving the goods, stock is redistributed, supplying the facility with the products it needs to provide better service. Availability of goods leads to customer satisfaction, as customers can purchase the items they're interested in without delay.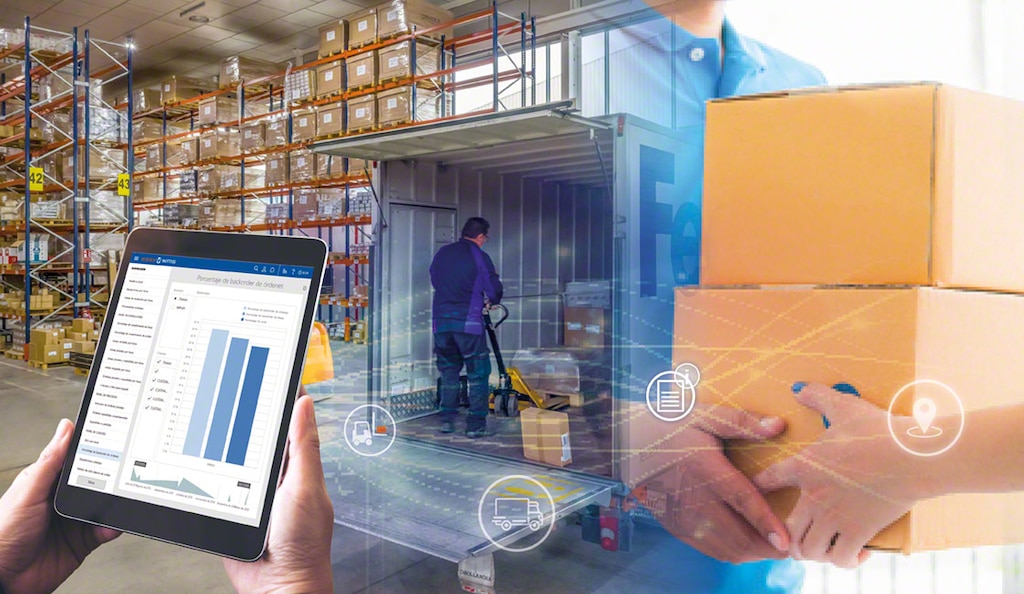 Importance of inventory balancing
Inventory balancing is a key process in companies with an omnichannel strategy. Why? Serving customers via different sales channels could cause inventory imbalances, whereby stores or warehouses might not have sufficient product quantities.
One solution to prevent a business from running out of goods is inventory balancing, i.e., transfers of products from one warehouse or store to another that needs the items.
One way of avoiding stockouts in warehouses and stores is through proper demand planning based on consumption patterns. This enables companies to determine the quantity of goods they should store and to calculate possible transfers of stock in advance. However, as consumer habits have changed in recent years — especially with the expansion of ecommerce — businesses find it very difficult to anticipate sales.
Omnichannel calls for seamless integration between facilities (i.e., multi-location inventory management) and stores. Synchronized management between warehouses facilitates the preparation of orders with multiple destinations as well as transfers of stock between warehouses and stores. Likewise, the rise of the BOPIS (buy online, pickup in store) omnichannel strategy has given stores a dual role: apart from serving as a physical POS, they've become warehouses where customers go to pick up their online orders.
Software for inventory balancing
To redistribute stock between stores or warehouses efficiently, it's essential to monitor your goods. How? With a WMS. This software tracks movements of products from the time they arrive at the facility until they're dispatched. A WMS can inform the business of items that are consumed and organize replenishment in advance. This avoids stockouts that would prevent the company from meeting customer demand.
The software should offer complementary functionalities that control transfers of stock between warehouses and stores. For example, the WMS from Interlake Mecalux features the advanced Store Fulfillment module, which keeps inventory always up to date between warehouses and stores, in addition to syncing operations.
This digital solution is extremely useful for businesses with an omnichannel strategy because it integrates stock between physical stores and logistics facilities. Store Fulfillment from Interlake Mecalux defines the minimum stock volume for each store, notifying the distribution center the minute that quantity is reached. The software also organizes replenishment and manages transfers of goods to prevent mistakes.
Another way to control product movements is to determine the ideal location for each SKU. With goods distributed optimally in the warehouse, companies can ensure accurate product traceability. By assigning each item a location, you'll know the exact location of the goods in real time along their journey through the warehouse.
For example, the Warehouse Slotting Software module from Interlake Mecalux incorporates rules and criteria for automatically generating goods redistribution tasks in the facility and determining the best location for each SKU.
Secure inventory balancing
Evening out the amount of stock in your warehouses is crucial for having on hand the goods you need to serve your customers. Businesses with multi-location inventory management or an omnichannel strategy have to adjust the quantities of products in their logistics facilities to reduce storage costs and ensure the availability of the goods.
To transfer stock between warehouses, companies generally use software that provides them with maximum security in movements of goods and avoids mistakes. At Interlake Mecalux, we have a wide range of software capable of controlling product traceability and optimizing all logistics operations. Be sure to get in touch. We'll show you how Easy WMS can help you manage your goods effectively.