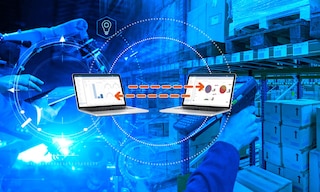 EDI in logistics: technology for standardized communication
December 23, 2021
The use of EDI in logistics has become established as a solution capable of fostering smooth, standardized communication between all supply chain stakeholders: from providers to the transportation agencies that distribute the orders.
In this post, we analyze how EDI has arrived in logistics and the advantages of incorporating this technology in the supply chain.
What is EDI?
Let's start by defining EDI, short for Electronic Data Interchange. EDI constitutes technology used by businesses to exchange documents electronically via a standardized format. In EDI transactions, which eliminate the exchange of paper documents, information is encoded and transmitted in a common format from one company's software to another's, preventing potential reading errors or loss of data.
The EDI system has its roots in the military field. Army Master Sergeant Edward A. Guilbert is considered the father of EDI. In 1948, together with other logistics officers, Guilbert developed a system that could transmit information by radio-teletype and telephone to resolve logistics issues in sending supplies to West Berlin.
Cut to the 1960s, when businesses were starting to computerize their internal management processes. They were looking for a solution that would facilitate information transfers. In 1968, the Transportation Data Coordination Committee (TDCC) was created to develop standards for the transportation industry. The TDCC organized a program on message formats, codes, and communication protocols. And in 1975, it published the first documentation on the EDI system.
This communication method was later adopted in sectors such as the automotive industry to ensure just-in-time supplies of raw materials to the production lines, and in finance to facilitate bank transfers. EDI also reached the healthcare sector, where it's essential to guarantee medical supplies to hospitals, and the pharmaceutical industry, which aims to maintain effective communications between laboratories.
The expansion of the EDI system across more and more businesses and countries is supported by standards that ensure that messages can be sent, understood, and acknowledged by any interlocutor. The most widely used standards are UN/EDIFACT (United Nations/Electronic Data Interchange for Administration, Commerce and Transport) and ASC X12 (Accredited Standards Committee X12) of the American National Standards Institute (ANSI).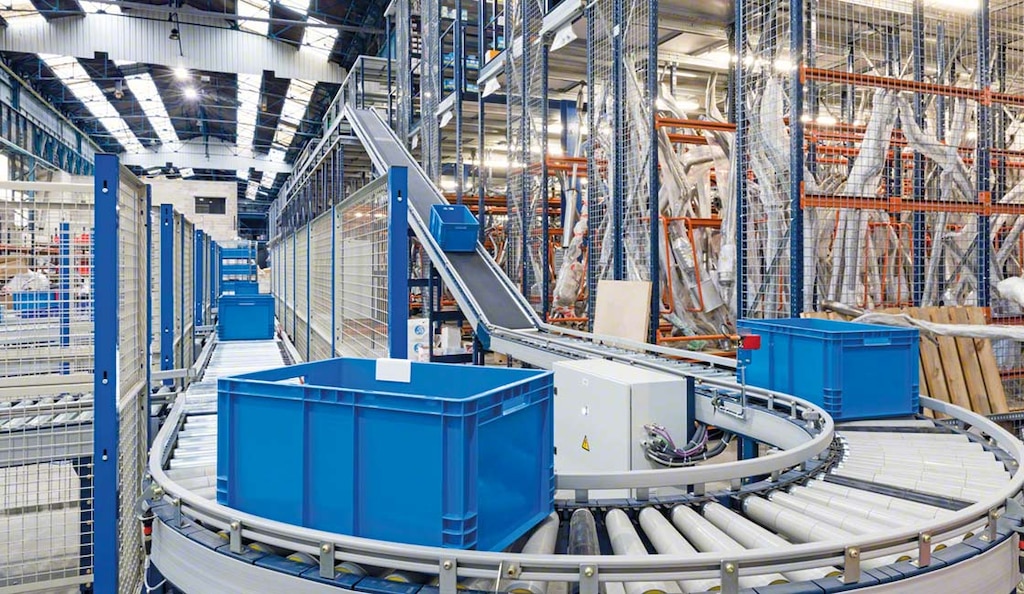 How does EDI work in logistics?
The use of EDI in logistics management has become standardized in response to the need to streamline information flows and coordinate all actors participating in the supply chain.
EDI fulfills several functions in the supply chain. On the one hand, it allows suppliers to notify companies of the items that will arrive at their warehouses. On the other hand, it helps businesses inform transportation agencies of the orders they will be distributing. To do this, companies generate an advance shipping notice (the ANSI X12 EDI 856 message), that is, an electronic document containing detailed information on the contents of the shipment.
Easy WMS warehouse management software from Interlake Mecalux can work with EDI when integrating with an ERP (enterprise resource planning) system. Some ERP systems on the market use this EDI to communicate with their suppliers or with carriers. Easy WMS can also exchange information in EDI format with the ERP system to streamline data sharing.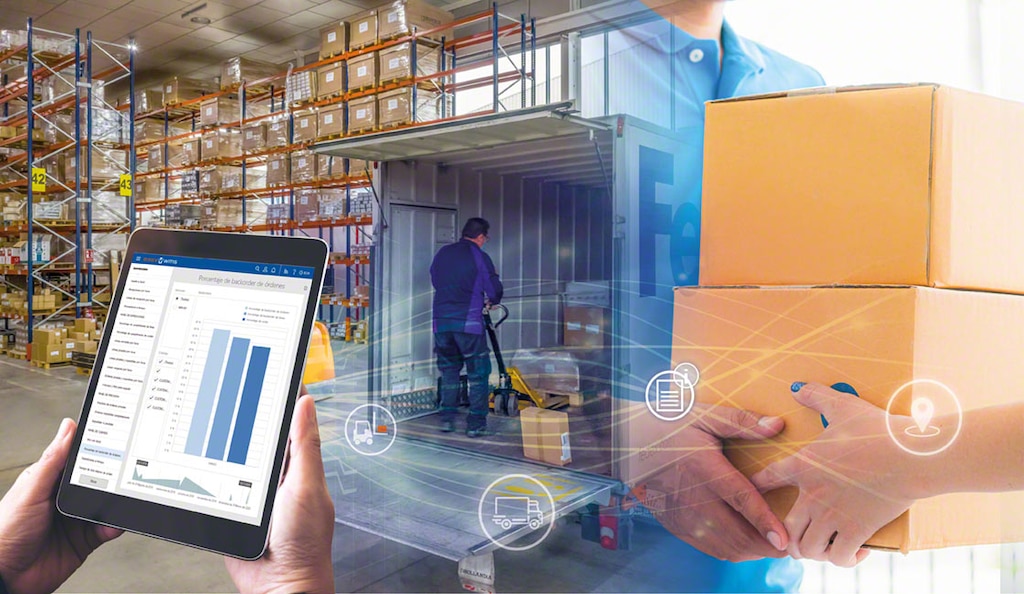 Benefits of EDI in supply chain management (and drawbacks)
Incorporating EDI technology in logistics has the following advantages:
Agility and security. It guarantees the secure exchange of information between all supply chain participants. By digitizing data sharing, businesses save time and eliminate costs and possible errors arising from manual management of information.
Efficient communication. It uses a format shared by the sender and receiver that facilitates the electronic exchange of data. Thanks to standardization, technical barriers are overcome. It also does away with having to manually review information, since the data simply flow between applications.
Information in real time. It enables an instant exchange of information between different companies. This way, logistics managers know ahead of time which items they will receive from suppliers, allowing them to plan warehouse operations effectively.
Streamlined administrative tasks. It makes it possible to manage delivery notes and invoices accurately, cutting administrative costs. Thus, in the warehouse, you can verify whether the items received match those that suppliers said would be sent.
Planned operations. With seamless data flows, supply chain stakeholders can better plan their operations. For example, suppliers can organize the distribution of raw materials based on the workload of the production lines.
Improvement in business relationships. Companies don't need to interpret information they receive, so invoices and purchase orders are processed much more quickly.
Nevertheless, EDI technology does have its disadvantages:
Initial investment. Digitizing information exchanges, having a value-added network, and being equipped with software to encrypt and send data require an initial investment that might be met with some reluctance.
Necessary adaptation. Businesses that exchange data via the EDI system have to share certain requirements. In addition, as it stands now, the EDI system lacks the flexibility needed to cope with market changes.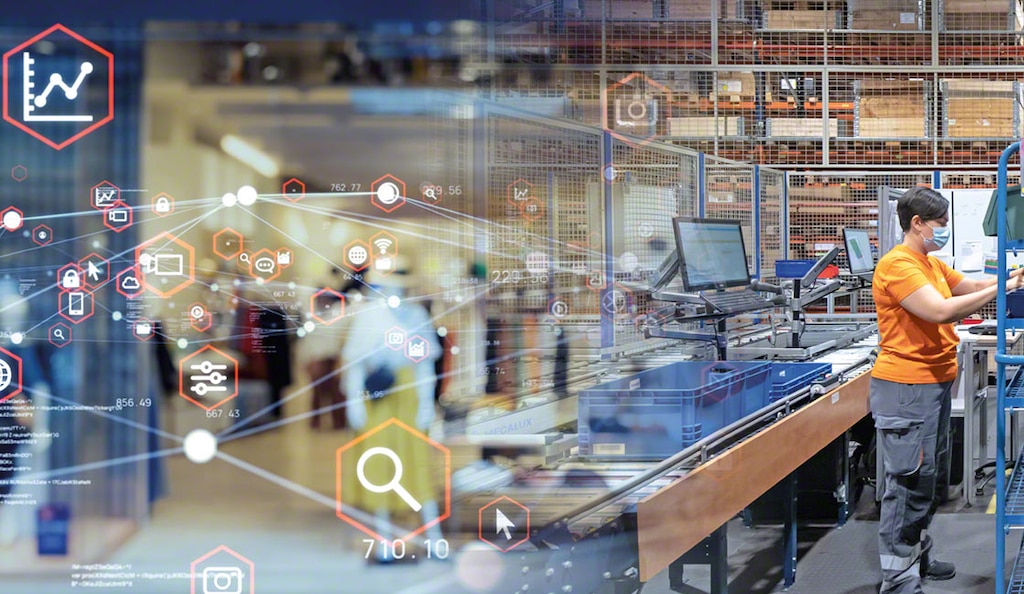 EDI in logistics: optimized information flows
The electronic exchange of data facilitates effective communication between all players in the supply chain, which may have a complex structure with very varied operations. Through EDI in logistics, all processes can be coordinated with the aim of improving efficiency.
Digitization has become a major asset in warehouses: it helps companies to control processes and carefully monitor their products. Be sure to get in touch with Interlake Mecalux; we'll show you the technology solutions we develop to ensure that logistics experts are prepared to meet the demands of customers of today and tomorrow.