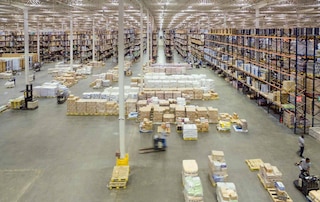 Embracing cross-docking: 3 success stories
April 30, 2019
Thanks to the advantages of this order fulfillment method, cross-docking is a prevalent strategy in sectors like logistics operations or distribution or consumer goods. Which companies are making cross-docking a reality in their warehouses? Let's look at a few examples of companies who use cross-docking and who we have partnered up with to optimize their warehouses.
3 businesses that use cross-docking successfully
Here is an overview of some companies which have chosen Interlake Mecalux to improve their warehousing logistics operations, as examples of cross-docking. They do business in sectors where cross-docking is used the most: the pharmaceutical industry, the mass distribution sector and the emerging world of e-commerce (especially those specialized in huge sales and deep discounts).
1. Example of pharmaceutical sector cross-docking: Roche Diagnostics
Roche Diagnostics is a leading pharmaceuticals company in solutions for in vitro and hematological diagnostics. Mecalux has worked side by side with the firm to increase its distribution center's efficiency, which is located in Barcelona (Spain).
Pharmaceuticals is one of the sectors with the strongest push toward implementing cross-docking and automated warehousing systems, especially for two reasons: medication held in controlled temperature storage and fast, monitored supply of stock. Roche Diagnostics shared both aims. In fact, 60 % of its SKUs are perishable products and involve same-day deliveries (within 24 h).
The project designed by the Mecalux Group for Roche Diagnostics included the automation of pallet and box picking thanks to the installation of stacker cranes and a miniload system for smaller orders. Both automated warehouses co-exist with a pallet racking zone for special-sized products and, of course, an area dedicated to cross-docking.
2. Eroski, a food and distribution company that uses cross-docking
Grupo Eroski successfully used the cross-docking formula in its distribution center in Agurain (Álava, Spain) thanks to the expertise and guidance of Mecalux specialists. The foods sector operates with very tight delivery dates since it transports expiration dated products. Additionally, the Grupo Eroski faced the challenge of satisfying a customer base that is becoming more and more demanding about the service they are offered in the company's supermarket chain.
Cross-docking is instrumental in running Grupo Eroski's logistics complex: the area dedicated to this task encompasses 1.48 acres from where it manages a huge volume of orders. With this method, it successfully sends out 80 % of the goods in same-day deliveries to high activity centers and the remaining 20 % the next day.
3. Privalia, an example of e-commerce cross-docking
Another situation that makes the most of cross-docking's potential is logistics operations serving flash sales, rebates, and promos (the norm in outlets and retail stores). Privalia is an outlet business dedicated to selling fashion, household, sports and children's items online. This e-commerce is a perfect example to illustrate how cross-docking is used.
At Privalia, cross-docking is exploited to speed up order fulfillment in its logistics center in the town of Gavá (Barcelona, Spain). In this case, Interlake Mecalux has configured Easy WMS as the management system for the in-warehouse cross-docking operations.
Embracing cross-docking in your company
These companies are examples of how to use cross-docking to make your business thrive. This is not a standalone business strategy since success at using this technique comes by partnering it with solid automated systems which, in turn, are backed by a powerful WMS.
Among these examples of cross-docking, this one has been the stepping stone to reach the customer's main objectives to maximize the profitability and potential of storage logistics. However, before deciding to apply cross-docking in your warehouse is it important to perform an internal assessment of how its use would impact overhead costs and how operations are run. If you were thinking of asking Interlake Mecalux to support you in your journey towards maximum warehouse optimization, feel free to get in touch.