October 20, 2020
A warehouse management system (WMS) is responsible for optimizing all operations that take place in an installation. The supply chain is subject to constant transformation, the purpose of which is to cope with market changes. In this vein, the functionalities of a WMS must also be enhanced with a view to tackling increasingly complex processes and scenarios. Against this backdrop, Easy WMS, the WMS by Interlake Mecalux, was designed to be scalable and modular. Thus, Interlake Mecalux continually develops new modules that adapt the software to all the challenges posed by Logistics 4.0.

Market changes, such as new consumption habits and the e-commerce boom, have forced companies to redefine and modernize their logistics strategies in order to maintain the quality of their service. Incorporating a WMS represents a major qualitative leap in terms of logistics: a WMS not only organizes flows, but also continuously supervises inventory to perform all operations successfully and at the lowest possible cost.
Easy WMS, Interlake Mecalux's warehouse management system, includes the functionalities required to efficiently manage all areas of any type of installation, regardless of its complexity.
Moreover, Easy WMS can be personalized through the implementation of one or more of the following modules:
WMS for e-commerce. Simplify the operations of an omnichannel warehouse and improve order preparation.
Multi Carrier Shipping Software. Automate your order packaging, labeling, and shipment processes.
Marketplaces & Ecommerce Platforms Integration. Connect your online shops directly to your installation to ensure your stock is always synchronized.
Store Fulfillment. Efficiently manage and synchronize stock between your warehouse and your physical shops.
WMS for Manufacturing. Maintain comprehensive control over manufacturing processes and the supply of the production lines, as well as full traceability.
Value-Added Services (VAS). Personalize items during order preparation through a guided process.
Supply Chain Analytics Software. Analyze the status of your installation, identify aspects to improve, make decisions, and define strategies.
Labor Management System. Measure, compare, and improve operator productivity at your warehouse.
WMS & Pallet Shuttle Integration. Make the most of Pallet Shuttle operations from a single, simple, and user-friendly interface.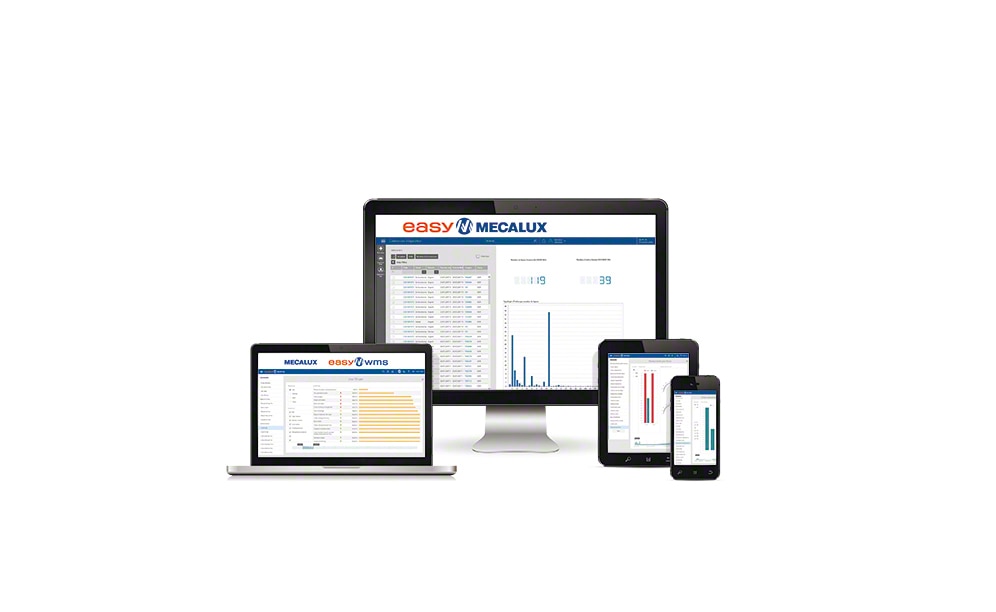 With all of these modules, Interlake Mecalux's Easy WMS can respond to the actual specificities of any warehouse, increase operational throughput, and ensure maximum quality and traceability at each stage. However, when faced with such a variety of functionalities, customers might ask themselves, "Which is the most suitable module(s) for my business?" Rest assured: Interlake Mecalux's technical team will analyze your needs to offer you the best solution.
The following are more detailed descriptions of each of Interlake Mecalux's Easy WMS modules:
WMS for e-commerce
Omnichannel warehouses have complex as well as frenetic operations . Every day, multiple orders, each made up of a few lines, are prepared and delivered to customers in the shortest time possible. Moreover, many SKUs are managed, but not all of them are in stock.
Hence, they have to be requested from suppliers. WMS for Ecommerce streamlines and optimizes the operations of these types of installations, regardless of size, number of orders per day, and storage capacity. To do this, it organizes the goods as they arrive at the warehouse. Based on the list of pending orders, it sorts the products into single-unit orders, multi-unit orders, or items to be stored.
This system enables you to carry out strict control of your inventory and of orders pending preparation. Consequently, errors will go down, operation times will improve, and your company will be able to dispatch more orders per day.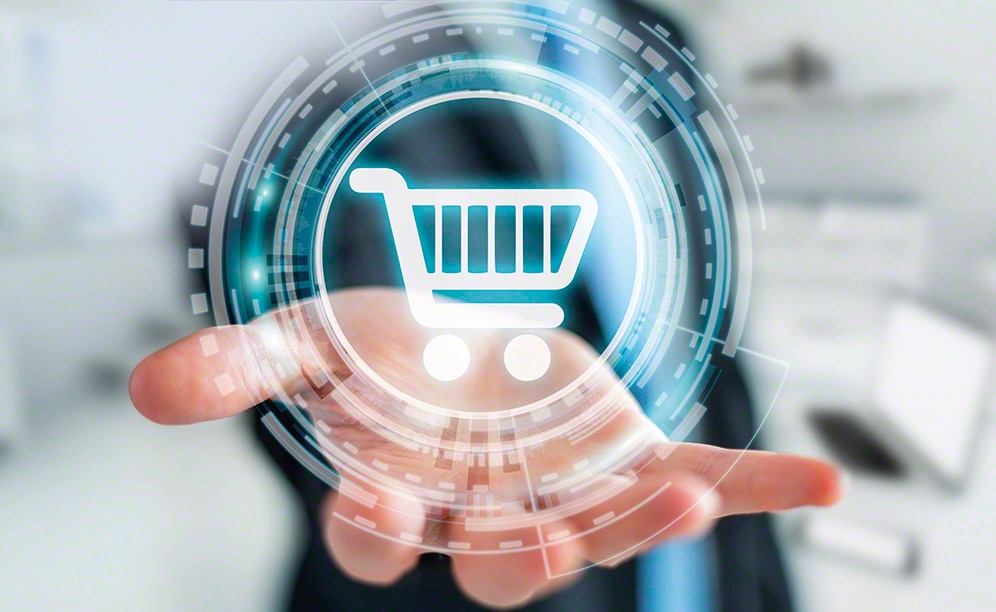 Multi Carrier Shipping Software
The last mile has become a crucial stage in e-commerce logistics, as it directly impacts costs and customer satisfaction. Any inefficiency in this phase could mean serious economic loss and a tarnished reputation for the brand.
Multi Carrier Shipping Software simplifies daily interactions between the warehouse and the transportation agencies. It enables you to organize order packaging, print delivery notes for each exit order, create labels for carriers, and generate tracking numbers that customers can use to monitor the location of their orders.
With this solution, the company can closely supervise the entire dispatch process, from the packaging of the products to the creation of the tracking code. This module is also integrated with the major international transportation agencies, such as UPS, DHL, TNT, and DB Schenker, to name a few.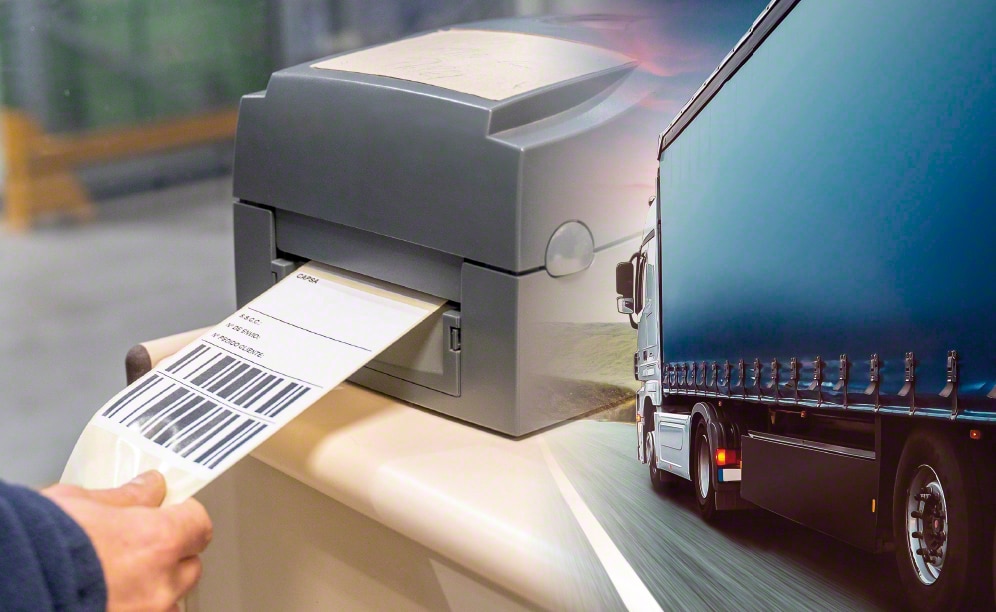 Marketplaces & Ecommerce Platforms Integration
Marketplaces are one of the most popular distribution channels on the internet. In fact, they have had the biggest impact on transforming consumer habits.
Interlake Mecalux's Marketplaces & Ecommerce Platforms Integration integrates Easy WMS with the main marketplaces and e-commerce platforms in the market (PrestaShop, Amazon, and eBay, among others). With this solution, warehouse inventory is coordinated with the stock appearing in the online store. At the same time, you can monitor the status of orders.
This module ensures automatic and much smoother communication between the installation and the various e-commerce retailers. Likewise, it eliminates errors that might be made in any of the processes, from the time the customer makes the purchase to the delivery of the order.
Store Fulfillment
One of the biggest challenges companies face is controlling inventory in real time, in both the warehouse and brick-and-mortar stores. Coordination is vital for scheduling picking, replenishment tasks, and transfers of goods between establishments.
Interlake Mecalux's Store Fulfillment integrates the WMS in the installation with the point-of-sale terminals. This makes it possible to coordinate operations, transfer merchandise in a controlled manner, and adapt the system to the particular characteristics of each store.
With this software, warehouse tasks are synced with those of the stores. As a result, the inventory is always updated, greatly reducing the possibility of a stockout.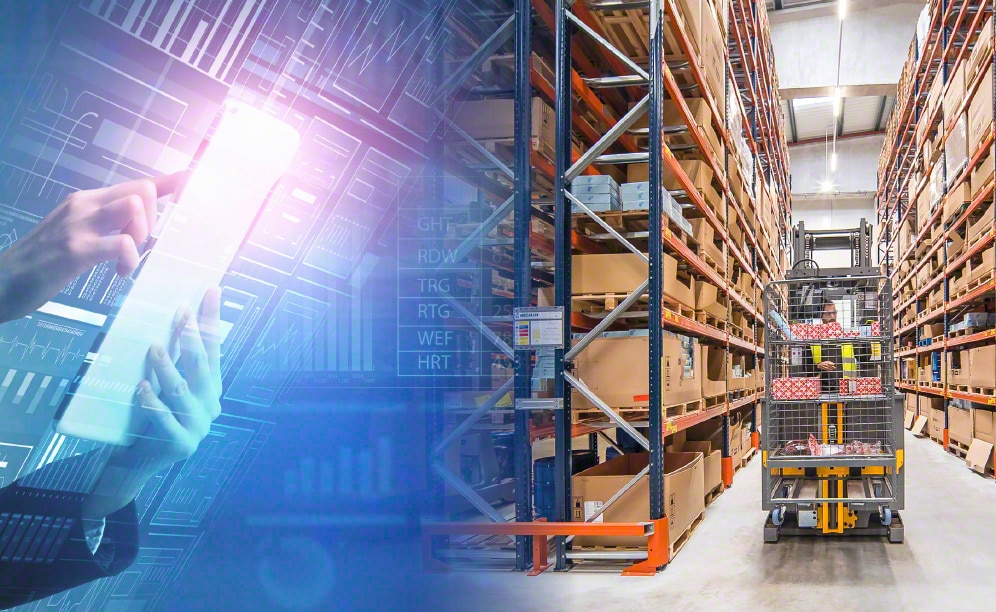 WMS for Manufacturing
To be more competitive, businesses have to closely control all processes related to production. This involves rigorous monitoring of the condition of the raw materials, the exact quantity used in each stage, and the way in which manufacturing is carried out.
WMS for Manufacturing controls the transformation of raw materials into finished products and supervises production processes. To do this, it contains detailed information on each of the materials used to make the products and directs them to be sent to the production lines at the appropriate time.
The system not only synchronizes warehouse operations with manufacturing processes to ensure just-in-time supply, but also provides end-to-end traceability of these processes and real-time visibility of all items.
Value-Added Services (VAS)
In logistics, value-added service VAS refers to the transformation of a product to meet specific customer requests (for example, the screen-printing of a T-shirt).
In the warehouse, workers locate the goods and move them to the corresponding workstations, where they are then altered. Once this task is finished, the products are dispatched and delivered directly to the customers.
Interlake Mecalux's Value-Added Services module minimizes errors during these processes. Operators receive precise and detailed instructions on what to do at all times (which items to locate, where to bring them, what to do at the workstation, etc.).
This system guarantees increased flexibility and visibility in VAS tasks. Thanks to the supervision of the WMS, operators personalize the products more quickly and without making mistakes.
Supply Chain Analytics Software
The first step to achieving an agile, smart logistics system consists of fully understanding how it works and analyzing the operations involved. With all of this information parametrized, you can make informed business decisions.
Supply Chain Analytics Software stores and analyses thousands of data generated every day in an installation, from the ratio of prepared orders to the percentage of warehouse occupancy. With this information, the warehouse manager or the company's head of logistics can plan operations and be prepared to deal with peaks in demand.
Supply Chain Analytics Software provides all the essential data to make decisions more easily. This system features indicators that can be personalized and can compare results obtained in different installations.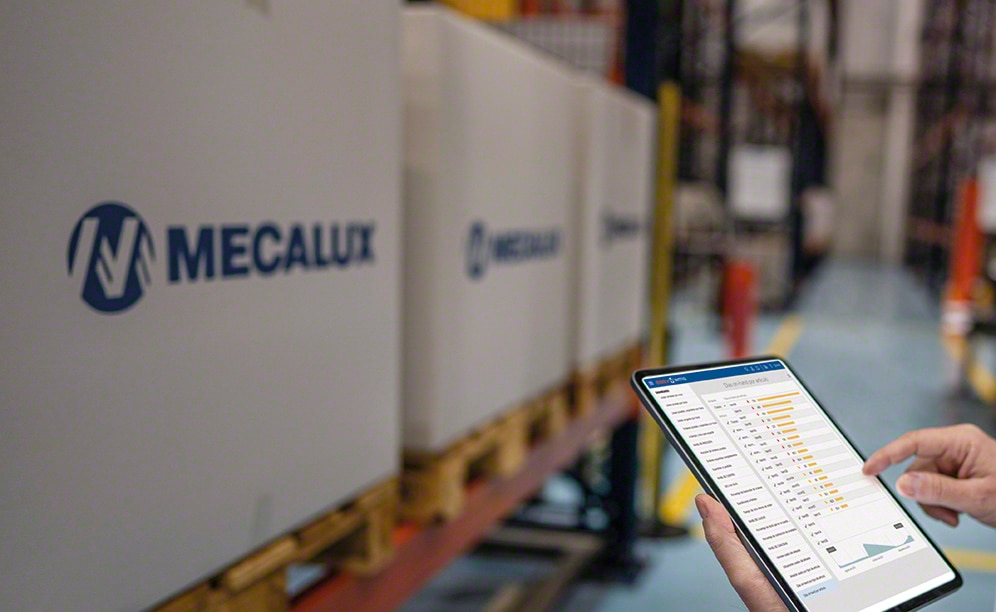 Labor Management System
Reducing inefficiency, optimizing resources and continuously improving all warehouse processes are priorities for any company. To make the most of an installation, at times, it is especially useful to reorganize all resources. But how is this possible without adequate information?.
This extension of Easy WMS monitors the activities and analyses the productivity of every shift or department for the purpose of identifying improvement opportunities. To do this, it records the actual time used to perform operations, taking into account movements and distribution of space. Subsequently, it compares these times with estimated standard times.
The key advantage of the Labor Management System is the visibility of the data to define the resources required according to the volume of work. With this information, the warehouse manager can forecast and plan work based on objective and quantifiable data.
WMS & Pallet Shuttle Integration
The semi-automatic Pallet Shuttle is a storage system equipped with a motorized shuttle that enters the storage channels to load and unload palletized goods.
With this module, operators use a tablet where they receive instructions from the WMS and, at the same time, control the movements of the shuttle.
An efficient warehouse is one in which everything is integrated: operators, tasks, and storage and management systems. This software enables you to manage warehouse operations from a single screen, combining in one device all the functions that, up to now, required various terminals.
A solution for every requirement
The modules and functionalities developed by Interlake Mecalux provide companies with comprehensive, personalized management of their logistics activities. These systems are designed to enhance the WMS and adjust it to new market demands, optimizing the management of product flows, from the entry of the goods in the warehouse to their delivery to the final destination.
Interlake Mecalux is a leader in the storage system market, with more than 50 years of experience and a presence in over 70 countries. More than 900 installations in 36 countries are managed by Interlake Mecalux's software solutions.