May 22, 2023
BUSINESS FOCUS
Industry 4.0 is characterized by the complete integration of information between the physical and digital worlds in the supply chain. The Fourth Industrial Revolution is brimming with examples of organizations that are applying technologies such as digital twins, autonomous intelligent vehicles (AIVs), big data, and cloud computing to achieve more efficient processes and raise their competitiveness.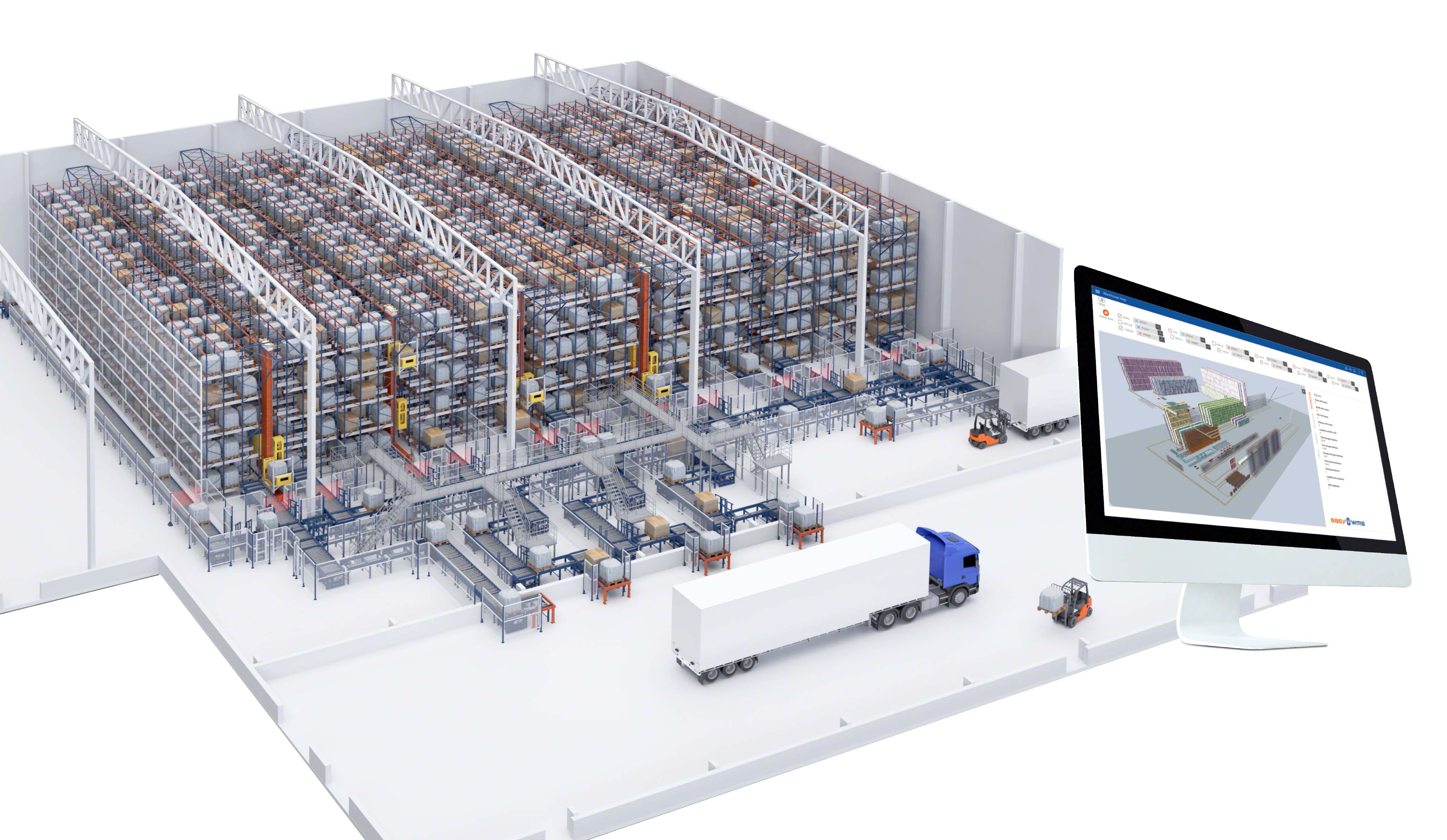 Industry 4.0 is revolutionizing traditional methods of manufacturing, warehousing, and distributing goods. The Fourth Industrial Revolution — born of globalization and business internationalization — is characterized by hyper-connectivity and new information technologies in production and logistics processes. According to a PwC study, 86% of executives expect to reduce costs and increase revenue with their investments in Industry 4.0.
Digital technologies such as the Internet of Things, artificial intelligence, and machine learning lead to higher levels of automation and customer responsiveness. The development of smart factories and warehouses is an opportunity for companies to improve the productivity and quality of their processes.
Below, we set out several examples of Mecalux Group projects that have implemented Industry 4.0 technologies to optimize organizations' supply chains:
Technological leap to improve efficiency
The future is moving towards ever faster, more efficient, error-free logistics operations. Against this backdrop, warehouses can rely on automation to ramp up productivity, bring down operating costs, and offer quality service.
One example of a company that has overhauled its business through automation is metal can and container producer Blechwarenfabrik. In Germany, the manufacturer automated and digitalized its logistics processes to cope with rising sales. It was clearly set on taking an Industry 4.0 approach to automatically integrate production and logistics.
The Blechwarenfabrik plant consists of two automated warehouses from Mecalux, one for raw materials and the other for finished products. The two are connected to the manufacturing area via automated guided vehicles (AGVs). "We've automated goods management, from product entry to order dispatch. In partnership with Mecalux, we've built the most modern metal packaging plant in Europe," says Christoph Weber, Technical Manager at Blechwarenfabrik.
In France, tool manufacturer SAM Outillage has also made the jump to automation, resulting in major benefits. The organization has gone from having an overloaded, outdated facility to making the most of every inch. With automation, SAM Outillage has scaled up its productivity in all operations by 25% in addition to minimizing errors. The company's facility features a mini-load automated storage and retrieval system (AS/RS) where multiple processes take place: product receipt and monitoring, tool personalization via laser engraving, kitting, and order picking and dispatch.
"In modernizing our facility, we've restructured all our logistics operations. We've streamlined the flow of goods, and order deliveries are much faster. Now, we can guarantee product deliveries within 24 hours, especially orders received before 4:00 p.m. that require next-day delivery," says Didier Denizot, Logistics Manager at SAM Outillage.
Digital warehouse simulation
Simulation is a tool applied in Industry 4.0 to design and validate storage solutions before deploying them in a logistics facility. This technology generates a virtual rendering of all the elements found inside a warehouse that play a part in its proper operation: the goods themselves, the storage systems, and the handling equipment, among others. Simulation is essential for designing and validating a storage solution prior to its implementation. It serves as a test bed for verifying the operation of the storage systems in a digital environment.
The Mecalux Group uses simulation software to configure its warehouses. With this tool, the technical team tests the operation of the storage systems, confirms the validity of the theoretical calculations for the required flows, and detects areas for improvement (i.e., bottlenecks) before putting the facility into service. The purpose of the software is to reduce project implementation times.
Simulation software was used to design one of Europe's largest rack-supported buildings for Congelados de Navarra, a leading producer and marketer of deep-frozen vegetables. The digital representation monitored and validated the correct operation of the AS/RS before deploying it.
In Fustiñana, Spain, Congelados de Navarra has a modern logistics center equipped with the latest storage and internal transport technologies. The center is made up of four automated freezer warehouses: three with stacker cranes and one with the automated Pallet Shuttle with transfer cars. Simulation gave this deep-frozen vegetable business a competitive edge: the chance to test and analyze the performance of its warehouses in detail before commissioning them.
The Mecalux Group also employs simulation to ensure the stability of its storage systems, particularly those installed in facilities located in seismic risk areas. The racking should have an earthquake-resistant structure that strengthens it and ensures its optimal performance against ground motion. Simulation makes it possible to design racking in two phases: one taking into account the dynamics of the racks (i.e., how they perform) and another that calculates the system's resistance to earthquakes.
In Italy, for example, Mecalux equipped seven of Brivio & Viganò's freezer warehouses with seismic racking. The logistics center of this 3PL provider specializing in food products is located in the earthquake zone of Pozzuolo Martesana. The storage systems were designed to provide the greatest possible capacity and absorb the force generated by potential ground motion. "They have the right seismic resistance and have helped us to maximize warehouse space in a major way," says Managing Partner Stefano Brivio.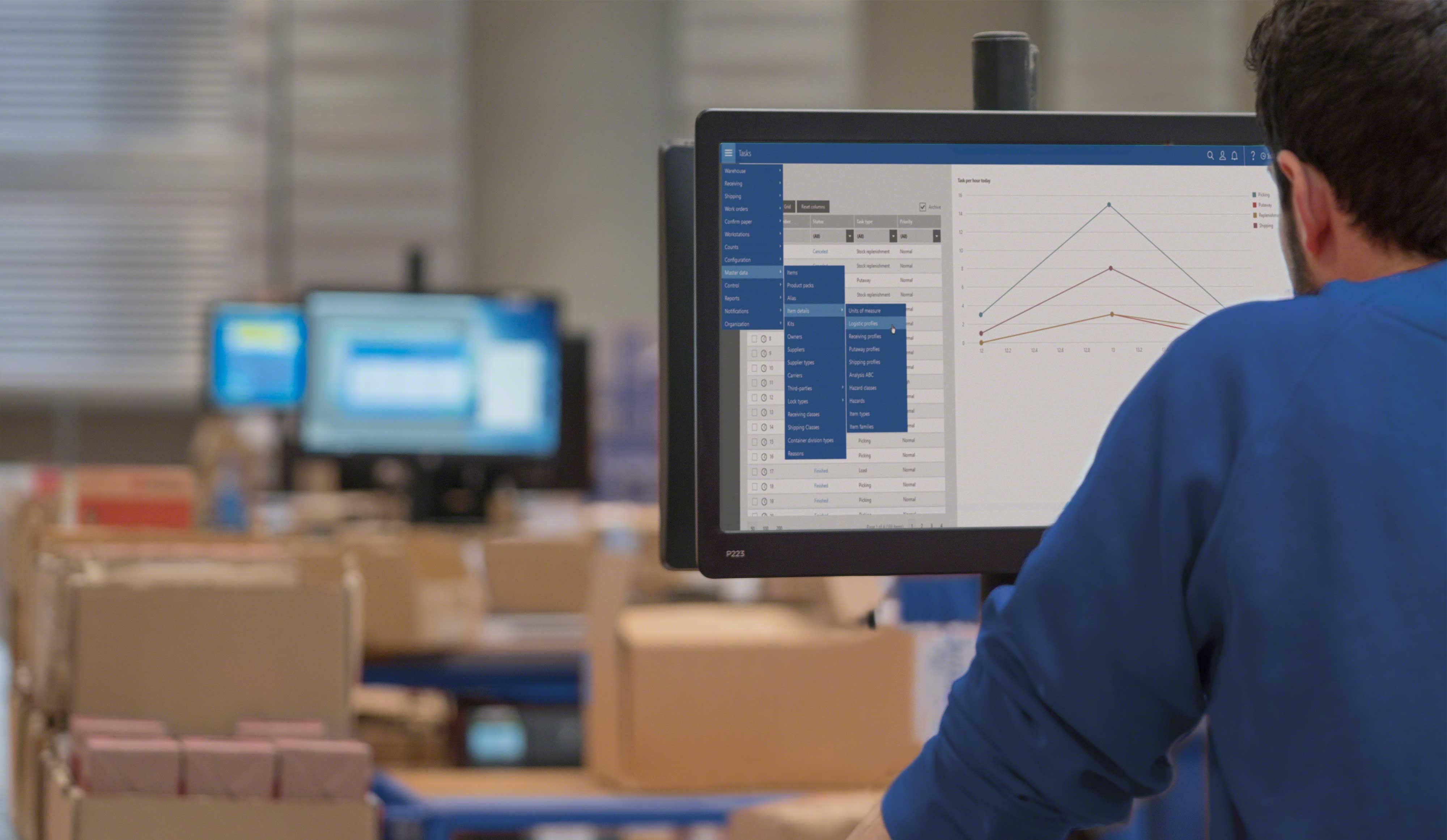 Projects based on big data
When organizations digitalize their facilities, they run their logistics operations according to predictive analytics. Predictive systems use both historical and real-time data to forecast behaviors, trends, and habits in operations and machine performance.
By applying big data to logistics, companies can control and process the vast amount of information their supply chains generate. Big data analytics provides benefits in product manufacturing, storage, transportation, and distribution.
To facilitate data analysis and interpretation, the Mecalux Group developed Supply Chain Analytics Software. This advanced functionality of the Easy WMS warehouse management system segments and structures all data originating from any facility.
Companies from all sectors can install this module to consult and analyze operational throughput in their warehouses. In Colombia, for instance, household appliance multinational Electrolux uses Supply Chain Analytics Software to fully monitor all activity in its facility. The module comprises control panels with precise information on the performance of operations. At a glance, the company's logistics managers can consult data such as goods entries and exits and the status of picking. "To have an agile, flexible supply chain, we need to constantly enhance all processes. With the information Supply Chain Analytics Software gives us, we can cope with any changes that lie ahead for our business," says Jeison Saavedra, Inventory Analyst at Electrolux.
Supply Chain Analytics Software fosters productive and flexible logistics processes adapted to business needs. A case in point is Würth Modyf, a business specializing in workwear, corporate uniforms, and safety footwear for professionals. The organization outfitted its warehouse with Mecalux's advanced analytics module to exhaustively monitor its logistics operations. "For us, it's vital to analyze the status of operations in the facility because the data enables us to improve processes. Without analyzing what's going on in the warehouse, it's impossible to detect which operations we can improve or which measures we can adopt. Our intention is to optimize the facility and continuously boost productivity," says Juan Martínez, Operations Manager at Würth Modyf.
AIVs in the warehouse
Autonomous mobile robots (AMRs) are automated internal goods transport systems that connect the different areas of a warehouse, logistics center, or manufacturing plant. Equipped with cameras and state-of-the-art sensors, these robots make decisions autonomously to move products to the work areas required by the operations.
Normagrup, a leading company in the emergency lighting market, benefits from the performance of AIVs at its manufacturing plant in Asturias, Spain. The company has installed four AIVs to connect its production lines with its mini-load AS/RS designed by Mecalux. The robots are charged with transferring raw materials from the storage area to the production lines.
To ensure that Normagrup's logistics operations are carried out at full throughput and without error, Mecalux came up with a solution to link the various automated elements involved in the supply chain. "Mecalux responded to all our needs and requirements. It even resolved the complex issue of connecting the AMRs with the warehouse," says Mikel Jaureguizar, General Manager of Normagrup.
Cloud computing in industry
Cloud computing encompasses computing services offered over the internet. It includes the mass storage of data as well as information and web services processed through servers connected to the internet. With this model, organizations can purchase and deploy digital programs such as WMS software without having to install their own servers.
Stand-Privé.com, an e-commerce retailer specializing in fashion items and accessories, has digitalized its facility in Aulnay-sous-Bois, France, with Easy WMS in the cloud. The software helps the company manage 100,000 SKUs and ship 2,600 online orders a day. By implementing the WMS in the software as a service (SaaS) model, warehouse operators can access the app from any browser with an internet connection. Easy WMS has also been integrated with Stand-Privé.com's ERP system. The two programs now transfer data and information to ensure that operations in the facility run smoothly.
In Germany, WISAG, one of the country's largest service companies, has also modernized its logistics operations with Easy WMS in the SaaS model. This version of the software is based on a high-performance Microsoft Azure cloud server infrastructure. By means of RF scanners and tablets, Easy WMS sends operators instructions on storing and dispatching 1,000 pallets a day (500 incoming and 500 outgoing) with zero errors. "The throughput is higher, and they make virtually no mistakes," says Michael Lederer, Director of the WISAG Logistics Competence Center business unit. The software knows the status of WISAG's goods in real time. To achieve this, it identifies all items as they arrive at the facility. It then assigns them a location automatically, taking into account their SKU and demand level.
Examples show that Industry 4.0 is already a reality
The applied examples of Industry 4.0 illustrate how Mecalux Group customers have integrated the latest technologies to enhance the performance of their logistics operations. Like industry, the supply chain finds itself in a constant state of flux. Furthermore, customers are demanding more and more immediate results. To rise to these challenges, businesses must implement innovative technologies in all their processes to create a more agile and effective logistics network. Flexible manufacturing, greater integration between different business areas, and the digital transformation of production plants underpin the foundation of Industry 4.0.