July 22, 2021
Sustainable logistics encompasses the strategies and processes inside and outside the warehouse aimed at minimizing the impact of the supply chain on the environment.
In this post, we'll explore how more and more companies — particularly those in the e-commerce sector — are turning to innovation to cope with the high demand for products while striving to cut down on waste as well as energy consumption in their logistics processes.
Sustainable logistics in the e-commerce sector
The goal of sustainable logistics is to reduce carbon footprints, pollution, and waste in all stages, including product manufacture, storage, order preparation, and the distribution of the goods to the end customer.
The e-commerce explosion has transformed consumer habits, establishing new distribution standards — such as same-day deliveries and ultrafast deliveries fostered by quick commerce (q-commerce) — which have multiplied the number of trips required to supply customers who shop online. Against this backdrop, companies mustn't overlook the environmental impact of their actions, since decreasing greenhouse gas emissions is one of the greatest challenges of our time.
At this juncture, it's inevitable to wonder: is e-commerce compatible with sustainable logistics? The answer isn't as simple as it seems. Although one would think that e-commerce causes more pollution than traditional retail, there are views that say just the opposite. One study done for Amazon by consulting firm Oliver Wyman, for instance, concludes that e-commerce shipments create 0.5% of all traffic in urban areas, while physical retail is responsible for 11%. The study also finds that offline commerce generates 1.5-2.9 times more CO2 emissions than e-commerce.
However, that same study recognizes that immediate shipments and the large number of returns lead to an increase in traffic and, as a result, in pollution. A report from Research and Markets on the environmental impact of e-commerce supports the previous argument and highlights that the calculation of the actual extent of emissions attributable to e-commerce depends on multiple variables. So, the debate remains open.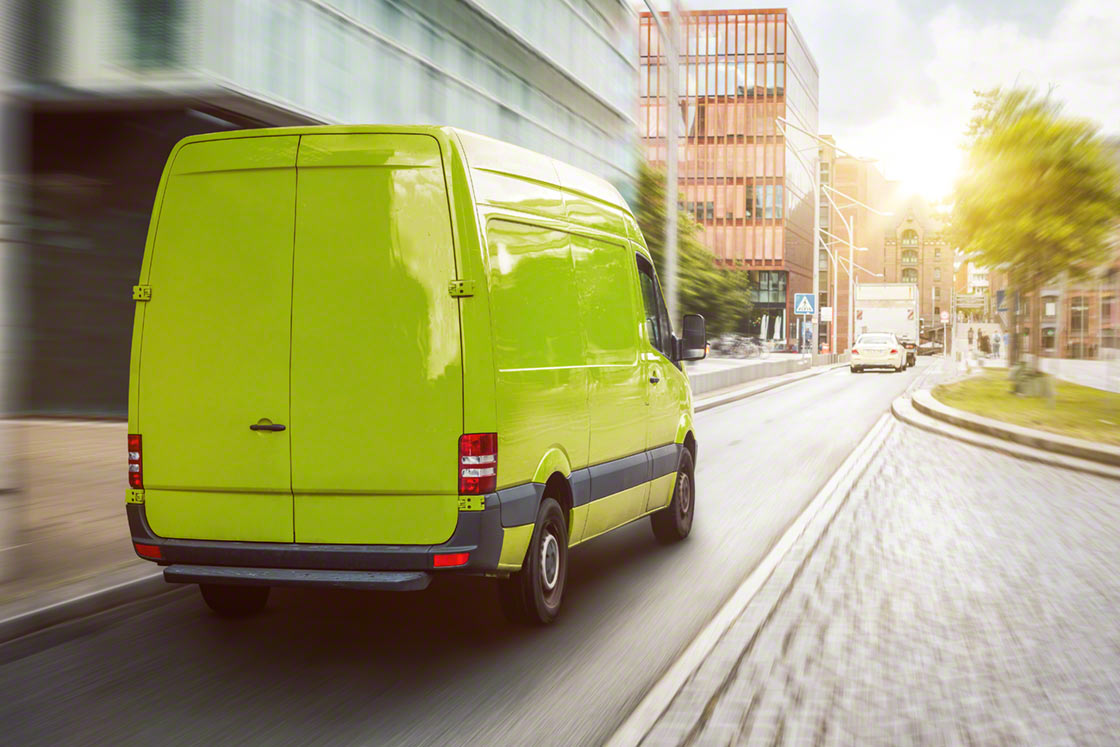 Proposals for sustainable logistics
Regardless of the environmental impact of e-commerce versus traditional retail, there's no doubt that last-mile delivery is the most polluting link in e-commerce. The aforementioned study from consulting company Oliver Wyman attributes 26% of the CO2 emissions produced by this sector to the last mile. In addition to this environmental impact is the obvious connection between the home delivery boom and the concerning rise in vehicle traffic in big cities.
The solution for this conundrum lies in redesigning certain procedures and operations. Below, we'll run through a series of proposals for moving towards sustainable logistics that lessens the environmental impact associated with e-commerce by restructuring last-mile delivery.
Promote the use of pick-up points
Fast home-deliveries of generally small orders is one of the main characteristics of the e-commerce distribution system. Home deliveries, which are much more convenient for customers, call for high amounts of daily truck and van movements. This results in a significant rise in emissions generated by transportation and considerably affects the organization of city traffic.
One way to respond to this challenge is to opt for alternative, more sustainable shipping methods, such as in-store pickup, smart lockers, and delivery points. These modalities have a clear advantage: businesses can better organize their dispatches and group the goods by transportation route, significantly cutting down on the number of movements needed to make their deliveries. In addition, this distribution mechanism offers benefits for consumers, ensuring them maximum flexibility by letting them choose when and where they can pick up their packages.
By optimizing efficiency in the order dispatch process, companies can also make use of technology. With a warehouse management system, the products to be shipped are organized. Easy WMS, the WMS from Interlake Mecalux, features the Multi Carrier Shipping Software module, which allows you to group orders by route and transportation agency, streamlining the truck loading process and making delivery planning more efficient.
Prepare orders locally
When a package travels less, greenhouse gas emissions go down. Therefore, using a local delivery network contributes towards more sustainable logistics. Micro-fulfillment centers are an excellent option for decentralizing distribution and being closer to end customers. These centers are located near big cities and have an obvious advantage: orders can be delivered more quickly, without traveling such long distances and, thus, causing less pollution.
These installations stand out for their high degree of automation of storage and order prep tasks. The implementation of automated solutions, such as miniload systems and roller conveyors for boxes, is fundamental for guaranteeing fast, error-free deliveries.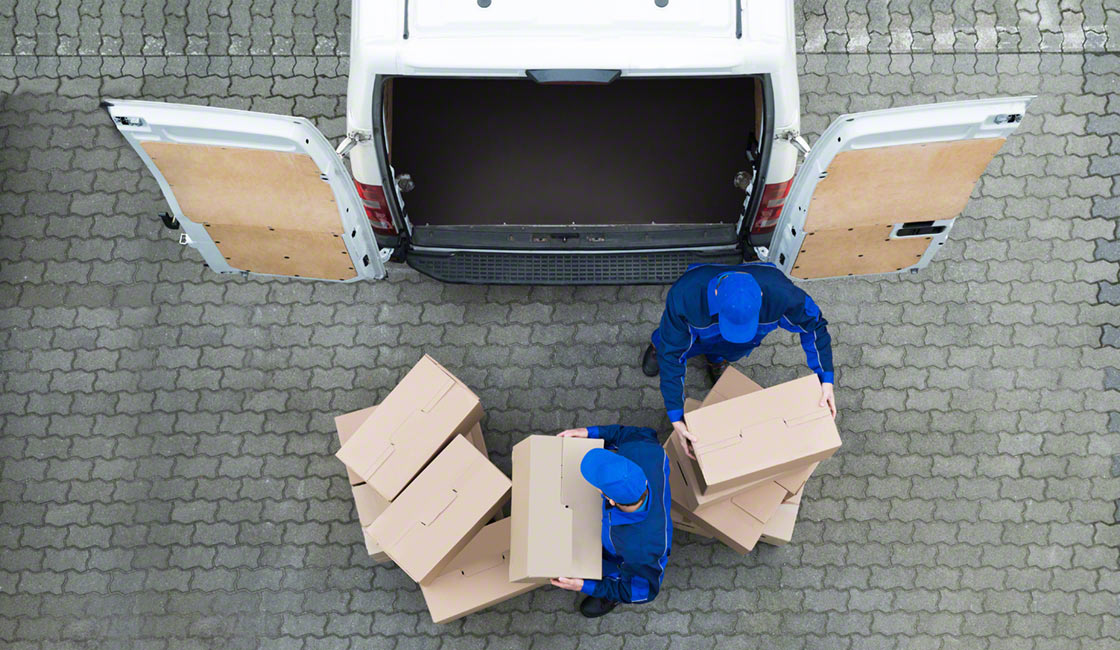 Reduce return volumes
Returns are very common in the e-commerce sector (and probably one of the biggest headaches). According to data from consulting firm McKinsey, in 2020, US consumers returned 10.6% of the products they bought online. This figure can be several times higher in sectors such as the fashion industry (where consumers might purchase items in various sizes and then return those that don't fit well).
Reverse logistics has a direct impact on the environment, as it requires additional transportation and fuel, increasing carbon dioxide emissions. So, how do you limit your returns? The first step would be to avoid mistakes in shipping, i.e., to make sure the customer doesn't receive the wrong product or a defective item. In this vein, a warehouse management system (such as Easy WMS from Interlake Mecalux) can help enormously by verifying each step the operator takes when preparing an order. It also ensures better control of the stock stored.
Move to zero-emissions fleets
Another way to lower the environmental impact of last-mile delivery is to transition from a combustion vehicle fleet to cleaner vehicles (electric, for example) or to hire bike messengers. This is key to the future of sustainable logistics and, to do this, incentives will be required for businesses to be able to overhaul their last-mile fleets.
Eco-based waste and packaging management
Besides CO2 emissions, carbon footprints have another enemy: packaging. Individual order deliveries due to the expansion of e-commerce entail a larger amount of cardboard, paper, and plastic waste. To distribute their orders, environmentally conscious e-commerce companies use recyclable packaging, which can even be reused for returns if necessary. Some businesses even employ biodegradable packaging and renewable, reusable materials.
Commitment to sustainable logistics
The e-commerce revolution goes beyond economics: it's changing consumer habits, the organization of cities, and the way logistics works, not to mention the questions it raises regarding its environmental effects. Currently, the e-commerce sector is faced with the twofold challenge of ensuring quick, flexible deliveries while guaranteeing green logistics.
This effort brings various benefits: not only does it have an extremely positive effect on the environment, but it also helps businesses to cut costs by, for example, reducing the travel involved in making shipments. Additionally, taking into account that the population is increasingly committed to sustainability, companies concerned with implementing good environmental practices will enhance their reputation and be more competitive.
Organizations turn to innovation and technology to optimize their logistics processes, boost their efficiency, and, consequently, pollute less. At Interlake Mecalux, we have extensive experience in starting up automated warehouses for all types of companies. Get in touch to make your logistics activity more sustainable.