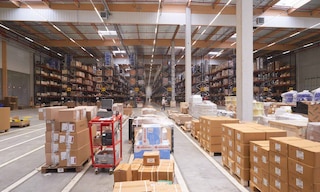 Logistics packaging: how to optimize the process
April 14, 2020
Within the order conditioning phase, one aspect that's sometimes overlooked is logistics packaging. And, yet, it can lead to major advances in efficiency. How can you optimize product packaging and palletization? What solutions improve productivity in this area? Let us explain.
1. Cost- and space-saving formulas for purchasing packaging material
There's considerable scope for savings and improved productivity to be found in packaging. Some tips in this regard include:
- Standardize the selection of unit load sizes:
Whether the goods are palletized or individual boxes are handled, standardization will help limit parcels to just a few sizes. This will enable you to save space and gain in order and control, as you won't have hundreds of packaging options to choose from. Although the package might be larger than the merchandise, filler can be placed in the empty space.
In this vein, we should also mention that height-adjustable boxes are another worthwhile solution. These types of boxes are pre-creased, making them easy to bend and, thus, adjust to the various product sizes.
- Control your packaging stock:
Evidently, it's not an option for your warehouse to grind to a halt because of a packaging materials stockout. However, just as in the case of managing stored stock, it's advisable to avoid accumulating excessive SKUs that wind up occupying valuable warehouse space. So, when choosing your packaging provider, it's important that they have short lead times and supply materials quickly.
2. Automated solutions applied to logistics packaging
- Automatic packaging:
Apart from the strength and quality of the materials, you need to take into account details that will make all the difference. For example self-assembly boxes are much quicker to put together than traditional ones. Plus, they save tape and reduce operator movements. The same goes for self-closing cardboard boxes, not to mention those packages or bags prepared for returns — they've surely made life a lot easier for your customers and for you in reverse logistics operations in the warehouse.
- Automatic packaging handling systems in logistics
Let's take a look at the solutions, differentiated between individual packaging and palletized goods.
Pallet stretch wrappers: these save a great deal of time, as they automate pallet assembly, relieving the operators of this task. They're usually combined with other palletization-related machines, such as pallet strapping machines and identification systems, which read codes automatically, transmitting this information to the WMS.
Filling machines: these automatically insert filler into the empty spaces inside the package. This equipment can crumple brown paper, inflate air bags or produce foam molds to absorb impacts during transportation.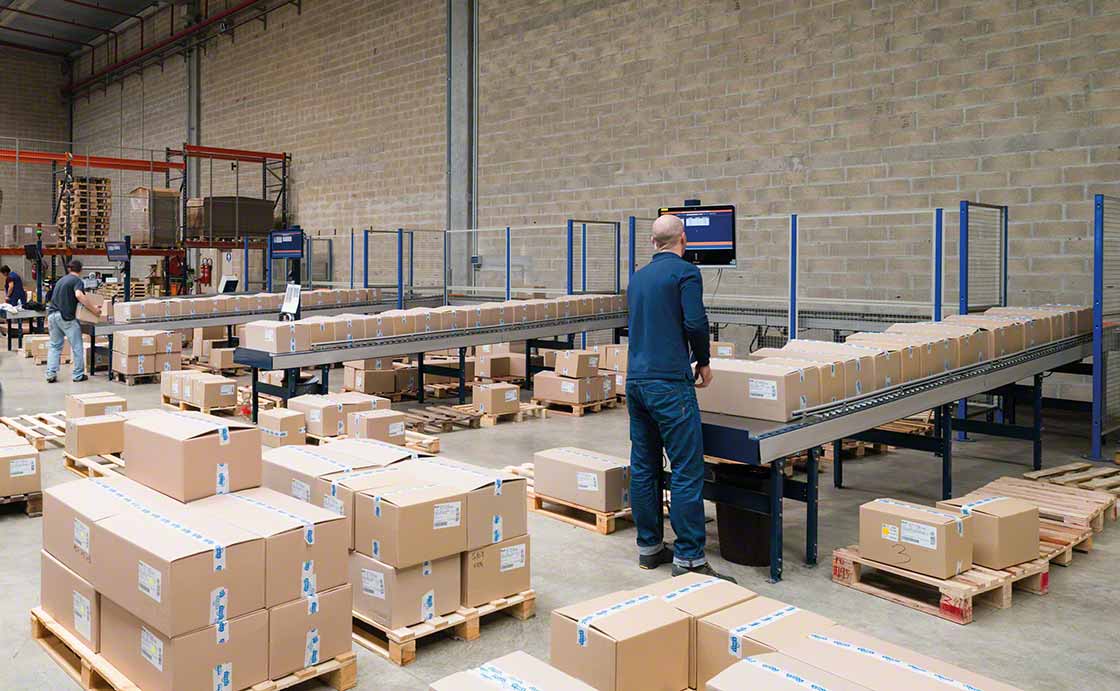 3. Other aspects regarding pick stations
- Ergonomic pick stations and order prep
Operator productivity is defined by a great number of variables, one of the most important being the prevention of occupational hazards. A fatigued worker will make more mistakes and spend more time on his/her tasks. What's more, order conditioning can lead to musculoskeletal disorders, as it consists of repetitive motions that operators execute while standing for long periods of time.
Equipping pick stations with anti-fatigue mats and regulating the height of operators' working surfaces are examples of good practices to bear in mind. For example, at the Venis (Porcelanosa Group) warehouse, Mecalux designed an ergonomic pick area. It includes robotic arms for handling loads and hydraulic lift tables that allow workers to adjust the pallet height to their liking.
- Order of operations managed by a WMS
The way in which order preparation tasks are organized also affects the handling of packaging materials. Warehouse management systems carry out the following:
Order and sequence conditioning tasks.
Guide you in choosing the appropriate type and size of packaging for each parcel.
Assist in order consolidation and verification.
To find out everything Interlake Mecalux can do to optimize your installation's order prep tasks, don't hesitate to get in touch. One of our technicians will analyze your warehouse storage processes and provide you with options for improving them.