May 18, 2023
Software as a service (SaaS) technology makes it possible to implement digital programs in the warehouse through cloud computing. With this cloud model, companies can control all operations in their facility from any device and place with an internet connection.
Technology consulting firm Gartner defines SaaS as "software that is owned, delivered, and managed remotely by one or more providers." With the SaaS model, customers access the program on a pay-per-use or subscription basis. Cloud-based services have become extremely popular, driving the demand for SaaS solutions. According to a Gartner report, "SaaS makes up the largest share of the cloud service market and more than 50% of the overall software market. This share is only expected to increase in the future."
Advantages of SaaS technology in the warehouse
SaaS-based technology has taken off, fostering the implementation of warehouse management systems (WMSs) in the cloud. This model promotes flexibility and scalability in logistics facilities: the cloud version enables businesses to adapt the number of licenses they need to changes in demand, the number of operators, or the needs of the warehouse.
SaaS technology also simplifies the work of IT teams. This cloud system doesn't require its own servers: the provider is responsible for the software development, maintenance, and data protection processes, such as backup execution.
Moreover, the provider must perform automatic software updates, ensuring that the customer always has the latest available version of the program.
The article Determinants of software-as-a-service benefits and impact on firm performance groups the advantages of SaaS technology into two main categories: operational and innovation benefits. "The former refer to a reduction of costs and the improvement of the quality of the support of a company's operations and business processes. Innovational benefits refers to the rapid and low-cost electronic enablement of innovations in a firm's processes, products, and services," say the authors.
5 SaaS technology examples in warehousing
Organizations in all sectors are implementing SaaS technology in their facilities to optimize logistics processes. The SaaS version of the Mecalux Group's Easy WMS warehouse management software is a cloud-based solution. Scalable and with an intuitive interface, it adapts to business changes through its wide range of integrated functionalities.
Here are five success stories of companies that have implemented Easy WMS in the SaaS model:
1. Casintra (Spain)
Third-party logistics (3PL) provider Casintra relied on Mecalux to deploy its SaaS technology in the company's logistics center. With Easy WMS in the cloud, this 3PL manages all operations in its five warehouses and works online with its customers to have continuous visibility of their processes. "To check the status of their inventory, our customers access Easy WMS with a password," says Javier García, Operations Manager at Casintra. The connectivity offered by the Mecalux software is key for the business: "We wanted to be able to inform our customers about the availability of their products at any given time," says García.
One of the benefits of Easy WMS in the SaaS model is its multi-location management capability. With high-performance servers in the cloud, the software controls the operations of all Casintra warehouses simultaneously and without errors.
2. Stand-Privé.com (France)
Mecalux designed an all-in-one logistics solution for the facility of Stand-Privé.com. This French e-commerce retailer stores more than 100,000 SKUs and fills 2,600 orders a day. In addition to installing storage systems for picking, Mecalux deployed the SaaS version of Easy WMS. With the cloud configuration, warehouse operators can access the software from any web browser with an internet connection.
The digital solution from Mecalux incorporates two advanced functionalities that respond to the company's specific demands: WMS for Ecommerce, which reduces order picking times, and Multi Carrier Shipping Software, which streamlines the packaging, labeling, and shipping processes. Digitalizing warehouse management has optimized all of Stand-Privé's operations. "We've ramped up our productivity while using the same resources. Through digitalization, we've improved our customer service and satisfaction," says Julien Wang, Founding Partner of Stand-Privé.com.
3. SurDiscount (France)
Stationery store SurDiscount opted for Mecalux's software when it saw that it could be integrated with its ERP system in the cloud: "Our XL Soft ERP operates on the SaaS model — in the cloud — so it seemed obvious to us that the WMS would do the same. With this functionality, we don't have to worry about managing the server and can concentrate on our main business activity," says Anthony Le Fur, Manager at SurDiscount.
The warehouse management software coordinates all operations taking place in SurDiscount's facility, from goods receipt to order picking and shipping. With Easy WMS — and the same resources — the e-tailer has increased the number of orders it fills eightfold.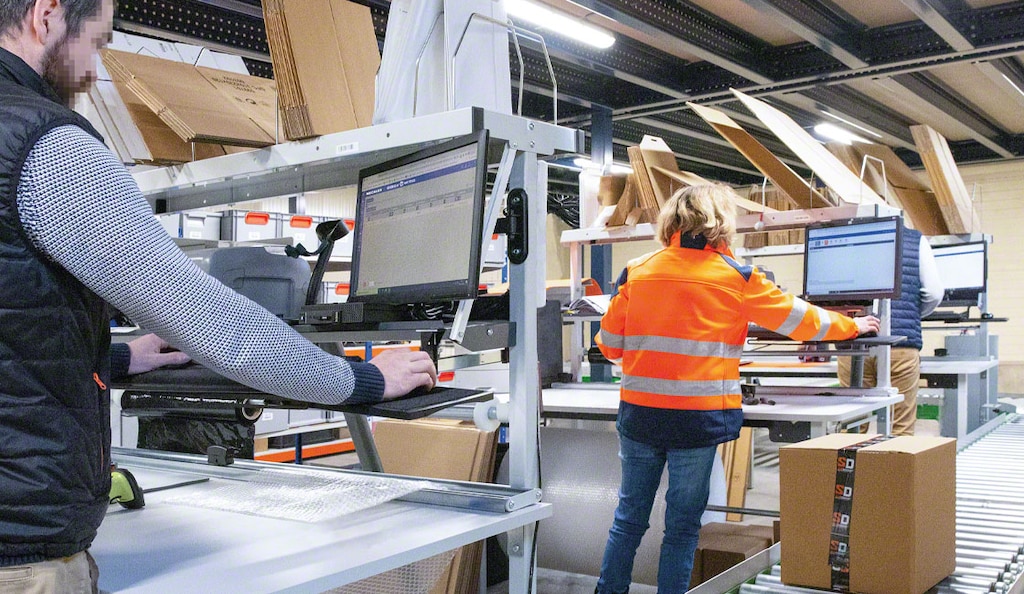 4. WISAG (Germany)
In the WISAG facility in Krefeld, Easy WMS in the SaaS model records stock in real time: "Now that the warehouse is up and running, we can confirm that this software is extremely practical and user-friendly. It's brought us a host of advantages, especially in product control," says Michael Lederer, Director of the WISAG Logistics Competence Center business unit.
The software identifies each item as it enters the facility and assigns it a location taking into account criteria such as SKU type and demand level. "Easy WMS is very easy to use. The operators simply read the barcodes with their RF scanners, and the WMS tells them where to put the products," says Lederer.
5. Yamazen (US)
Multinational company Yamazen digitalized its warehouse in Elk Grove Village (IL) with Easy WMS software. Executive Vice President James Hansen says that the program met its needs: "We really liked what we saw in the Easy WMS presentation because it fit the particular characteristics of our business like a glove. With this system, we know the availability of the SKUs and can take inventory in real time."
Mecalux equipped the Yamazen facility with the SaaS model so that operators can access the program from any web browser with an internet connection. Thanks to SaaS tech, the multinational business has improved its logistics operations with minimal investment in infrastructure: "Eliminating server maintenance tasks is a huge advantage for our IT team," says Hansen.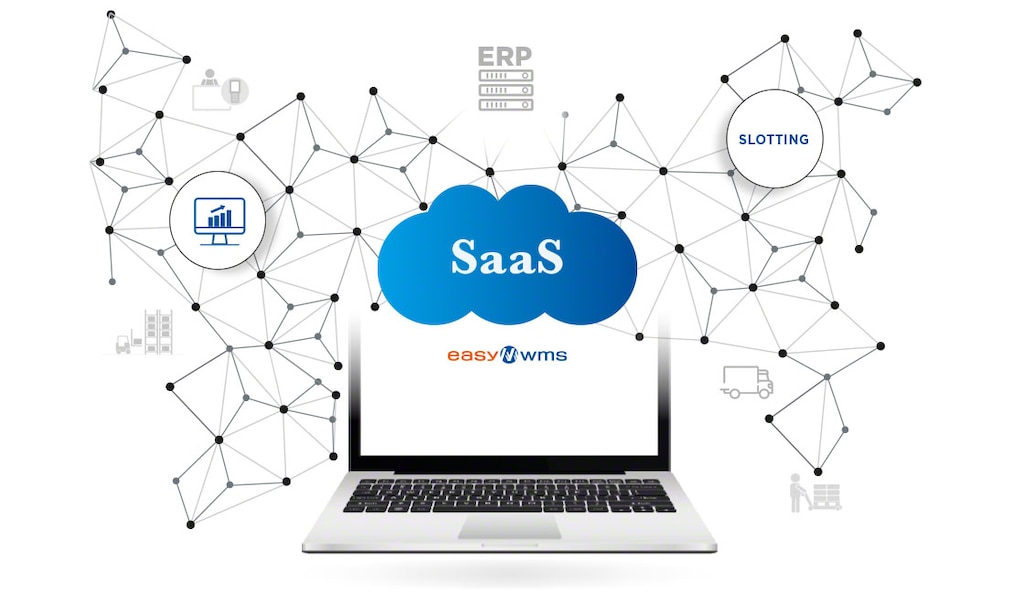 SaaS technology for flexible, efficient warehousing
Advanced, cloud-based WMS software is an ideal option for organizations looking to boost operational productivity in their facilities. Implementing SaaS technology in the warehouse allows you to adapt the number of licenses to customer demand and market changes. The flexibility, scalability, and pay-as-you-go model are key advantages of cloud software that make it so appealing to companies.
At Interlake Mecalux, we have extensive experience in designing customized digital solutions for our clients. Our Easy WMS software features advanced functionalities to maximize the throughput of all kinds of industries and sectors. Interested in improving efficiency in your warehouse? Don't hesitate to get in touch. One of our expert consultants will advise you on the best solution for your business.