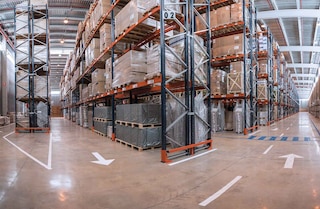 Pallet rack guards: prevent accidents
August 21, 2020
Pallet rack guards play a crucial role in preventing accidents in the warehouse. These components are installed in storage systems in order to:
Curb falls in transit and working areas.
Stop goods from collapsing on the load levels.
Mitigate the effects of handling equipment bumping into the racks when maneuvering.
In fact, the number of "days away from work" accident cases in warehousing and storage rose by nearly 3,000 cases to 17,390 total cases in 2017, according to the Bureau of Labor Statistics. Therefore, improving rack safety is essential when it comes to preventing occupational hazards.
Main types of pallet rack guards
First off, you need to ensure that the forklifts don't hit the racking. To do so, it's vital to plan your warehouse design in great detail. This should include precise dimensioning of the aisles and working areas, in addition to proper signage of the spaces and flooring. The signs and labels needed to meet OSHA's general industry standards for a safe and compliant workplace are outlined in Title 29 of the Code of Federal Regulations (CFR), Part 1910.
We should note that Interlake Mecalux storage systems are designed in compliance with the 2012 edition of the "Specification for the Design, Testing and Utilization of Industrial Steel Storage Rack" published by the Rack Manufacturers Institute (RMI). This specification has been adopted by the American National Standards Institute (ANSI-MH16.1) as a national standard and is referenced by the 2006 International Building Code (IBC). Pallet rack guards are low-cost, replaceable items that can help to prevent damage and maintain the integrity of these rack structures.
1. Pallet rack guards to offset handling equipment collisions
The following protectors aim to absorb the impact of various elements and preserve the integrity of the structure holding the goods:
Side protectors: these protect the lower lateral sections of the pallet racks. They are installed on the end frames in places where there's a greater likelihood of impact, such as aisle intersections, tunnels, or the dispatch area.
Upright and frame protectors: these are anchored to the floor and cover the rack uprights. They measure 16″ high, as most impact takes place at floor level.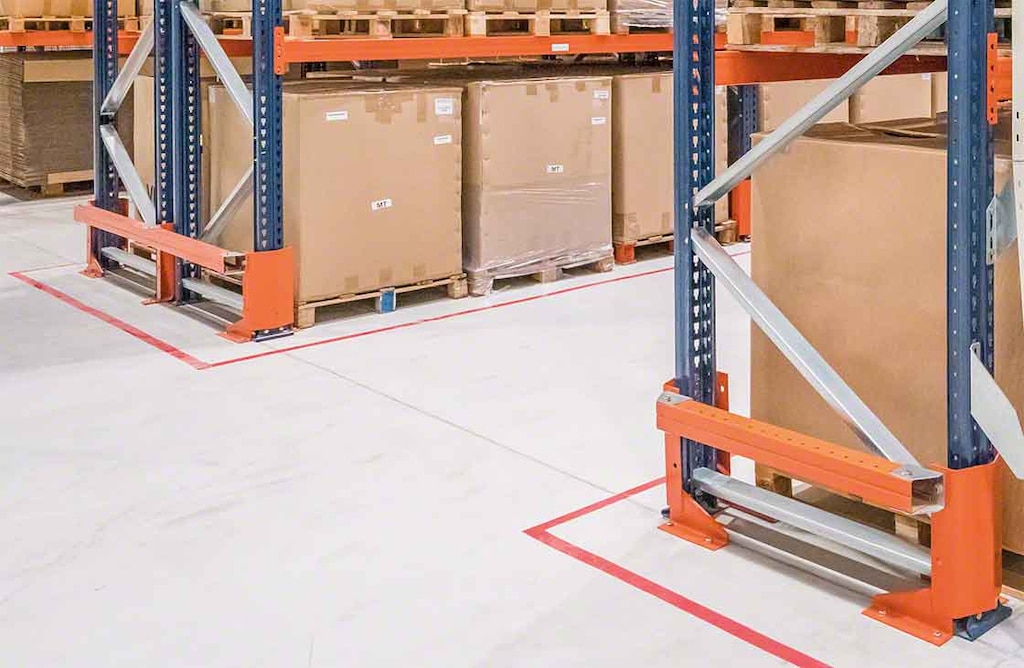 In the case of warehouses with narrow aisles, rack guards are unnecessary: since forklift movements are extremely limited, there's no chance of striking the uprights. Instead, you have to include a guide system for forklifts as a preventive safety measure. This can be done using mechanical guidance (metal or concrete) or a wire-guided system (a wire embedded in the ground marks the direction via a magnetic field).
2. Additional load handling safety protection
Depositing and extracting loads from the racking is a critical process as far as warehouse risks are concerned. In this vein, two rack protection elements stand out:
Fall-prevention and aisle-protection mesh: this consists of grated panels similar to industrial enclosures. They are placed on the back of the racks coinciding with working or transit areas to prevent goods from falling. They also need to be installed on the bottom of cross tunnels.
Pallet positioning profiles: these serve as stops when placing pallets on the racks. The positioning profiles resist the thrust of the pallet, while the point of contact with the safety profiles consists of the goods on the pallet (not the pallet structure itself).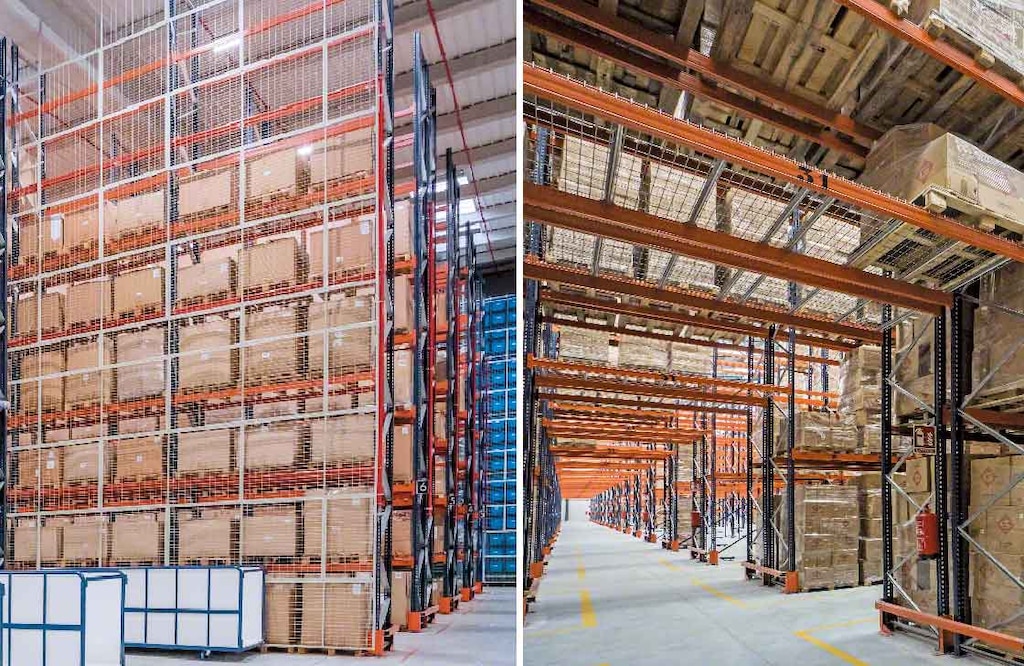 3. Structural reinforcement systems to prevent loads from collapsing
Another form of pallet rack protection is found in components that strengthen the structural load they support. They provide added stability, although their inclusion doesn't mean that maximum allowable load limits can be exceeded. They comprise:
Reinforcement cross ties for pallets: these are arranged perpendicularly to the beams. They stop pallets from falling when they're of poor quality or have been placed with their bottom deckboards parallel to the beams.
Bracing: this refers to system of metal profiles that increases the longitudinal stability of the racking. The profiles are attached to the frames either horizontally or vertically. What's more, these metal beams incorporate a tensioner that's used to set the required rigidity.
Pallet rack guards: the key to a safe warehouse
To ensure your storage installation is 100% safe, it's fundamental to maintain your pallet racking in tip-top shape. Interlake Mecalux offers a wide array of pallet rack guards for all types of storage systems.
Our protectors guard equipment against damage and abuse in the industrial workplace. To request more information about pallet rack guards to protect your installation, be sure to contact us via this form.