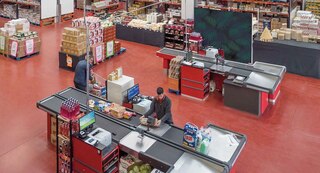 In-sync: organizing integrated inventory management of store and warehouse stock with a WMS
September 1, 2020
Visibility of store stock in real time and in-store pickup service are two strategies that set businesses that have adapted to omnichannel logistics apart from those that are still adjusting the way they operate, according to the study Omnichannel Retail Index 2018 by consulting firm Mhe. Therefore, companies devote increasing resources to the implementation of integrated inventory management throughout the supply chain. For this, stock synchronization between physical stores and warehouses is fundamental.
Physical stores and warehouses: new roles in the era of omnichannel logistics
Although B2C e-commerce turnover in the US was forecast to exceed $547 billion in 2019 (according to the USA B2C E-commerce Report 2019), consumers haven't turned their backs on brick-and-mortar shops. In fact, almost 50% of consumers continue to shop in these stores on a weekly basis, according to PwC's Consumer Insights Survey 2019.
Omnichannel purchasing habits are transforming the way in which installations and physical stores operate, blurring the functional boundaries that used to exist between both models.
As a result, stores have become local warehouses and, at the same time, warehouses take on new functions to respond to cash and carry wholesale demands. This role reversal entails:
The need to provide staff in physical stores with logistics training: shop assistants increase their tasks, undertaking those traditionally reserved for warehouse operators. Picking and order prep have come to form part of their daily activities.
Integrated inventory management between the warehouse and the network of stores: the synchronization of stock data in real time at each point of the logistics network is key to optimizing inventory replenishment, transferring stock in the most efficient way, and organizing purchasing policies.
The ability to manage returns from brick-and-mortar shops: this is one of the most highly-valued aspects in consumers' online shopping experience. In the omnichannel environment, physical stores have to be prepared to deal with incidents and perform tasks related to reverse logistics.
Space reorganization in stores and warehouses: in the former, it's necessary to include zones dedicated to order prep and delivery; in the latter, an area focused on direct product sales should be made available where appropriate.

Integrated inventory management throughout the logistics chain via a WMS: Store Fulfillment functionalities
The Store Fulfillment module for Easy WMS by Interlake Mecalux has been designed for companies that need to sync their logistics operations in a network composed of brick-and-mortar stores and warehouses. This solution is particularly suitable for any of the following scenarios:
A central warehouse and various physical stores in different geographic locations: the module enables you to orchestrate stock replenishment from the installation and manage in-store returns while maintaining logistics traceability. It also provides excellent in-store inventory visibility for transferring goods between shops.
A warehouse with an attached self-service store (where customers take the products directly): the software operates with two independent inventories, one for in-store stock and the other for warehouse stock. The cash and carry wholesale shop is included in the installation's own replenishment strategy.
Warehouse with an attached store where shop employees carry out picking tasks: each order placed at the counter generates a picking order whereby items are retrieved by the store clerks. After the customer receives the product in person, the WMS updates the stock data shared between the shop and the installation.
As seen above, integration between store and warehouse inventory has become a necessity in the new omnichannel paradigm. With the implementation of software such as Interlake Mecalux's Store Fulfillment for Easy WMS, you'll have real-time visibility of all your goods, both in-store and at your warehouse facility. Don't get left behind — contact us for a detailed demo. We'd be more than happy to help!