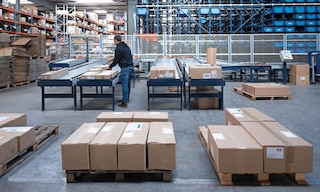 What is automated warehouse picking?
November 15, 2022
Automated warehouse picking consists of systems that replace manual movement and handling of goods with machines or robots that increase efficiency.
Automating order processing not only eliminates errors — it ramps up productivity across the entire supply chain. How? By improving service and ensuring that products are delivered to customers as quickly as possible.
What exactly is automated warehouse picking?
Automated warehouse picking incorporates the latest technology advances to carry out order picking operations. Companies can employ a wide variety of solutions. These range from picking assistance devices (e.g., pick-to-light) to modern autonomous mobile robots (AMRs) and industrial robotic arms, which can adapt to any type of facility and good.
The degree to which you automate your logistics facility will depend on multiple factors. These include the types of products managed, their demand level, the required goods flows, and the warehouse layout. A study by Germany's Saarland University indicates that to cope with the complexities of Industry 4.0, it's becoming more and more common to combine manual power with automated systems: "Order picking is a labor-intensive and costly process in supply chains, which is performed manually in most cases. Recently, picking robots have been developed which are capable of working together with human pickers in a shared working space. Such hybrid order picking systems can ease human pickers' workload and provide ergonomic improvements."
Automating picking is useful in logistics facilities with a demanding work pace or complex environments like cold stores. Incorporating robots in temperature-controlled facilities limits warehouse pickers' exposure to the cold. And this is critical, since these environments can have adverse effects on health.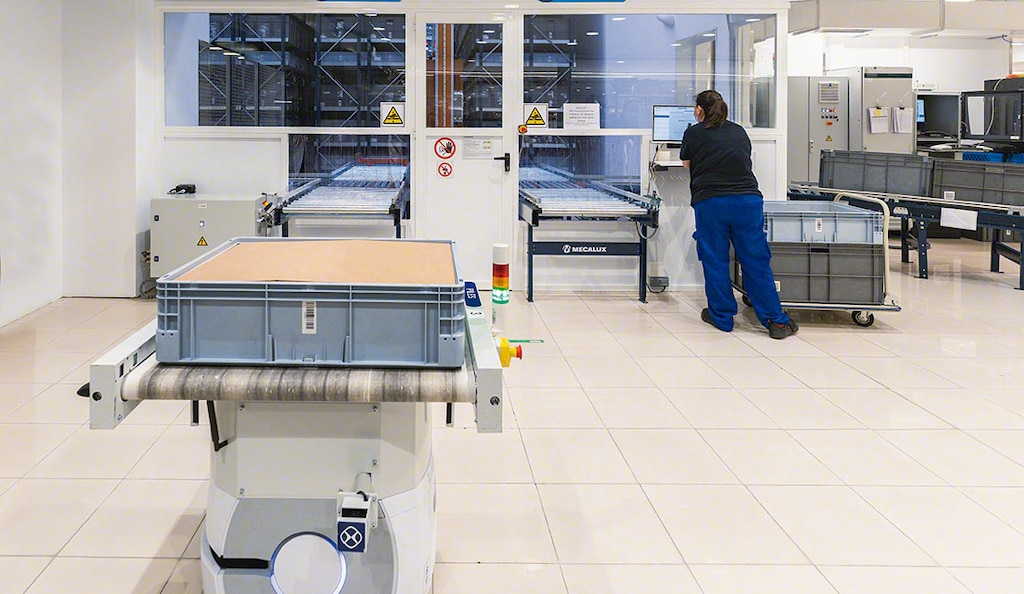 Advantages of automated warehouse picking
Automated order picking has the following benefits:
Greater productivity: automated systems complement and speed up the work of picking operators. Companies can employ solutions that aid and guide operators, e.g., pick-to-light systems. They can also install automated internal transport systems that move goods to pick stations. This saves pickers from having to walk around the facility to locate each SKU.
Order picking accuracy: when it comes to handling goods, automated systems are safer and more reliable. Automatic handling equipment such as stacker cranes and conveyors supply pick stations with the products operators need to fill orders.
Item control: automated warehouse picking requires a warehouse management system (WMS) that enables efficient management of goods as well as product traceability throughout the supply chain.
What are the types of automated picking?
According to a research article from the Norwegian University of Science and Technology, the different types of picking can be classified by their level of automation:
Assisted picking: operators use picking assistance devices — e.g., pick-to-light, voice picking, and RF scanners — which tell them how to complete each order. The warehouse management software distributes the tasks among the pickers. It provides them with instructions, minimizing the risk of error and raising their throughput.
Goods-to-person picking: orders are prepared according to the parts-to-picker strategy. The products are moved from the storage area to the pick stations by automatic handling equipment such as stacker cranes, conveyors, electrified monorails, or AMRs.
Automated picking: the consolidation of new technologies allows for fully automated warehouse picking from start to finish. Automatic movements of goods with solutions like stacker cranes, conveyors, and AMRs are complemented with anthropomorphic arms that handle loads in a completely autonomous way.
Examples of automated warehouse picking systems
Automated warehouse picking systems can be adapted to the particular characteristics of each business and facility.
For instance, frozen food business Cabezuelo Foods automated its order picking operations to dispatch 100-150 pallets a day. The Mecalux Group equipped the food company's facility in Socuéllamos, Spain, with the automated Pallet Shuttle system with transfer cars. This solution expedites goods entries and exits while supplying the pick stations with the required products.
"We're very happy with the automated Pallet Shuttle system with transfer cars. It makes the most of all the space in our warehouse and allows us to grow without any limitations. By enhancing our operations, we've increased our speed in entries, exits, and order prep," says owner Félix Cabezuelo.
The company also installed an anthropomorphic robot, ideal for handling heavy products. "The pick station with the anthropomorphic robot was set up afterward, once the automated warehouse was already up and running. This new automated area has been fundamental for our supply chain. Manual picking is extremely repetitive and cumbersome. Thanks to automation, the operation is much faster and more efficient," says Cabezuelo.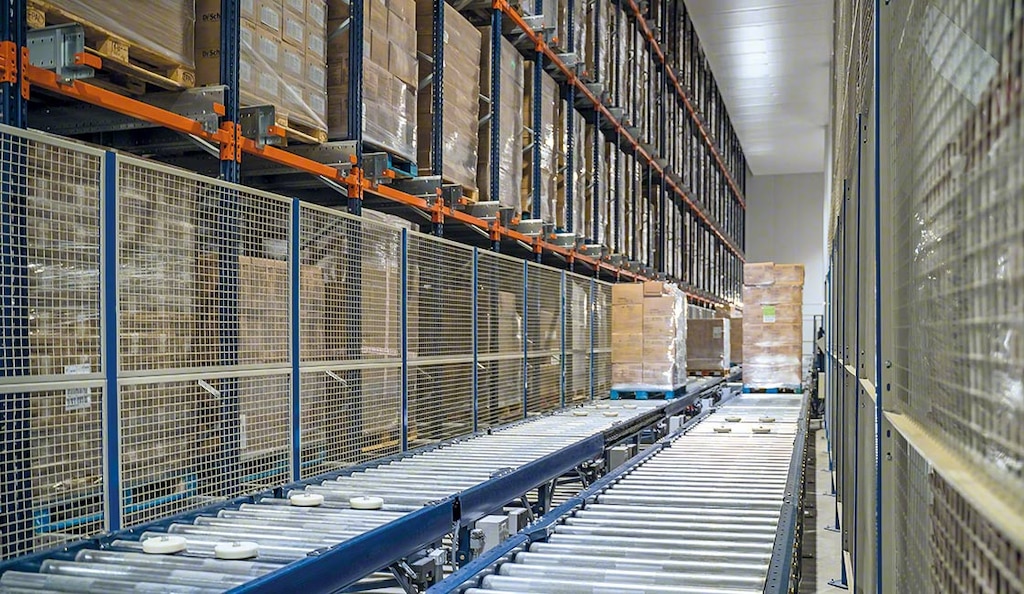 Another example of a business with automated warehouse picking systems is 3PL provider HAVI. Its facility in Portugal is divided into three zones operating at different temperatures. In each area, the Mecalux Group implemented different automated storage and order picking solutions. In the freezer warehouse, an anthropomorphic robot handles entire layers of high-turnover products. The biggest advantage of these types of machines is their speed, as they can prepare several orders simultaneously. Automating picking accelerates processes and saves on operating costs — even more so in freezer stores
Automated warehouse picking to improve performance
Order picking is one of the most complex operations in the logistics chain. Relying on automated solutions boosts productivity while eliminating errors and inefficiencies. Before deciding on an automated warehouse picking method, it's essential to analyze your logistics needs, product demand, and the characteristics of your facility.
The market features a wide range of options for enhancing picking operations. Looking to make your logistics processes more efficient? Be sure to get in touch. One of our expert consultants will advise you on the winning formula for your company.