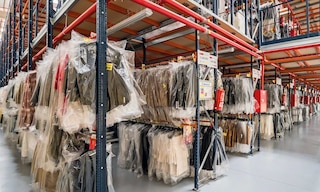 Warehouse clothing racks: how to store garments
January 25, 2023
Warehouse clothing racks are storage systems commonly employed in the garment industry. The market offers several specific solutions to facilitate and streamline storage and picking processes for orders containing clothing and accessories. In these systems, products remain stored in perfect condition in boxes or on hangers until being distributed to points of sale.
The consolidation of ecommerce in the clothing industry has raised the demand for solutions that increase storage capacity and speed when picking garments.
How are garments stored in a clothing warehouse?
In fashion retail, there are two ways to store clothes: in boxes or on hangers. Boxes are used to hold clothing that's folded and bagged. They can be stored in any system that facilitates their handling and picking, i.e., picking shelves or automated storage and retrieval systems (AS/RS) for boxes. Unlike folded clothes, hanging garments require an adapted solution to keep them in an upright position to prevent wrinkling or damage.
Warehouse clothing racks are specific solutions that offer direct access to goods and whose structure can be adapted to store garments on several tiers. Hangers can be placed:
On beams: hanging garments are suspended from the racking beams. If your company manages high-turnover products, you can install two side-by-side racking units to optimize storage space and maintain direct access to the goods.
On tubes: a tube (or two, depending on warehouse needs) is attached between two racking frames.
In the garment industry, businesses typically install storage solutions that provide the highest possible capacity. One of the most popular options is tiered picking shelves with mezzanines and walkways, i.e., pick modules. This is because they multiply the storage capacity by the number of levels configured while providing direct access to the goods.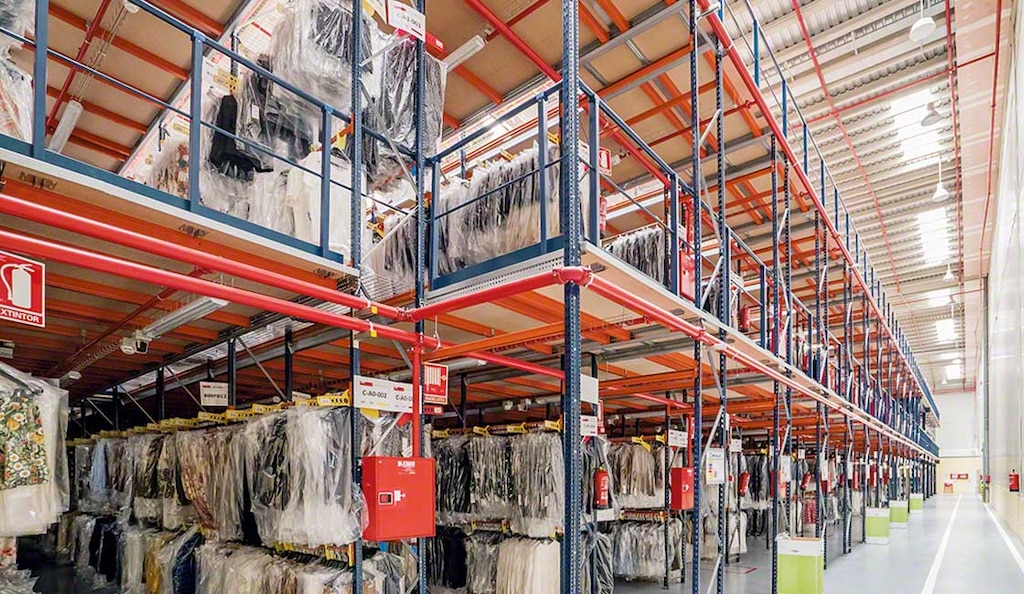 Moving garments inside a clothing warehouse
Fashion warehouses operating with boxes can use hand-drawn carts or traditional handling equipment such as order pickers to deposit products on pallets. You can also move boxes inside a facility with solutions like mini-load systems (AS/RS for boxes) and conveyors, which are fully autonomous.
Multi-story warehouses that work with hanging garments generally implement solutions that transport products between the different levels:
Clothes racks on wheels. This is the simplest method. The hangers are hung on these carts, which are loaded onto the goods lift to be moved to the corresponding level.
Overhead conveyors. It's possible to automate the movement of hanging garments with an overhead conveyor system. This logistics solution has two varieties. In the first one, the clothing is suspended from a trolley that slides along rails mounted on the ceiling of each level. The second option, without trolleys, comprises a towing system whereby the hanging garments are hooked in and automatically moved to the assigned level.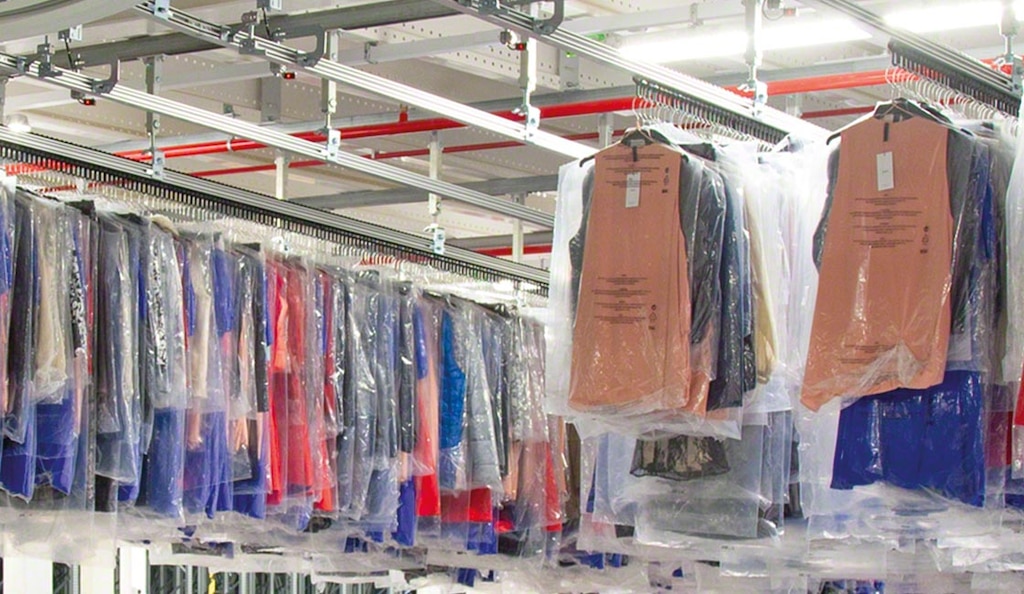 How to digitize a clothing warehouse
Logistics facilities that store fashion apparel on hangers or in boxes tend to have a wide variety of SKUs, complicating stock management. And online sales have made inventory control even more demanding. To eliminate errors and manage products efficiently, companies turn to process digitization.
A warehouse management system (WMS) ensures the correct performance of all operations, from goods receipt to dispatch. Moreover, a WMS provides strict, real-time stock control and guides operators as they process orders, minimizing the possibility of mistakes.
A warehouse management software program like Easy WMS also organizes internal goods transport in automated warehouses with hanging garments. The application directs the movements of the overhead conveyor systems to maximize the facility's throughput.
Storage examples with warehouse clothing racks
The Mecalux Group has extensive experience designing and outfitting logistics solutions for facilities working with hanging garments. Let's take a look at some examples:
Motoblouz.com (France)
Motoblouz.com is an ecommerce retailer specializing in motorcycle gear and accessories. Mecalux equipped its warehouse with a pick module spanning four floors. Christophe Leroy, the company's Logistics and Transportation Manager, explains how this solution has increased the facility's useful storage space fourfold: "As an ecommerce leader in our sector, having a wide range of products is essential for us. And this means devoting a huge amount of space to picking. In an almost identical surface area, the three-tier mezzanine from Mecalux has quadrupled our logistics capacity."
This logistics solution implemented optimizes order processing by providing direct access to all products. The picking shelves incorporate accessories for storing goods vertically and keeping them in perfect condition. Furthermore, all the shelves are made of electro-welded mesh, which would allow water to flow freely if the fire sprinklers were activated.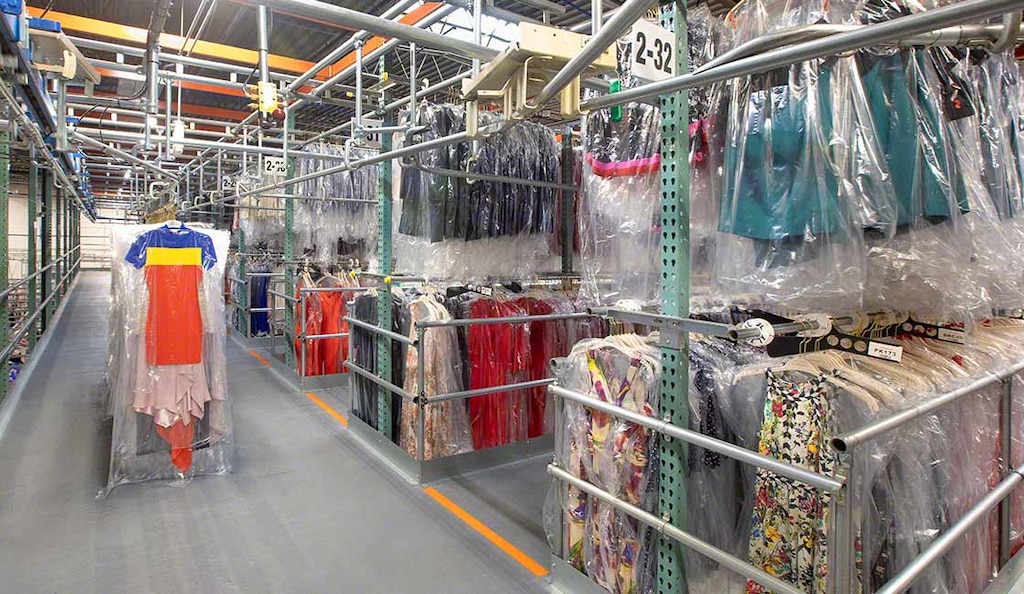 Rent the Runway (USA)
Rent the Runway is an ecommerce business that rents designer apparel. Interlake Mecalux equipped its New Jersey facility with a logistics solution to store and transport hanging garments. The system implemented ― a 3-level pick module ― has exponentially increased storage capacity and operator performance.
The Interlake Mecalux solution installed gives pickers direct access to the products on each of the storage levels. The pick module, with strategically located pedestrian staircases, ramps up productivity in order picking and leverages the height of the facility.
An efficient clothing warehouse
The emergence of new sales channels calls for agile, adaptable, and effective logistics processes. In the garment industry, companies often redesign their facilities to maximize the productivity of their operations.
Faced with a rising number of SKUs, clothing warehouses require real-time stock control to avoid errors that could tarnish the company's reputation. To foster flawless inventory management, warehouse management software such as Easy WMS from Interlake Mecalux is a must: it orchestrates all processes taking place in the facility. Interested in maximizing productivity in your clothing warehouse? Don't hesitate to get in touch. An expert Interlake Mecalux consultant will offer you a tailor-made solution.