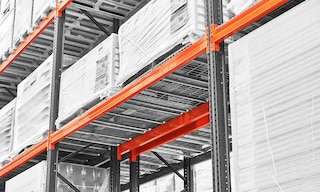 Pallet rack beams: characteristics and functions
July 12, 2023
Rack beams are one of the basic elements of metal racking systems installed in warehouses. They serve the fundamental purpose of supporting the weight of the goods.
Metal racking is a warehouse storage solution consisting of structural elements — posts, beams, and frames — and accessories to ensure smooth logistics operations.
What are pallet racking beams?
Rack beams are horizontal profiles that serve to support pallets and their loads. Connected to the vertical frames, these elements distribute the weight of the goods evenly on the racks.
Beams are a key component of selective pallet racks. They are one piece of a larger structure that includes frames (vertical elements formed by two or more posts), shims to level uneven flooring, and anchor bolts to secure the racking to the slab.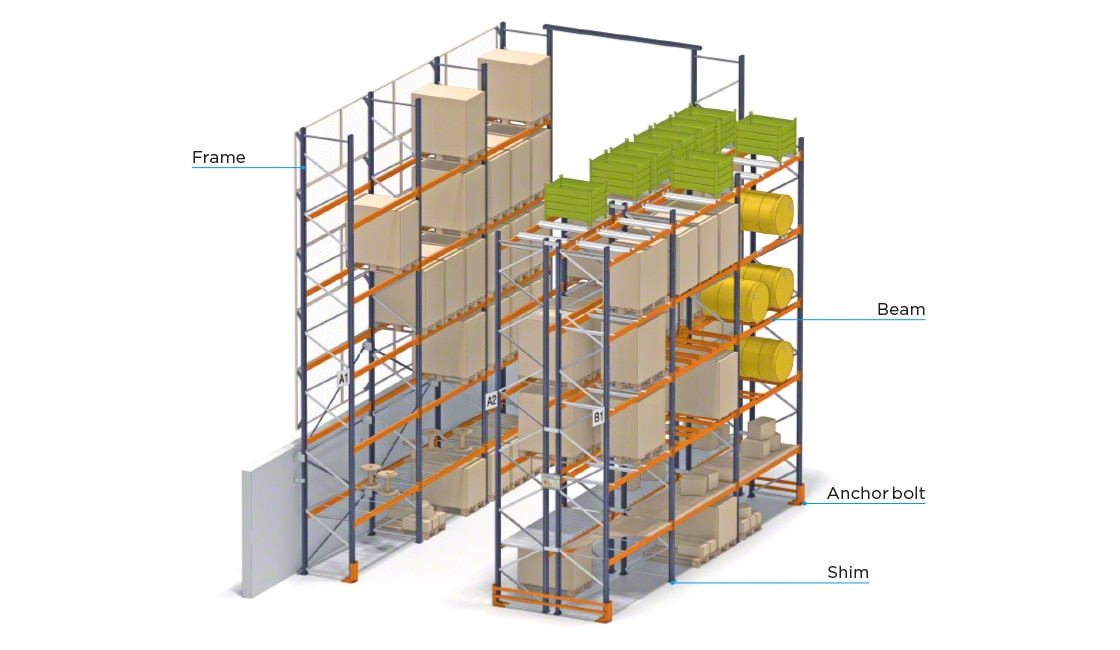 Rack beam characteristics
Warehouse racking beams are usually made of steel, which gives them high strength and durability to support heavy loads. They're also adjustable, meaning they can be positioned along the height of the vertical frames to accommodate different pallet sizes and adapt to logistics needs.
Rack beams are connected to posts by means of endplates that fit into the slots on the post for greater structural stability. The endplates are equipped with safety devices that minimize the consequences of potential handling equipment misuse.
Pallet racks not only accommodate standard pallets but also other types of products like containers, pallets of diverse sizes and quality, boxes, and large loose packages. In these cases, rack beams can incorporate additional accessories such as shelves or any other kind of support element to hold the goods securely on the racking.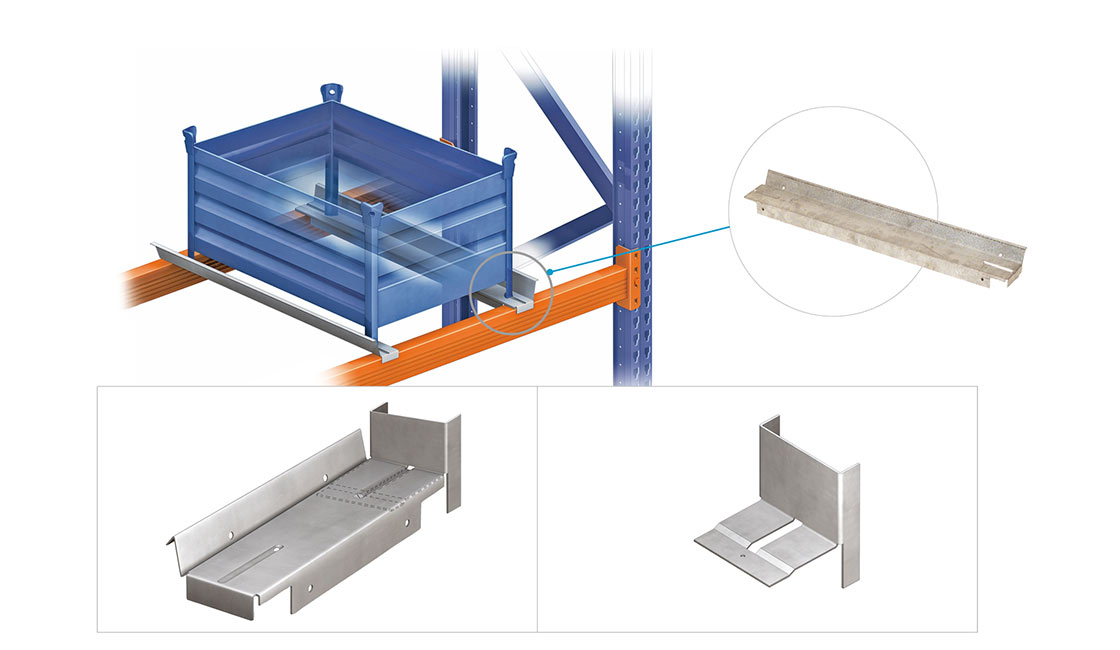 Calculation and design of the beams
The elements that make up the racks — beams, frames, and the materials used to manufacture them — must meet specific standards and undergo tests to ensure the optimal performance of the storage system.
Storage system designers rely on standards like ANSI-MH16.1: Specification for the Design, Testing, and Utilization of Industrial Steel Storage Racks published by the Rack Manufacturers Institute (RMI), among others. This standard defines crucial aspects such as manufacturing tolerances, design procedures, and safe operation and loading.
For instance, the standard provides information on pallet beam tests. These tests are used to aid in determining beam load capacities.
Pallet rack beam types (plus shelving)
At Interlake Mecalux, we offer a wide range of beams that cater to numerous needs in terms of load dimensions, type, and capacity. Typically, beams for racking come in two varieties:
Roll-formed beams. These are manufactured by roll forming a single piece of steel. A continuous seam weld is applied to the base of the beam. These beams have welded endplates, which slot into the teardrop-shaped holes on the face of the frames. They're attached to the frames using two spring-loaded safety locking devices per beam (one at each endplate). Each load level is formed by two beams, one at each frame post.
C-channel beams. These standard structural bolted beams are created by hot roll forming raw steel and molding it into the C shape. Instead of gauges, they're measured by weight. These beams are vertically adjustable on 2-inch centers, providing a durable horizontal component for high-capacity pallet racks.
Logistics facilities that combine pallet and carton storage can incorporate shelving to store the goods and perform order picking. In this type of storage solution, special profiled picking beams are installed to support the shelving.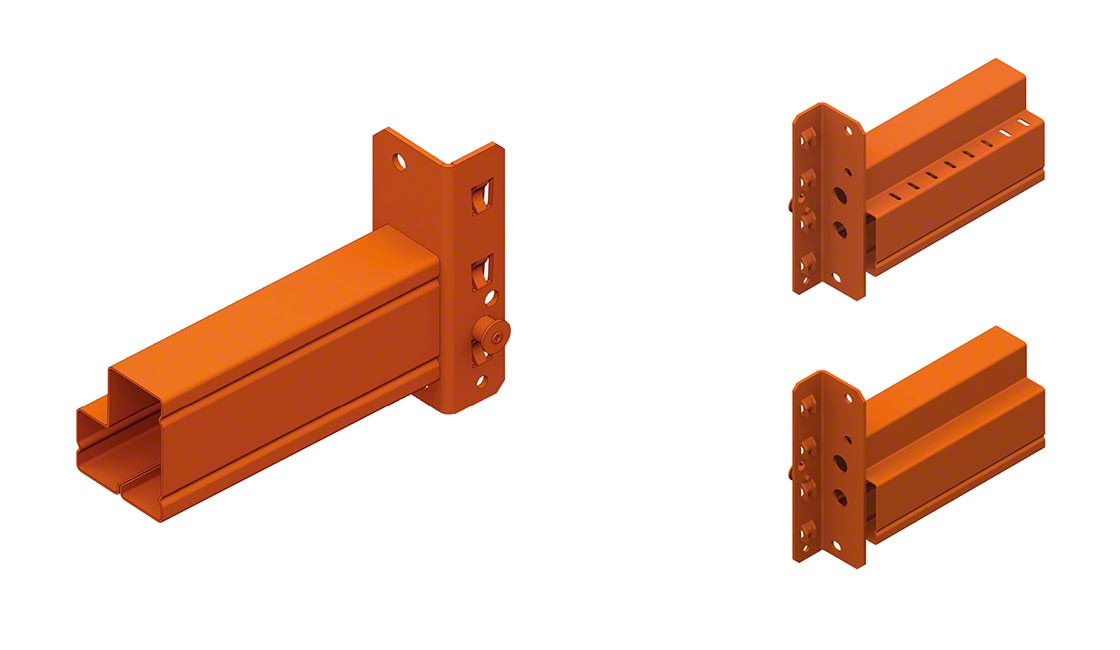 Acting as reinforcements, shelves provide additional support for the pallets placed on the beams. There are several types of shelving available to meet any requirement:
Wire mesh. These comprise rectangular electro-welded mesh and crossbars that add rigidity.
Metal. These fit onto the beams without the need for fastening mechanisms.
Wooden. These shelves may call for additional beam stops and reinforcement crossbars depending on the load to be supported.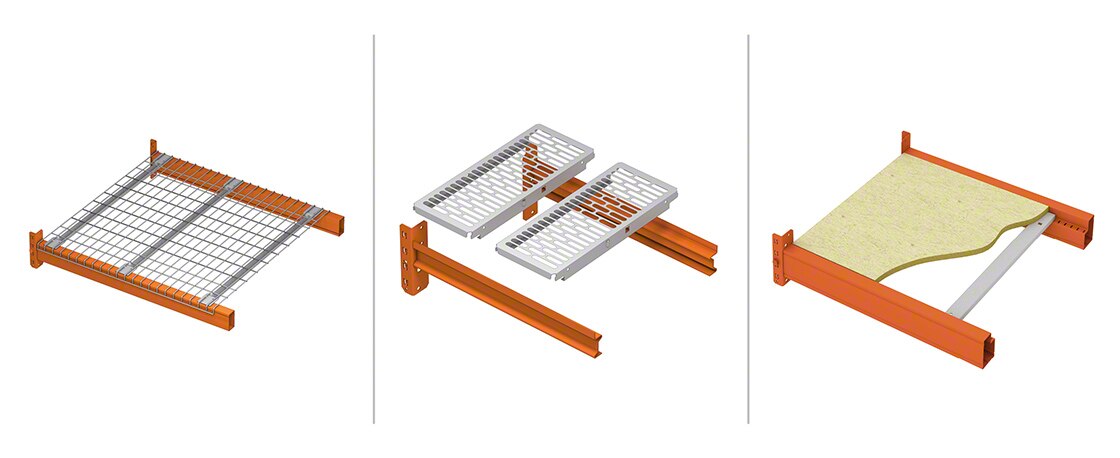 Wire mesh shelves are the variety most commonly found in logistics facilities because of their numerous advantages. Namely, they improve airflow and allow for better light penetration.
They're generally placed on the upper levels of the shelving for two main reasons: to prevent possible goods spillage and enhance visibility for the operators who store and retrieve the products from their locations.
Rack beams: a critical storage system component
Structural pallet rack beams are an integral element of metal racking. Like other storage components, rack beams are put through rigorous testing and quality control checks to meet international standards and ensure the smooth functioning of the system.
At Interlake Mecalux, we have long-standing expertise in designing storage solutions for all kinds of companies. Interlake Mecalux's racking can be tailored to even the most demanding logistics requirements. Get in touch, and we'll analyze your warehouse's characteristics to design the best solution for your business.