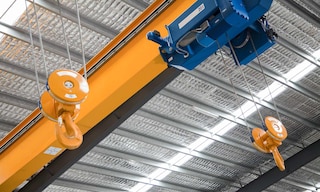 Hoist: definition and function in warehousing
June 2, 2023
A hoist is a machine that uses fixed and movable pulleys and a cable or chain to move heavy loads from one area of a warehouse, workshop, or production center to another. This lifting mechanism raises bulky products quickly, safely, and effectively by means of a hooking system.
A hoist serves to load and unload heavy materials when this can't be done by an operator or traditional handling equipment. In addition to being found in warehouses, hoists are also employed on production lines. Aided by an overhead crane, they move raw materials and finished products to different manufacturing or assembly areas.
Although overhead cranes and hoists are related, they tend to be confused. Also known as a bridge crane, an overhead crane is a metal structure consisting of one or more girders equipped with a trolley with a transverse travel motor and another one for lifting. A hoist, on the other hand, is a component typically integrated into an overhead crane to raise the load and move it to the corresponding area.
Hoist applications in the warehouse
A hoist can be employed in all types of logistics centers, production lines, and assembly facilities that handle bulky and heavy loads. Hence, these lifting solutions are often used in the automotive or construction industries, among others.
Businesses resort to this kind of hoist system to load very heavy goods that can't be safely handled by operators or forklifts. In these cases, the hoist is integrated into the overhead crane to lift the loads and move them to their destination in the facility.
There are multiple hoist configurations depending on the type of products to be handled, the load-bearing structure where the hoist is installed, or even the particular needs of each customer. The maximum capacity of the hoist is determined by the manufacturer according to, for example, the number of pulleys or the presence of a lift motor on the machine. The different types of hoists are operated similarly: the operator uses a controller to engage the hoist. The system activates a motor that enables the lowering of the hook from the machine to pick up and lift the load.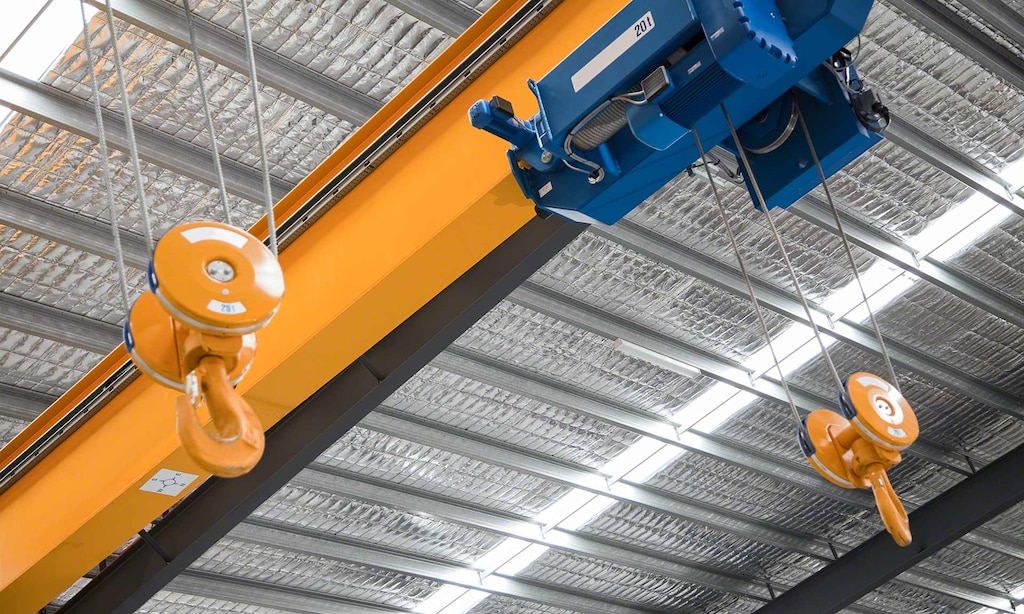 Types of hoists for warehousing
A hoist is a flexible solution for storing and transporting goods internally. It has a wide range of configurations depending on the load to be handled, the industrial environment in which it operates, and the warehousing requirements of the products. Hoists can be classified based on criteria such as:
Quantity of movable pulleys, which multiply the maximum force of the machine.
Number of grooves. The groove or channel of the pulley is the part that comes into contact with the cable or chain and ensures the stability of the load. The number of grooves varies depending on whether it is a single or double hoist.
Material of the pulley strands, e.g., rope, chain, or cable.
Type of system drive, i.e., manual, electric, or hydraulic.
Advantages of using a hoist
Installing a hoist in a warehouse enables the following:
Productivity in moving heavy loads. This lifting system boosts throughput in transporting heavy loads compared to conventional handling equipment. The hoist operates within a limited space, avoiding unnecessary travel.
Safety in internal material transport. The hoist enhances safety in the facility by eliminating direct interaction between operators and the lifting of loads. Additionally, the hook incorporates a safety latch to prevent products from falling.
Ease of use. Operators activate the lifting system through a remote control, without the need for direct involvement in the operation.
Adaptability to all facilities. Hoists have multiple configurations based on variables such as the type of load to be lifted or the location where they need to be installed.
Nevertheless, using a hoist does have certain limitations. For example, it has a lower number of cycles per hour compared to automated storage and retrieval systems (AS/RS), which maximize a facility's throughput.
Hoists to move goods in the warehouse
Integrated into an overhead crane, a hoist is a helpful solution in a logistics facility or production center for raising and moving materials within defined areas. The main advantage of this lifting system is its adaptability, as it offers a wide range of configurations to accommodate various load types.
Despite this, hoists have limitations in facilities requiring high productivity. In such settings, hoists can be replaced by automatic equipment that enhances operational performance.
At Interlake Mecalux we've been designing and implementing personalized solutions for our customers for over 50 years. Looking to boost your warehouse throughput? Get in touch. One of our expert consultants will advise you on the best solution for your company's logistics operations.