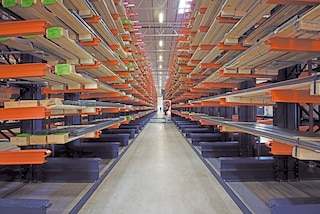 Cantilever racks: a warehouse-friendly guide
September 12, 2018
Cantilever racking is practical and hardy, meaning you can store long, heavy loads. Plus, businesses in our sector often use this type of racks to store specialized material, like pipes, metal profiles, beams, etc.
This guide to using cantilever racks will give you a better understanding of this type of rack in a logistics setting and when it is the best storage choice:
What goods are stored in cantilever racks?
If you have arrived to this point, you have probably read the article we posted on How to choose your industrial racks and realized that this might be the way you want to go.
Cantilever racking is a highly-resistant storage system: loads are stored horizontally on industrial grade "arms" and can be retrieved easily using forklifts.
Cantilever racks come in two different models:
Single-sided cantilever rack: this option is perfect if you want to house the unit against a wall. Take into account that this structure can be fully modified if your needs change: arms can be added to convert the unit into a double-sided structure.
Two-sided cantilever racks: storing goods on both sides of the structure (front and back) is extremely handy when you set up cantilever units in your warehousing center.
What goods are stored in cantilever racks?
This storage solution is a great match for housing long loads and for different building materials of all types and sizes, like wood, sheet metal, rebar, lintels, etc.
Choose from a wide variety of cantilever racking, from light to heavy duty versions. These industrial racks fully adapt to the needs of logistics warehouses and house up to 8-ton loads. The same goes for the cantilever racks' height, which is totally customizable.
Is outdoor use an option?
The answer is yes. Besides being ideal for indoor use, cantilever racks are also geared towards outdoors settings, which is a huge advantage, especially in the construction sector or if you are running short of space inside your warehouse.
Why choose cantilever racks?
Next, it shows the reasons why you should choose a cantilever structure to store your in-warehouse materials:
Storing special sized materials or goods is easy.
It is practical when you must store long loads.
This robust rack is easily adjustable.
It will increase your storage space: in some cases, this storage solution can stop you from having to expand your warehouse or rework its layout.
As shown, the cantilever structure's modularity makes it the best, hands-on storage solution to use in your warehouse.For further information on this topic, feel free to give us a call at 1-877-216-0612 or contact us online. Our team of professionals is on hand, ready to answer all your questions as quickly as possible.