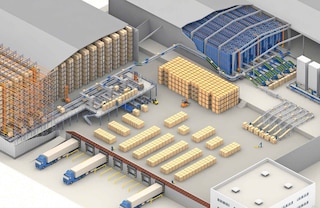 Designing Warehouse Layouts: What do you need to know?
September 19, 2018
If you are attempting to optimize the warehouse layout of a new or existing distribution center, it is essential that your design covers not only your typical day to day needs, but also any unforeseen circumstances which may arise.
Basic warehouse design fundamentals
You can find a comprehensive detailed summary with professional recommendations in our complete article on Warehouse Layout Design, where we break down all of the main factors that must be taken into consideration during the design process of your facility. Here we point out the key factors that should form the base of your effective strategy.
The warehouse layout: where to start
Evaluate site location (geographical advantages and disadvantages)
Calculate total facility space and compare to estimated storage requirements
Define business short and long-term throughput objectives
Essential questions to ask yourself and your design team throughout the design process
Are we taking full advantage of all available space?
Can operators easily access all products?
Is it possible to reduce handling times and distances?
How much flexibility do we have for re-positioning inventory?
Have we unintentionally created areas at risk for congestion?
Have we clearly defined the space needed for each major operational zone?

Docking
Loading and unloading
Storage shelving and slotting
Production zones and workflow areas
Specific picking zones
Dispatch
Offices and employee rest areas
Nitty-gritty details
Well now that you've established the foundation for an organized warehouse layout, what additional information do you need to define in order to implement a more advanced and optimized design?
Know your warehouse layout goals
Don't waste an inch: make efficient use of the total facility's cubic capacity.
Find anything at any time: identify and implement racking systems and picking processes which allow for maximum levels of accessibility and accurate identification of materials.
Keep things moving: ensure controlled and uninterrupted flow of products and staff while simultaneously maintaining real-time data regarding the location and movements of all inventory.
Go faster (safely): consider inventory hazards, fragility, dimensions, weight and any other factors that will impact how each item is transported throughout the different stages that it is present in the warehouse and reduce distances between sequential handling activities.
Don't forget about specific SKU data
How well do you know your inventory? The various characteristics of your stock will directly affect your total storage capacity, throughput levels and storage and retrieval methods. It is essential that you are familiar with and have accurate data regarding:
SKU characteristics and storage needs: identify necessary racking and picking systems along with special environmental requirements, such as temperature, humidity, lighting or possible safety installations for flammable or hazardous materials.
Current habitual number of active SKUs: this will help you determine how much physical storage space is currently needed.
Future forecasts for SKU volume: be sure to consider planned or possibly unforeseen changes due to expansion or shrinkage.
Make sure you have constant control and a clear operational overview
Is your team prepared for the implementation of the latest software and automated systems? Keep pace with the competition by identifying which processes can be automated in order to optimize your warehouse layout and maximize productivity and profit. Some common applications of automated systems and software are:
Space optimization: Mobile racks eliminate the area occupied by multiple fixed aisles and allow operators direct access to goods through a single working aisle.
Picking: Pallet shuttles and stacker cranes optimize operator movements and result in fast and accurate picking.
Product handling: Conveyor systems are highly versatile and efficiently join warehouse workstations together for the safe transportation of goods.
Inventory and workflow control: Warehouse management system software tracks and helps streamline all company logistics operations so that you are always in control and have access to real-time data.
Whether you are designing your warehouse layout in-house or consulting with a professional, by previously identifying your available resources and having the above data clearly defined, you will be much better equipped to create a strategy for a highly organized and optimized facility.