November 18, 2022
AS/RS with Pallet Shuttle — i.e., the pairing of stacker cranes with the Pallet Shuttle — is a winning combination in logistics centers. It speeds up operations, boosts warehouse throughput, and greatly increases storage capacity.
Stacker cranes are machines used in automated storage and retrieval systems (AS/RS) to transport goods to any storage channel. This solution can be coupled with the Pallet Shuttle, which uses an electric shuttle to load and unload pallets autonomously.
Pairing stacker cranes with the Pallet Shuttle
With a solution that combines stacker cranes with the Pallet Shuttle, forklifts used in the semi-automated version of the Pallet Shuttle are replaced with stacker cranes. These machines deposit and extract the goods, aided by a motor-driven shuttle.
In each aisle, a stacker crane retrieves pallets from the AS/RS entry point and moves them to the corresponding storage channel. Once there, the electric shuttle moves the pallets to the deepest available position. Movements are carried out automatically by following the commands issued by a warehouse management system (WMS).
The main difference between the semi-automated and automated versions of the Pallet Shuttle solution lies in the movement of the shuttle to the racks. With the semi-automated version, an operator has to move the shuttle with a forklift. With the automated system, on the other hand, there's no human intervention: the stacker crane is responsible for moving the electric shuttle between the AS/RS entry/exit points and the different levels and storage channels. Moreover, stacker cranes can operate in narrower aisles ― less than 63" wide ― and reach heights of over 130'.
The Pallet Shuttle system can be configured for use with two types of automatic handling equipment: transfer cars or stacker cranes. The choice between one option and the other will depend on the number of incoming and outgoing pallet movements, the quantity of SKUs stored, and the number of pallets available. (Transfer cars are an excellent option for companies requiring particularly high quantities of pallet entries and exits).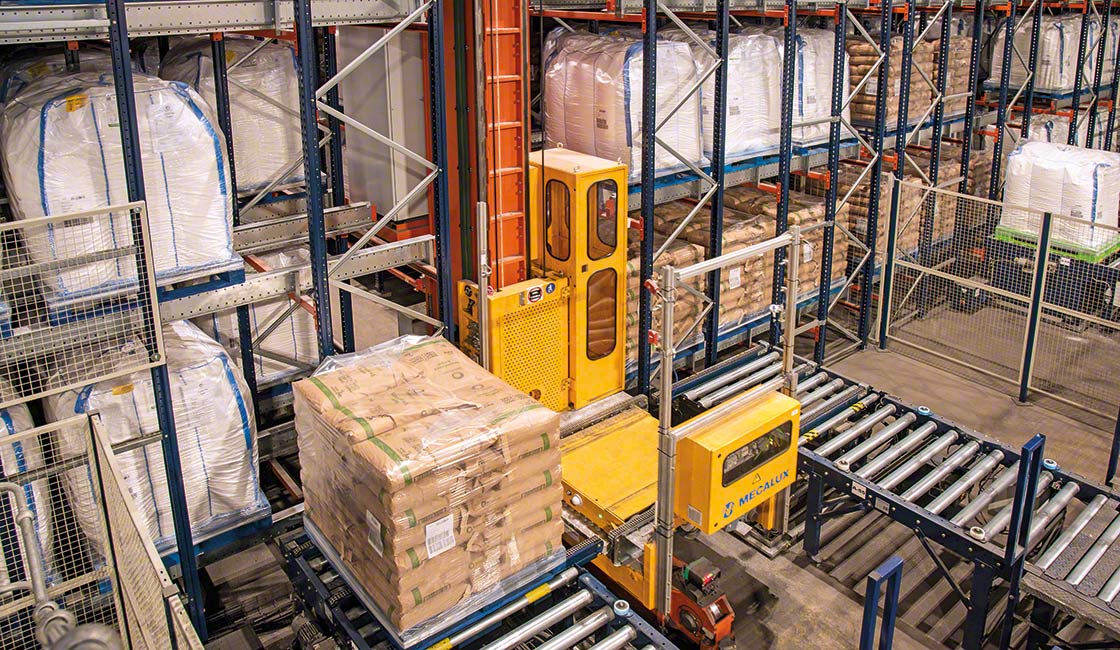 Benefits of combining AS/RS with the Pallet Shuttle
This combination is ideal in facilities with a high work pace because of the advantages it provides:
Increased productivity. The automatic handling equipment and motorized shuttle travel at full speed, raising the number of cycles per hour and thus reducing product storage and retrieval times.
Non-stop operations. The shuttle is charged automatically while onboard the stacker crane, so it is always ready to go.
Goods-to-person method. The system fosters the implementation of goods-to-person strategies, speeding up order picking significantly.
Automated materials management. Stacker cranes and motorized shuttles move materials with full autonomy, following instructions from the WMS software.
Maximum storage capacity. The high-density racking can measure more than 130' tall and up to 130' wide to accommodate as many products as possible in a limited space.
Guaranteed safety. The AS/RS with Pallet Shuttle operates in line with the highest safety standards for people, materials, and the racking system itself.
Applications of an AS/RS with Pallet Shuttle
Combining an AS/RS with Pallet Shuttle is a great solution for companies that manage many pallets per SKU. Businesses from all industries — from food to chemicals — can rely on this storage solution to manage large volumes of goods inflows and outflows effectively.
This system is also commonly used for stock with a high turnover, such as perishable food. This is because the automatic handling equipment ensures continuous pallet-in/pallet-out cycles performed completely independently.
The logistics facilities of food companies are typically temperature-controlled. An AS/RS with Pallet Shuttle brings greater efficiency, flexibility, speed, and control to the storage of goods at low temperatures. Likewise, as a compact system, it reduces the volume to be cooled, resulting in considerable energy savings. And the fact that operations are 100% automated shortens the time operators have to remain in the cold.
Lastly, the combination of AS/RS with Pallet Shuttle can also serve as a buffer: materials can be stored in the system for a given time until they're needed for a production or logistics process or distributed to customers.
AS/RS with Pallet Shuttle: success stories
Businesses from all sectors have benefited from the automated Pallet Shuttle with stacker cranes.
Below you'll find three of many examples of organizations that have greatly boosted their warehouse efficiency with this fully automated, high-density system from the Mecalux Group:
ANL Packaging (France): this company manufactures two million thermoformed plastic containers a day, which are distributed to hundreds of customers throughout Europe. It opened an automated facility to support its production pace. The automated Pallet Shuttle, served by a stacker crane, has brought ANL Packaging two major benefits: "We've streamlined our movement flows in addition to optimizing our storage space. With this modern warehouse, we can easily cope with the high production rate our business requires," says Filip Mertens, Managing Director of ANL Packaging.
Finieco (Portugal): one of Europe's largest paper bag manufacturers, Finieco equipped its logistics center in Portugal with the AS/RS shuttle system with a stacker crane. Day-to-day work in the facility is frenetic: 1.5 million paper bags are distributed to countries including Germany, Spain, France, the UK, and Switzerland, among others. The automated Pallet Shuttle provides constant pallet movements, which expedites the distribution of paper bags to customers. The organization decided to automate its logistics operations to ensure maximum availability of products in the center. It operates 16 hours a day in two working shifts with continuous material flows.
Bem Brasil (Brazil): this company produces over 112,000 tons of frozen precooked french fries a year. It equipped its freezer store with the Mecalux Group's Pallet Shuttle to streamline goods inflows and outflows. The warehouse runs at a constant temperature of -22 °F to keep the raw materials and finished products in the best possible conditions. "Its automated operations have helped us cut costs in the power we use, improve our employees' quality of life, and increase efficiency in the handling and preservation of our goods," says João Emílio Rocheto, Chairman of Bem Brasil.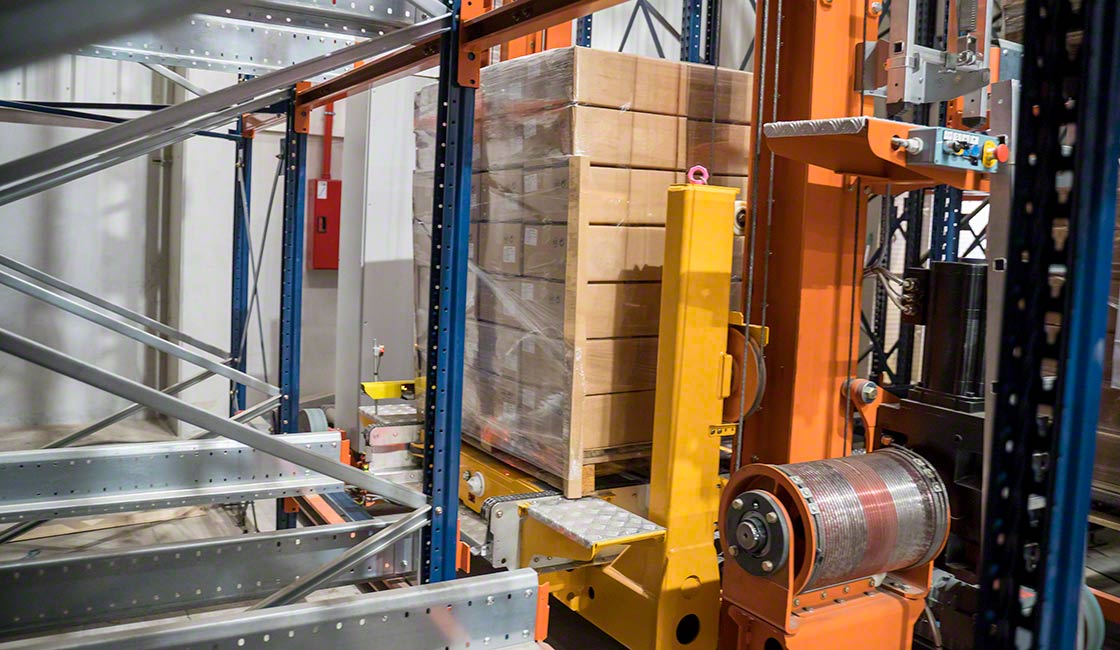 High-performance automation
Whatever the function and application of an AS/RS with Pallet Shuttle, this high-density system accommodates the largest possible number of products. Likewise, thanks to the automatic handling equipment, the system shortens the time taken to store and retrieve materials.
The different components that make up the AS/RS with Pallet Shuttle solution work in unison to facilitate and simplify goods management and storage. With the instructions and supervision of the WMS software, products are stored strategically to ensure smooth logistics operations and provide customers with optimal service.
At Interlake Mecalux, we have extensive experience in the design and implementation of AS/RS solutions. Interested in maximizing your warehouse productivity? Don't hesitate to get in touch. One of our expert consultants will advise you on the best solution for your logistics operations.