Euroboxes are containers designed mainly for the storage of delicate or small unboxed products. For this very reason, their measurements are much smaller than other containers, being a maximum 31.5 inches x 23.6 inches in size.
These containers are normally placed on pallets using automatic box conveyors or AS/RS miniload stacker cranes, manually or statically on racking units.
The measurements of the most commonly used boxes are submultiples of the europallet. They are called euroboxes. Some models are shown below.

Eurobox of 31.5 in x 23.6 in (equivalent to a half euro pallet)

Eurobox of 23.6 in x 15.7 in (equivalent to a fourth of a euro pallet).

Eurobox of 15.7 in x 11.8 in (equivalent to an eighth of a pallet)
Of the three models described the most commonly used is the 23.6 inch x 15.7 inch box, followed by the 31.5 inch x 23.6 inch box.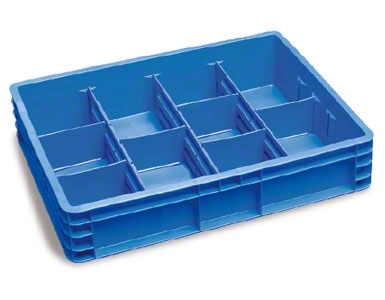 The above boxes can be subdivided to contain various items without mixing them.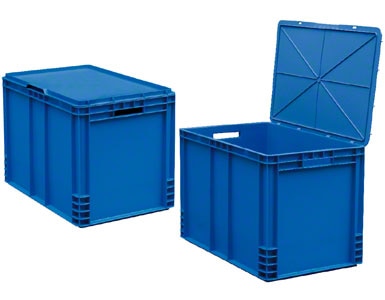 Some models include a hinged lid.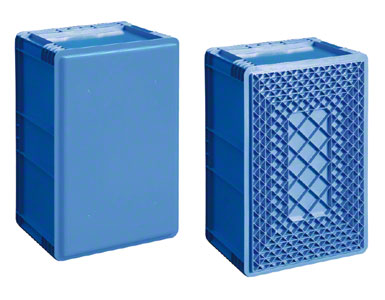 The base can be reinforced according to the weight it will hold and the handling system used.
When handling the boxes, a series of factors must be taken into account depending on their use within the warehouse. For example, when resting on pallets they are handled in the same manner as these pallets.
When using automatic conveyors for boxes, four factors must be considered: the width of the conveyors; the weight of the box; the rigidity of the base of the box; and the stability of the product inside the container. These are the same factors that must be evaluated for the use of boxes in miniloads.
In facilities where boxes are handled manually, it is essential to take into account their dimensions, ergonomics, and weight. If they are static and housed on racking units, they serve as pigeonholes and, therefore, provision will have to be made for the necessary space or method of accessing the product.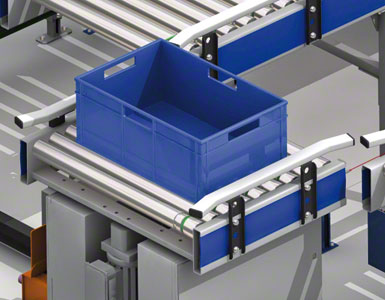 Boxes move along roller conveyors.

An industrial supplies company. Its products are housed in boxes.
Other types of boxes
In addition to the previous models, which are the most commonly used, there are other types of boxes with other dimensions and other production systems that will require specific handling in each case. Some examples are shown here.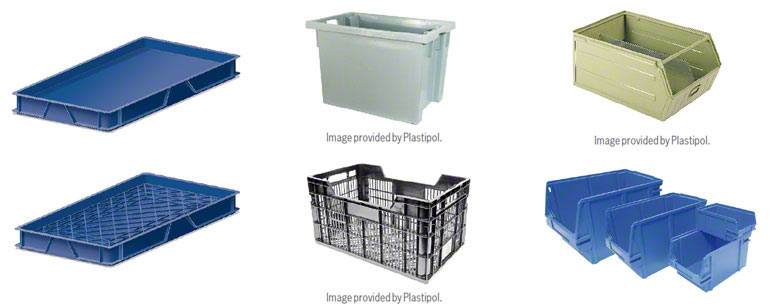 There are many box types to suit each product and storage type.
Other topics in this category