Industrial containers are a type of product support for handling and storing goods, which comprise a unit load. Their shape facilitates the housing of products inside and keeps goods protected from bumps or blows during transport.
Europallet sized bulk containers are often used to: transport goods with the same forklifts, and to locate them in any kind of storage system.
There are also different types of containers that come in various measurements for specified uses. In addition, concrete storage needs are addressed like those for pallet bases, with containers available in three distinct materials. The main industrial containers, as per the manufacturing material, are the following:
Wood containers:

often built on a wood, europallet base, which means it can be used both to transport and to store in the racking bays.

Plastic containers:

when they are built on a plastic europallet base, they fulfill the same functions and are highly recommended for the food sector.

Metal containers:

these are especially suited for transporting breakable goods, because they are so heavy-duty. Specific bases are needed for storing items on pallet racks.
Lastly, there is another type of container used to transport small-sized products, namely plastic totes. They are often placed on pallets for easy handling. Thus, their sizes come in sub-multiples of the europallet, with the 15.7 in x 23.6 in eurobox being the most common.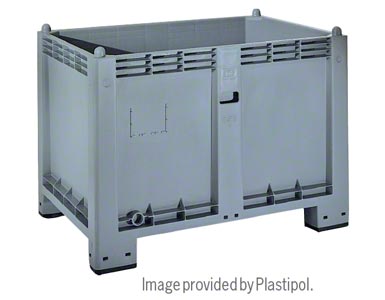 Direct access to chapters
Missconfigured or missplaced portlet, no content found
Dynamic Content: false
Master Name: Manual-almacenajebanner
Template Key: