The best software for an e-commerce warehouse
4/12/2021
Speed and efficiency constitute the cornerstone of any e-commerce warehouse. These types of installations manage large numbers of SKUs and prepare multiple daily orders (mostly made up of few units) that need to be delivered within a matter of hours. To accomplish this successfully, Interlake Mecalux has created WMS for Ecommerce, an extension of the Easy WMS warehouse management system. This new program stands out for its user-friendliness and ability to boost order prep. WMS for Ecommerce can reduce picking times by 50% and increase productivity by 80%.
The e-commerce boom is unwavering; online retail has become one of the most popular and profitable activities on the planet. Every day, millions of people all over the world shop online. And within just a few hours, their orders are delivered directly to their homes, to a physical shop or to a collection point.
The economic uncertainty brought on by the COVID-19 pandemic does not appear to have slowed down this growth rate; on the contrary, the lockdown has further driven online sales in sectors such as food, retail and fashion.
WMS for Ecommerce is a solution that optimises and reduces omnichannel logistics costs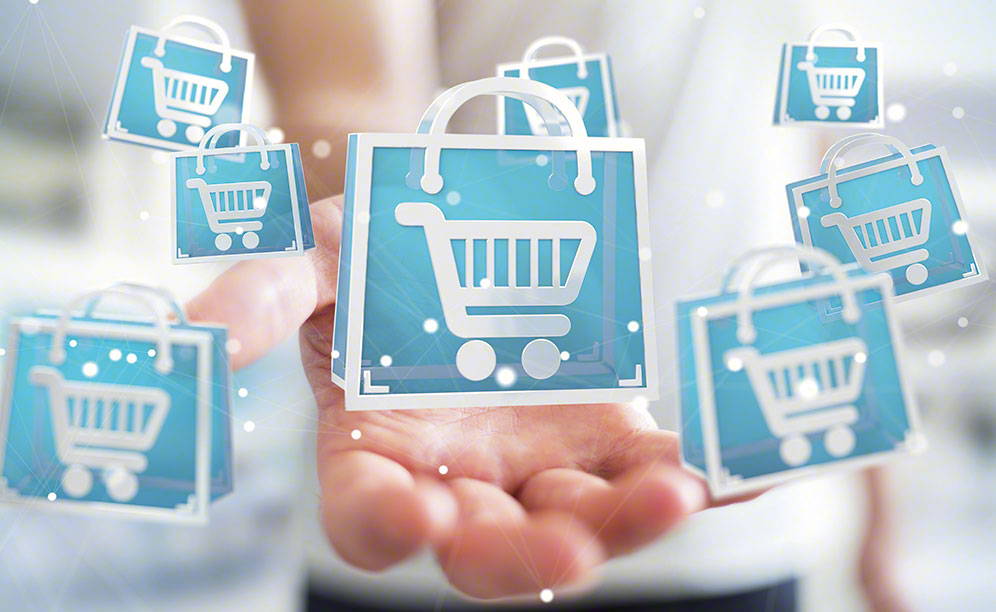 E-commerce logistics: challenges and solutions
The logistics operations of e-commerce businesses are more complex than they seem: many SKUs are managed, although several of them are not in stock. Therefore, they have to be requested from suppliers when required. At the same time, a multitude of orders are prepared, mostly consisting of a few lines each. These parcels need to be delivered at warp speed (usually in less than 24 hours).
Moreover, industries such as the fashion and toy sectors are highly seasonal, with peaks in demand concentrated during specific times of the year, for example, Black Friday and seasonal sales. So, how can so many customers be served without delay? The answer lies in maintaining optimal organization of all warehouse resources to guarantee efficient, continuous service.
On top of the points mentioned above, online retailers manage a plethora of returns. This is the result of easier, more flexible return processes established with the aim of boosting online purchases and, thus, sales.
The reality, nevertheless, is that reverse logistics uses up many resources and complicates supply chain flows. E-commerce businesses must simplify operations in their installations and ensure minimal goods handling. With that in mind, they tend to rely on storage systems that facilitate direct access to goods and streamline picking.
But what truly marks the difference in preparing and dispatching online orders successfully is technology. Equipping these installations with a warehouse management system (WMS) is fundamental for imbuing operations with more speed and efficiency. Warehouse Management System Easy WMS, the WMS from Interlake Mecalux, is the ideal solution for any type of installation, irrespective of its size, sector, number of daily orders or storage capacity.
In addition to Easy WMS, Interlake Mecalux offers its customers the software for Ecommerce software module, specially designed to manage scenarios involving the preparation of online orders.

How does Interlake Mecalux's WMS for Ecommerce work?
This extension of Easy WMS specifically addresses the tasks carried out in the goods receipt area, the nerve center of the omnichannel warehouse. Goods receipt is the source of all operations: without products, the company cannot provide the service its customers expect.
Aided by radiofrequency terminals, workers identify each item. WMS for Ecommerce then decides how to distribute them based on whether they are to be stored or dispatched that same day. In the case of the latter, the goods can comprise two types of orders: single-unit or multi-unit.
When an item belongs to a single-unit order, WMS for Ecommerce directs it to be verified, packaged (if necessary) and sent directly to the dispatch area (with its order and destination label previously attached).
Complexity is greater when preparing multi-unit orders, since the products that make up these orders might be located on the warehouse racks or may have been sent by suppliers. Regardless of the origin of these goods, they are prepared in the putwall area. This zone is formed by racks in which each slot corresponds to an order. Hence, each location contains all the SKUs that make up a particular order. The number of racks comprising the putwall area will vary according to the number of orders normally prepared. These racks should be located as close to the packing and closing stations as possible to streamline the shipment of completed orders.
The software for Ecommerce guides operators, telling them where to locate each SKU and where to slot it in the putwalls. This supervision reduces the possibility of error and increases speed. Once an order is finished, the system directs it to be verified, packaged and sent to the dispatch area.
Problems and solutions for e-commerce warehouses

E-COMMERCE CHALLENGES

WMS FOR ECOMMERCE SOLUTIONS

Management of many SKUs.


The WMS identifies all products as soon as they arrive at the installation, controlling traceability and the exact location of each item in real time. Digitalization prevents mistakes and loss of stock.

Orders containing out-of-stock items.


Easy WMS, capable of being integrated with any ERP on the market, knows in advance which products will arrive. Upon receipt of this information, the WMS prioritizes orders pending completion, arranging for them to be prepared quickly with the products that have just arrived at the installation.

Preparation of multiple orders.


The warehouse management system distributes the work among the operators, sending them precise instructions on how to prepare the orders.

Returns in under 24 hours.


Organization of e-commerce warehouses revolves around picking. By optimally distributing the goods and supervising the work of the operators, the WMS raises productivity and speeds up processes.

Various delivery options.


WMS for Ecommerce is often combined with another Easy WMS module from Interlake Mecalux: Multi Carrier Shipping Software. This system automates communication between the installation and the different transportation agencies. When picking up the orders to be dispatched, the carriers have all the necessary information and documentation required to deliver the orders successfully.

Seasonality.


Easy WMS manages all warehouse resources efficiently year-round, regardless of the number of orders to be prepared.

Returns.


WMS for Ecommerce manages returns. The system orders the products to be labeled and decides whether they should be stored, repaired or sent to suppliers, for example, in line with the company's returns policy.
Advantages of the software for Ecommerce
Efficient picking. Drastic decrease in errors
Increased speed. Improved order prep times.
Flexibility and scalability. The WMS grows along with the company, adapting to business changes.
Cost reduction. Optimization of human resources and goods handling costs.
Profitability. Quick ROI, thanks to its immediate benefits.
The returns conundrum
Reverse logistics constitutes one of the most burdensome operations in e-commerce warehouses, as the number of returns exceeds that of other types of installations. Improvisation in this process leads to mistakes. Therefore, returns must be strictly controlled, from the moment the products arrive at the warehouse.
To do this, the software for Ecommerce establishes clear procedures to inspect the quality of the items and expeditiously verify the content of each order. First, it arranges for the products to be labeled so that they are identifiable at all times. Then, in accordance with the company's policy, it decides what to do with each item (store it, repair it, send it to the supplier, and so on).
Serving online customers
E-commerce has completely transformed consumer habits. To efficiently meet the needs of customers, companies focus their efforts on continuously improving products and services. It is essential, here, that all business strategies begin and end with the customer. Smart control by means of a warehouse management system such as Easy WMS by Interlake Mecalux prepares installations to take on the challenges posed by e-commerce. The WMS oversees operators at all times and tells them what to do with each product, taking into account the business's requirements.
WMS for Ecommerce efficiently manages all aspects of order preparation for online shops. It intervenes in all warehouse operations — from receipt of the goods through to their final dispatch — and ensures optimal decision making to guarantee the fastest possible deliveries.
In addition to WMS for Ecommerce, Interlake Mecalux offers other specific solutions to multiply online retailers' productivity: Multi Carrier Shipping Software, Store Fulfillment and Marketplaces & Ecommerce Platforms Integration.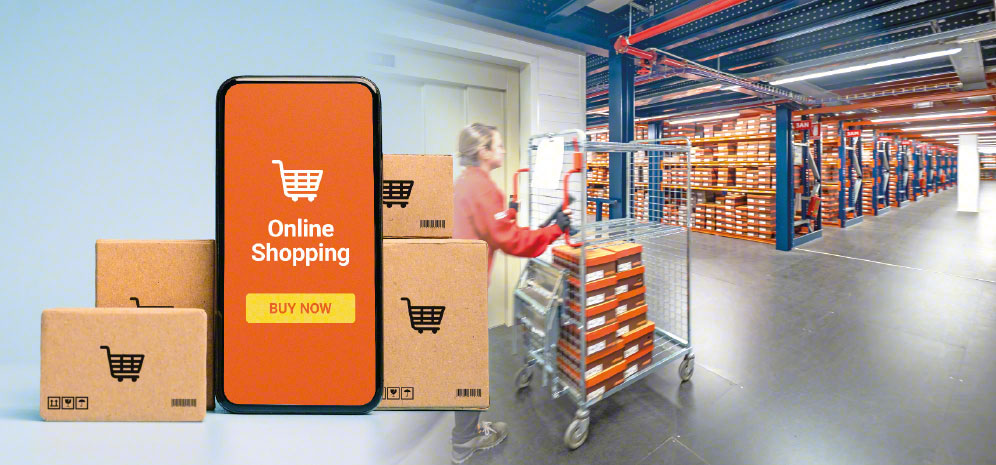 SUCCESS STORY: MOTOCARD
NEEDS:
Motocard, a top European retail chain specializing in motorcycle gear and accessories, completely redesigned its distribution center in Solsona (Barcelona, Spain), turning it into a true omnichannel warehouse.
SOLUTION:
With the help of its strategic partner Interlake Mecalux, the company equipped its installation with the Easy WMS warehouse management system, together with the WMS for Ecommerce and Multi Carrier Shipping modules.
BENEFITS:
Consequently, it optimized all its processes to prepare and distribute 900 orders a day, for both physical shops and online customers, in less than 24 hours.
Before, it was impossible for us to deliver orders the same day the customers requested them. This was beginning to hinder our business. With Easy WMS, we've streamlined all our processes. Now, 90% of the goods ordered before noon are dispatched that same day