3/26/2018
The German starch producer Südstärke GmbH has made the most of its warehouse space in Sünching (Germany) with drive-in pallet racks by Interlake Mecalux.

The installed system comprises dual blocks of drive-in racks that are 20' high and 164' long, offering a capacity of close to 2,900 pallets. These storage blocks contain three level high lanes. Each of these can house up to 16 pallets deep. The 32" x 48" x 71" pallets, weighing up to a maximum 1.32 t, rest on support rails made from extra durable, galvanized steel.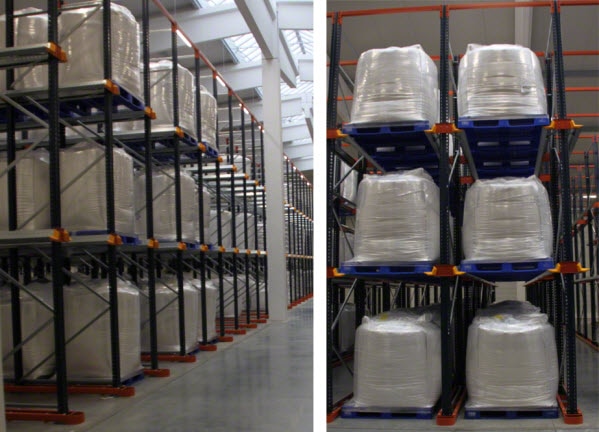 When managing goods, operators use reach trucks to enter the lanes with the load raised above the level where it will be placed. There are guide rails on the floor that help the handling equipment to enter and move inside the lanes safely and centered, minimizing the possibility of accidental damage to the racks.
Drive-in racks are best suited to storing homogenous products, like the starch of Südstärke. Moreover, the German company optimized its warehouse space by significantly reducing the number of working aisles.
About Südstärke GmbH
Currently, the company Südstärke GmbH owns two production centers in Germany (Schrobenhausen and Sünching) that produce 672,000 tons of potato products yearly and 168,000 tons of potato starch. Established in 1938, the firm has 260 employees and 1,500 growers that provide it with high-quality raw material.