Automated warehouse for boxes and pallet racks of COVAP in France
27/12/2019
The COVAP cooperative will reorganize its logistics center's distribution in La Chaize-Le-Vicomte (France) by collaborating with Mecalux. Over the next few months, it will install an AS/RS for boxes with Easy WMS managing the entire operation. The AS/RS will fill two 1.24-acre sections, each pre-equipped with selective pallet racks.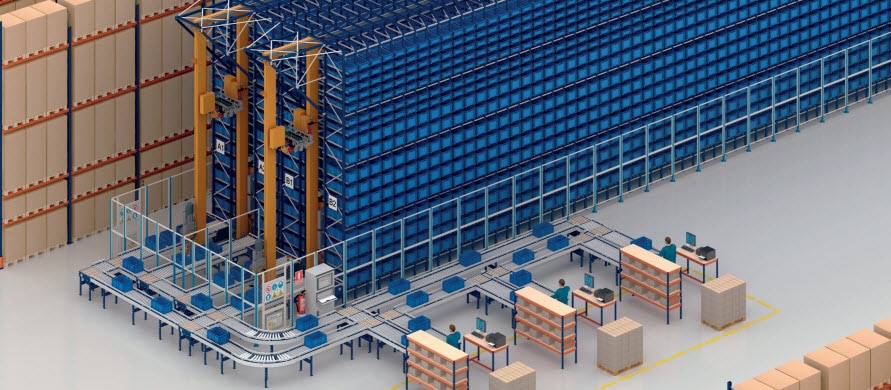 The miniload system will consist of two, 141' long aisles and 26' high double-depth racks on each side that will provide a 13,224 box capacity. Two picking stations will be located on one side where orders will be prepared according to the "product-to-person" principle.
Shelving for picking will be set up behind each station, where up to 30 orders can be processed simultaneously. These will be equipped with pick-to-light (PTL) devices to help operators and increase picking efficiency.
There are 8,500 storage locations in the selective pallet racks. Their versatility characterizes these 28' high racks in adapting to unit load sizes, even very bulky products.
Wilfried Ferré - COVAP Logistics Manager
"We wanted to increase productivity and guarantee safety during the arrival and departure process for stored products. By automating, we will speed up our operators' work during the order fulfillment process. Moreover, thanks to the miniload solution, we will be able to cope with our current growth rate without increasing the payroll and, also, make workplace ergonomics better. Our focus is always on improving customer service."
About COVAP
Founded in 1982, COVAP is a French cooperative that brings together 350 tradespeople from different fields: bathrooms, kitchens, electrical appliances, heating, electricity, etc. COVAP is a member of an important French organization: ORCAB ('Organization of Purchasing Cooperatives for Building Craftsmen' in English). At present, it employs more than 140 people and boasts a catalog of more than 300,000 different SKUs.