A full-fledged logistics center for SAM Outillage with an AS/RS for boxes by Mecalux
19/04/2017
The upcoming logistics center of SAM Outillage, a French professional tools manufacturer, will comprise selective pallet racking and an AS/RS for boxes. The combination of the two storage systems will allow the classification of the merchandise according to its turnover, as well as the organization of operations, to achieve greater efficiency in picking tasks.
Mecalux will install a miniload system consisting of three, 184' long, 26' high aisles with double-depth racks on both sides. They can accommodate more than 19,000 boxes of small-sized items. The stacker cranes will manage the incoming and outgoing goods automatically.
The preparation of orders will fulfill the "goods-to-person" principle, i.e., the cranes will supply the operators with the goods needed to put each order together. This logistics solution will increase the workflows, the adaptability and the responsiveness of the SAM Outillage logistics center.
The selective pallet racks will occupy the majority of the warehouse storage area. They will also be 26' high and offer a storage capacity for 6,030 pallets with diverse turnovers and dimensions. "Mecalux has proposed a customized solution that will allow us to have a denser storage area, increase workflows and reduce delivery times for the goods sent to our customers. This scalable system, in terms of storage and logistical flows, lets us respond to the changing demands from our customers," explains Olivier Blanc, general manager at SAM.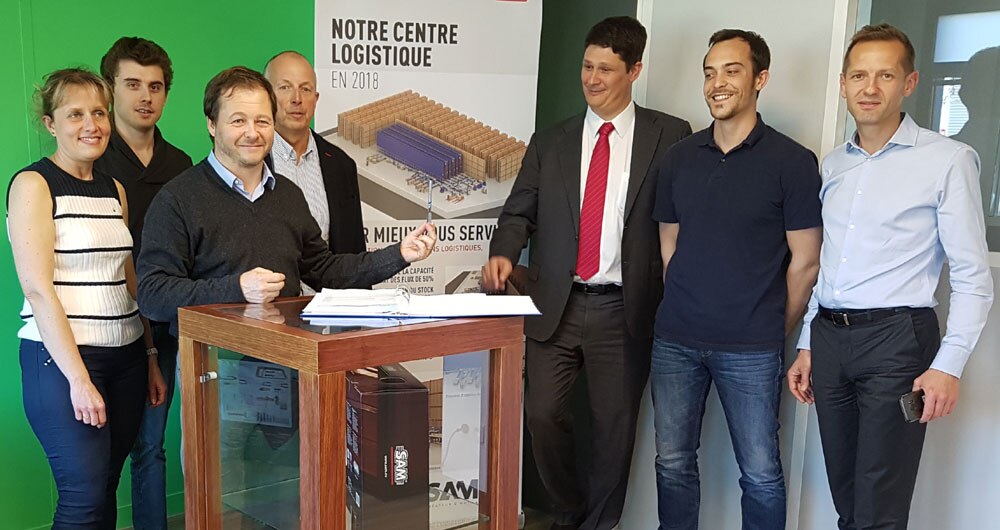 SAM Outillage came into being in France in 1906, guided by the hand of the engineer François Blanc. Initially it focused on ironwork, but after the First World War, the business specialized in the manufacture of tools for industrial use. Today, its high-quality products meet the needs of its customers around the world.
Guardar