Panettone of Bauducco in a new rack-supported AS/RS warehouse in Brazil
19/09/2018
Bauducco, a Brazilian panettone maker, will build a new rack-supported AS/RS warehouse in Extrema, a town that belongs to the State of Minas Gerais in Brazil. In a 16,576 ft2 surface area, the warehouse will provide a storage capacity of 8,448 pallets with a maximum 1.32 t unitary weight.
The warehouse will stand 118' tall and will consist of three, 230' long aisles with double-depth racking on both sides. Three stacker cranes, one per aisle, will be tasked with slotting and extracting the goods from their corresponding locations. These machines will be equipped with telescopic forks to access the second pallet in each location. On one end of the installation, an automated pallet conveyor circuit will take goods to the assigned aisle.
To guarantee this installation runs properly, Bauducco will implement the Easy WMS warehouse management system and the Galileo control module. Their role will be to run the warehouse's electromechanical elements, mainly the stacker cranes and the conveyor circuit.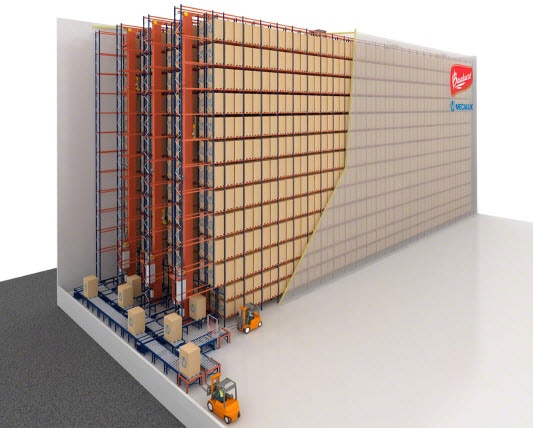 Traditional cooking with a modern touch
Within the Pandurata Group, Bauducco is the leading producer of panettones world-wide. This company's history dates back to 1948 when an Italian called Carlo Bauducco ventured to Brazil with his family's panettone recipe and a highly-valuable piece of fermented sourdough. Four years later, he opened his first establishment in São Paulo.
It was so successful that, nowadays, the panettone has become a household staple that no home can do without, especially during Christmas and New Year's celebrations.