June 28, 2022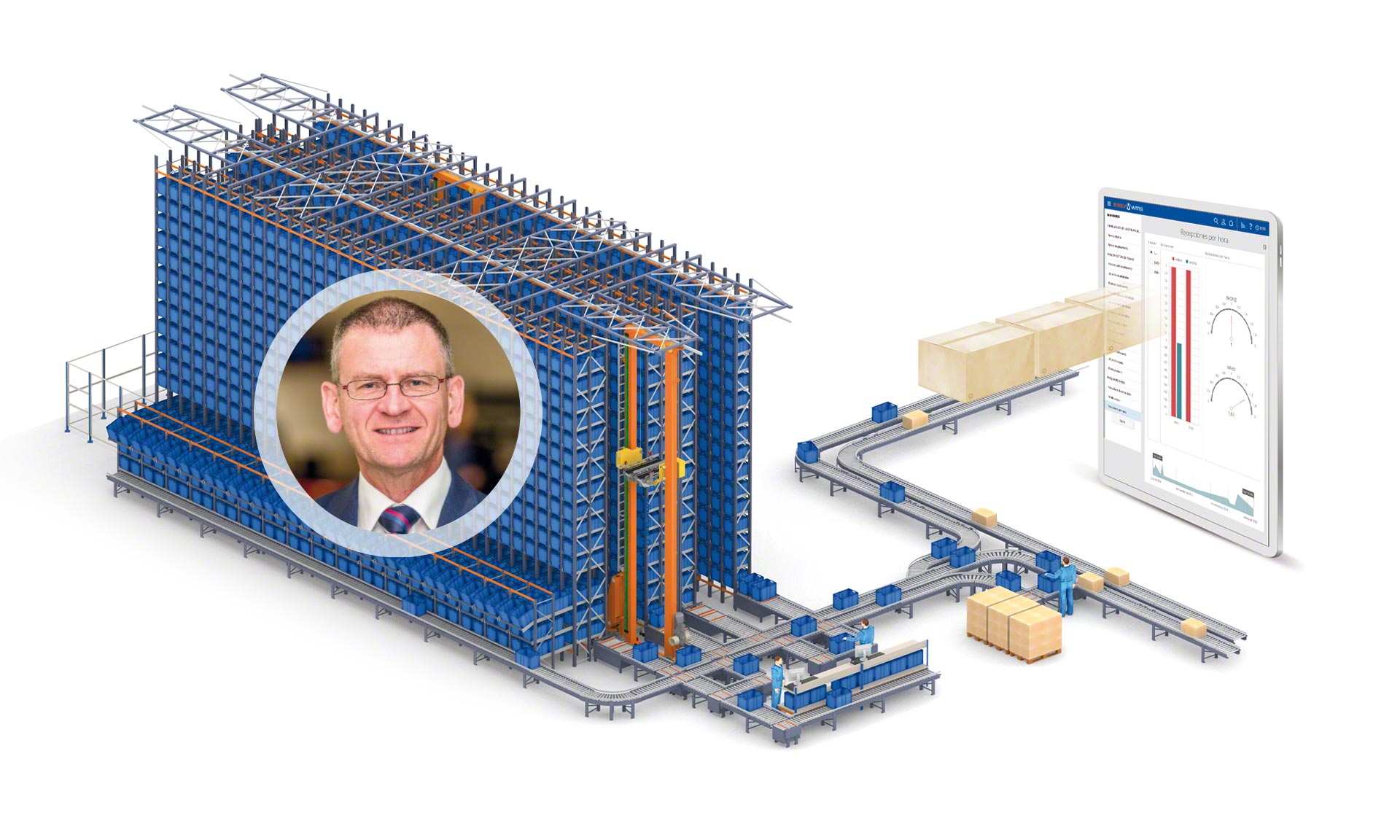 "Constraints are strong drivers for automation"
Watch the video of the full interview >
René De Koster, Professor of Logistics and Operations Management at the Rotterdam School of Management, Erasmus University
About the expertRené de Koster (Heinkenszand, Netherlands, 1958) is a professor of logistics and operations management at Rotterdam School of Management (RSM), Erasmus University, in the Netherlands. Professor de Koster is a pioneer in material handling education and chairs the Department of Technology and Operations Management at RSM. He has published hundreds of papers in top academic journals and was mentioned as "the most influential researcher" in material handling. His research interests include warehousing, material handling, container terminal operations, behavioral operations, and sustainable logistics.
Mecalux interviews René de Koster, Professor of Logistics and Operations Management at the Rotterdam School of Management (Erasmus University Rotterdam, Netherlands), on the future of warehousing and on automation as a solution to achieve logistics efficiency.
What are the major takeaways from your research on warehousing?

When I started researching this topic about 25 years ago, research on material handling was close to non-existent. Back then, the main exception to this were automated storage and retrieval systems (AS/RS) — crane-based warehouses. Since then, a lot has changed. In the last 10 to 15 years, we've seen a major shift in academic research towards automation. Kiva systems contributed to this shift, and also the rise of shuttle-based storage systems, which triggered new topics and methods within material handling. There's a real hype now around robots in academic research. In the last ten years, we've also seen an enormous increase in the number of papers published on behavior in warehouses, and on the extent to which the human factor contributes to performance.

What's the link between the human factor and warehouse performance?

One major thing we've learned is that, in spite of all this automation, performance does not hinge on the system alone. It also depends on human factors. The importance of the human factor in automation, which is well known in practice, is also recognized in academic research. There are findings that show how humans contribute to improving overall performance in warehouses. This evidence has further pushed material-handling research to focus on safety, ergonomics, well-being, job satisfaction, and the like.

To improve warehouse performance, it's not only the people on the shop floor that are important, but also the managers that direct this process — management has a major impact on workforce productivity. As a leader, if you want to improve workers' performance, you need to bring the best out of people and make sure they enjoy the work they're doing. Job satisfaction is an important key performance indicator in the longer term.

Efficient warehouses have the right storage and handling systems in place, and the software to run the process

What drives automation in warehouses?

It's easier to automate when you have a strong constraint. Why? Because constraints force you to start looking into automation. For example, if you want to expand — increase storage and throughput capacity – but you don't have enough space, then you're forced to look into alternative solutions. The same is true when you don't have enough people to perform a task. For instance, when your business requires working 24/7 but there are no operators available at night, or when you need to handle huge demand peaks and can't find enough people to do the work, these types of constraints are strong drivers for automation. Another driver is seeing that your competitors are automating, because it triggers copycat behavior.

How do you decide when to start automating?

Many businesses are gradually increasing the level of automation in their warehouses. When you start to consider automation, there are all kinds of new solutions arising that make it easier to jump into this technology. Instead of fully automating the entire operation, many companies often start on a smaller scale and automate specific tasks — such as the picking process with cobots or robots — and then look into how to take the next step to gradually expand automation into other processes.

"Many businesses are gradually increasing the level of automation in their warehouses"

How can companies ensure fast deliveries in warehouses of hundreds of thousands of square feet?

Warehouses these days are growing in size, and some can be over one million square feet. In business-to-consumer e-commerce, for example, the number of orders from a single warehouse may be tens of thousands a day. If you pair this with a huge assortment, which requires multiple storage conditions, you have a very difficult task ahead. A bigger warehouse means longer travel distances and throughput times, which makes it more difficult to get the order out on time. It's a major challenge, but it can be overcome — as many companies have demonstrated — with a proper and meticulous design of the warehouse.

You have to carefully look into all the throughput conditions that products require to select the proper storage systems, and choose the right management software to control all processes. You also need certain degrees of mechanization and higher levels of automation. For example, parts-to-picker systems are useful in big warehouses because the systems can serve large assortments, and operators can achieve very high productivity at a pick station. Another important aspect is making sure the pick station design is very ergonomic for individual pickers, to achieve continuous high picking productivity. In short, it's a combination of the right warehouse design, proper system selection, good product allocation, careful planning, and a high degree of automation. Several companies have proven it's possible to do this, but it's not automatic: it comes at a cost and with effort.

By the way, if you're an e-commerce retailer, one of the problems you see often is that, besides the large volume of shipping orders, a growing number of customers also return their products for free within a certain time limit, particularly in fashion. Companies like Zalando have huge return percentages. So you not only need to ensure fast deliveries, but also have to think about how to handle all these returns because they can be enormous.

That's a big challenge…

It's a huge challenge, probably even bigger than the picking process. Because picking can be planned to a large degree. But returns are not as predictable, and if you don't handle them today, you'll have the same quantity of returns arriving tomorrow. And before you know it, you won't be able to handle them anymore. You have to plan returns carefully, and you need suitable systems to do this.

The future of warehousing is headed into more automation

You once said warehouses are essential to the way you want to live your life.

Logistics is very important for having the products where customers want to have them in the right place, at the right time, and in the right quality. In order to do that, you need transportation, warehouses, and cross docks. You can't just ship from a supplier in China to some store where the customers want to pick up their products. There's a long channel between the manufacturer and the consumer. There are many warehouses where all these products are stored, and a lot of cross docks. People think of transportation as logistics, but it's also storage, inventory, cross docking, grouping, regrouping, loading it into the right trucks… There's a lot more to it than just transportation.

Why should businesses care about their warehouses?

The role of logistics is not always that obvious to CEOs and CFOs. In this age of COVID-19, we've seen that, if your logistics processes aren't properly organized, you can't sell cars anymore because you don't have the chips. If you don't make the reservations early enough, the chips are sold to someone else. So, if you miss your term, you're left with a shortage. And that's true for relatively cheap products like chips, but also for many others. Can you believe that, at the beginning of the COVID-19 crisis, there was a shortage of face masks, which cost a few cents to produce? Even the smallest product or component can be critical in your process. You have to design logistics carefully if you want to satisfy your customer needs. And, basically, the one who can do it better builds a better business and gains a competitive advantage. So, logistics is important — and warehousing is key: where to keep the stock, how to ship it rapidly, and how to make it available for your customers are crucial aspects that business leaders must bear in mind if they want to make a difference.

"Automation is here and here to stay"

What do efficient warehouses have in common?

First, there are a number of threshold constraints — if you don't take these into account, you'll never be the best in class. A threshold constraint to be satisfied is a good warehouse management system and basically managing your inventories: knowing exactly where everything is. If you don't keep proper track of the status and location of your stock, you can't have a good performance. The second common trait of efficient warehouses is having the right systems in place: storage and handling systems, and the software to run the process. I would say you should carefully search for systems that fit together and are not only good individually, but can be integrated in the entire process effectively.

Another key aspect is having a good manager, a person who understands the role of people and has an eye for employees' needs. In other words, transformational managers instead of transactional managers. According to transformational leadership, this person should lead by example, rewarding employees in the right way, being fair, intellectually stimulating, and not punishing people. The way you handle employees is very important, particularly in sectors with a shortage of workers.

Where do you think the future of warehousing is headed?

I think the future of warehousing is definitely going into more automation. It's unstoppable due to multiple reasons. First, because your competitors are automating, but also the fact that there's a shortage of labor and space. These reasons combined are driving companies further into automation.

This is true even for logistics service providers, who have to make sure they have generic systems in place because the customers of today may not be the customers of tomorrow. These companies invest in robots and more automation because they want to show customers that they can run these types of operations and can be attractive. By using more robots, you can make yourself less adversely affected by labor shortages, and it's easier to work 24/7 — also off hours. Automation is here and here to stay.

What advice would you give companies that are seeking automation?

There are different types of automation companies can go for. The first one is parts-to-picker systems. There are now many different options, varying from shuttle-based solutions to systems based on autonomous mobile robots (AMRs), robotic mobile fulfillment systems, and miniloads. We're also now seeing more and more variants of picker-to-parts systems, in other words, picking with cobots.

I think, in the future, we'll see an increase in both system types. Parts-to-picker systems have become really mature, solid technologies. And, by the way, if you have a parts-to-picker system, the next phase is robotizing the pick stations. This trend will also grow quite rapidly — it's one of the major developments I see in the future. I also anticipate a growth in picker-to-parts technologies: cobots, in the form of automated pick trucks or small walk-along AMRs. Companies that don't want to undergo a major overhaul of their system can just invest gradually in these types of automated systems. This makes them an attractive, affordable choice.