February 28, 2023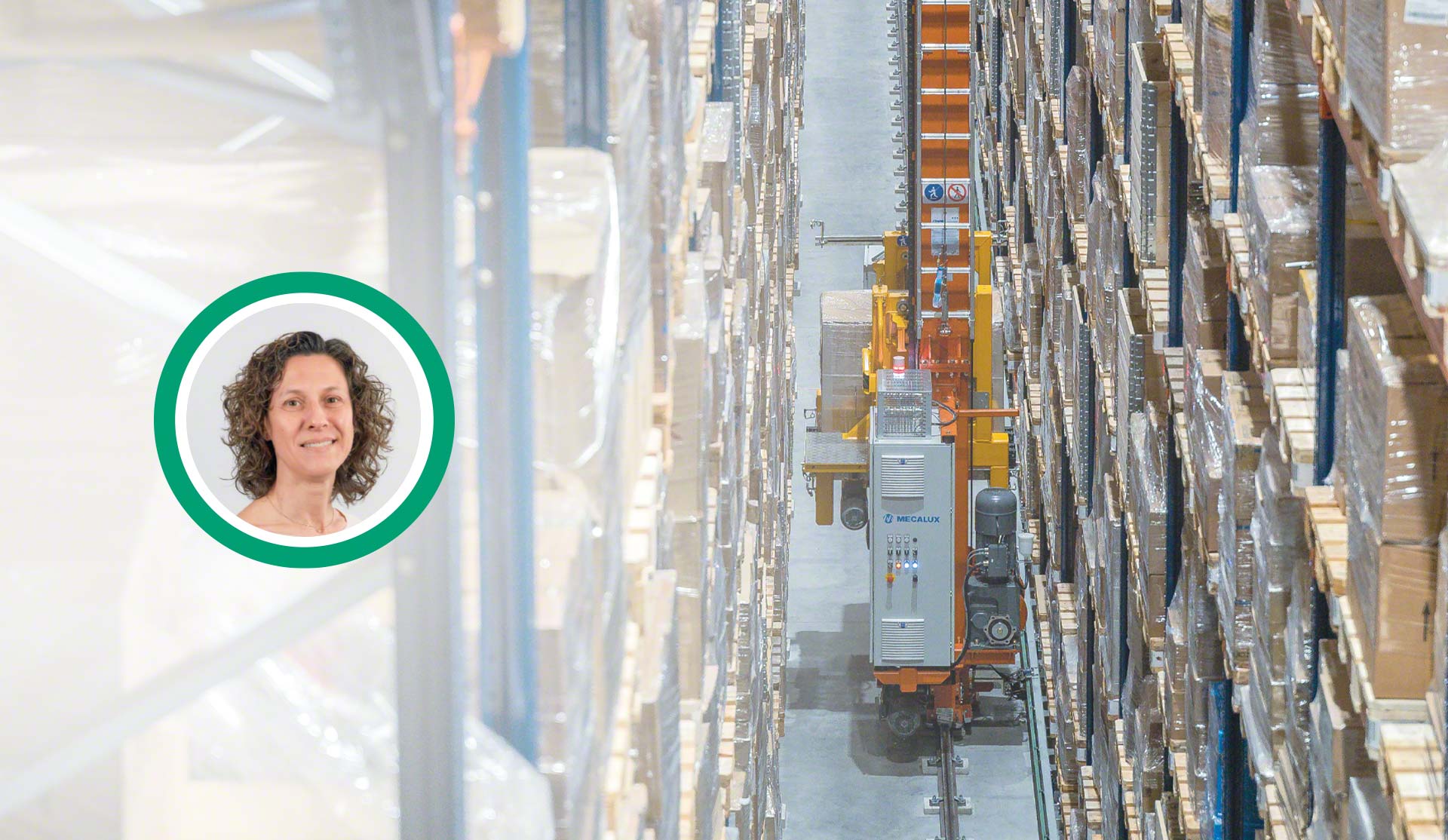 "Automation has made production more flexible"
About Natura Bissé
Cosmetics company Natura Bissé is a leading manufacturer of creams, treatments, and other cosmetic products for all skin types. Eighty-seven percent of its revenues come from international markets, where it has more than 2,500 points of sale. Headquartered in Cerdanyola del Vallès, Spain, the company has subsidiaries in the US, Mexico, the UK, and China. Natura Bissé recently opened a new, completely personalized automated warehouse. Managed by Easy WMS, the facility houses all the goods the company previously outsourced to a logistics provider.
Mecalux sits down with Pilar López, Industrial Director at Natura Bissé, to talk about how automation is key for optimizing logistics processes to ensure on-time, error-free order deliveries.
Could you describe the logistics operations of a leading cosmetics company like Natura Bissé?

Natura Bissé's facility is divided into two main areas: one for production, where we manufacture the products we sell all over the world, and the other for order processing and dispatch. The Mecalux solutions have been tremendously useful in optimizing our supply chain. The components arriving at Natura Bissé are placed in the AS/RS, waiting to be used as needed. Once the products have been manufactured, they're sent back to the warehouse, where they're subsequently processed and dispatched as orders come in.

What were Natura Bissé's logistics processes like before installing the AS/RS?

Our logistics operations have evolved as our business has expanded. In the beginning, we'd outsourced the storage of our components and certain finished products to a logistics provider. The disadvantage was that those items arrived at our facility once a day, so we couldn't make changes to our production schedule with less than 48 hours' notice. It was then that we sought the advice of a storage solutions expert such as Mecalux. When making our decision, one thing that helped was the excellent references we received from other companies that had overhauled their warehouses with Mecalux. We also valued its proximity: like us, it's located in Barcelona, which would facilitate any type of intervention.

Companies committed to innovation are better at navigating crisis situations

What logistics improvements have you seen with the implementation of technology?

The new AS/RS completely meets our requirements. Automation has reduced logistics costs and made production more flexible. Now, with the AS/RS, all our stock is connected to the manufacturing area. In addition, technology has given us more flexibility in planning our operations and enabled us to produce our cosmetics continuously. Moreover, by insourcing our storage processes, we've brought down logistics costs.

"Natura Bissé's logistics operations have evolved as our business has expanded"

What are the benefits of warehouse management software?

Mecalux's Easy WMS warehouse management system has boosted our efficiency in storage operations, improving operations overall. With Easy WMS, we've optimized processes and configured the two aisles of the AS/RS: one holds goods to be packaged in production, while the other houses finished products. The software streamlines the distribution of the goods and routes supply orders to production based on requests.

What was the AS/RS implementation process like?

First of all, this warehouse was built after the actual construction of the building had been completed. As a result, the AS/RS had to be adapted to the space found just below the manufacturing area. We wanted to make the most of our limited surface area to obtain the largest possible number of storage locations. Likewise, the AS/RS has allowed us to optimize the space, maximizing the number of slots and pallets.

Our partnership with Mecalux has been extremely effective. We saw this in the project definition phase, where we spent many hours fleshing out our needs. The same goes for the customization process, when Mecalux tailored the AS/RS to our specifications. When starting up this project, we realized we'd need to make certain adjustments. With the help of Mecalux, we knew this wouldn't be a problem, since its post-sale service is always very professional.

Do you think automated systems are essential nowadays?

If the coronavirus pandemic has taught us anything, it's that companies committed to innovation are better at navigating crisis situations — and we weren't about to be left behind. Now, in the aftermath of the pandemic, we can see how solidarity and collaboration remain crucial in society. We believe technology must form part of Natura Bissé's processes to make us more agile and more flexible. At the same time, it enables us to react quickly to continue providing value to our customers.