Two storage systems at Eurofred's distribution centre in Spain
13/01/2021
Eurofred, a leading company in the distribution of air-conditioning units in hotels, restaurants and cafés, has once again entrusted Interlake Mecalux to equip its new distribution center in Seville (Spain) with pallet racks and the Pallet Shuttle system. Altogether, it will provide a 7,940-pallet storage capacity. The company is already well acquainted with Interlake Mecalux's warehousing solutions, as they have worked on numerous projects previously (in Barcelona and Tarragona).
The warehouse, meant for Eurofred's new catalog of cold rooms and equipment, will consist of two blocks of racks with the semi-automatic Pallet Shuttle system. This solution, which is especially suitable for accommodating a large volume of pallets per SKU and high-rotation merchandise, will guarantee the massive inflow and outflow of products.
In addition, 36-foot-high pallet racks will be installed. This system includes a wide variety of accessories to adapt to any type of unit load, which will make it easier for Eurofred to store very diverse products and pallets of different sizes and specifications.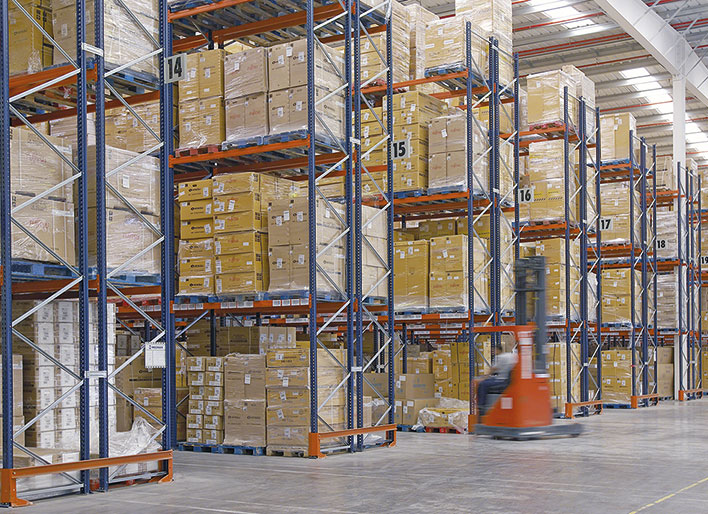 Eurofred's operations department
"We opted for Interlake Mecalux as our project partner because of the close cooperation between us as companies. Interlake Mecalux offers very competitive solutions and improvements to the final project. Our storage-systems purchase will provide us with accessibility and higher productivity, as well as better safety for both the installation and the staff."
About Eurofred
Founded in 1966, Eurofred is a leading distributor of refrigeration, air conditioning, heating, commercial refrigeration, catering and ice cream equipment, components, and accessories. Since then, the company has grown and established itself in the main European markets and has even recently opened offices in Chile and Morocco.